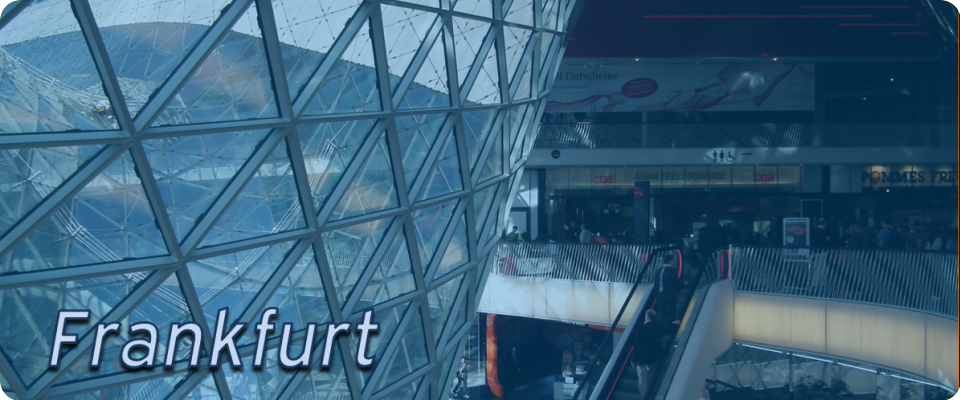 The relative expense of the Deutsche Bahn national train system in Germany means that, unlike back home where insurance and potential murder concerns have prevented a nationwide take-up, car-sharing on long journeys has become very much part of the norm over here. I'm not entirely sure how it all works, but it seems to be mostly borne out of financial necessity, with ticket prices from Muenster to Frankfurt for example seemingly often breaching the €60/one-way barrier. It's so popular in fact, they even have whole websites dedicated to posting journeys, and people responding and taking them up for a nominal fee. So, after some issues at first trying to find a suitable trip, we eventually settled on a prospective 'chauffeur' of sorts. The venue of choice for our rendez-vous (and this car-sharing thing isn't a first for me, although having a 'rendez-vous' in the first place continues to feel somewhat like an illegitimate drug deal is about to go down) would be the Burger King.
In the meantime however, we had a few days left in Ochtrup before moving down to our new place. The surrounds, being so much in the countryside, often remind me of a comical page straight out of a children's story; every now and again, you arrive into a town and there's a castle, surrounded by a moat with an old drawbridge leading right across. You half feel you should go get some rocks and take aim across the moat and see if you can invade. But then you realise that's a stupid idea and you can probably 'invade' nowadays by just not paying the token admission fee, where applicable.
So, for our final few days in O-town, we went around various towns like Steinfurt, looked at the castles, walked, took it easy, and in my case at least, drank lots of coffee and sampled plenty of the local beer, 'Rolinck'. There was even talk of maybe getting to visit the local brewery and spend a day sampling its undoubted many delights – next time, perhaps?
Of some humour to me personally at least was one of our final drives out of town. One thing I learnt very early on in my trips back and forth to Germany was that Germans uniformly, no matter where they live, all thrive on having fresh bread rolls for breakfast. Sort of like the way we don't normally lash out bread rolls in Ireland – preferring instead, when time allows, to cook a big breakfast either by grill or frying pan, fitting on as much meat in the form of sausages, bacon, etc as we possibly can, the bread rolls being generally more a 'complimentary' item – they don't really go in for the whole 'big cooked breakfast' thing (actually, I don't know many places that do except England, Wales, Scotland and Ireland). Anyway, as we rolled out of town, there it was; a huge vintage car rally of some sort, except that they'd all parked up for mid-morning coffee.
And where, I wonder, had they parked for mid-morning coffee? No less a place, it turned out, than the local 'Voss' bread factory, where the rolls are made before being shipped out to their respective stores. It seemed unbelievable that even in the midst of an antique car rally, a trip to the local bakery remained high on the list of the day's requirements.
The next day, finally, was our time to rendez-vous at the agreed meeting point for our lift down to Frankfurt. The car, it turned out, was much smaller than I'd expected anyway, and by the time the three other ladies had gotten all their luggage into the boot, there was absolutely nowhere left for me to put my rucksack, which had now grown to be the size of two fully-grown men and weighed only slightly less. So, it became a game of strategy for myself and Anna's father, as we allowed the ladies to take their seats, driver first, Anna next, then myself, then my gargantuan sack of belongings, then finally the front passenger. With a bag weighing what must have been nearly breaching 30kg's resting on my knees, I prayed that our driver knew the meaning of the words 'unrestricted speed' and 'autobahn' the same way as I do, having been told in Ireland many years ago. Thankfully, it turns out she did, and we were dumped out in the centre of Frankfurt in slightly under 3 hours and into our apartment some 20 minutes later.
Otherwise, settling into life in Frankfurt has been going relatively well. Since moving in here, I've been back to one of my favourite old haunts, the 'Mir EuroKebap Haus' for a kebab (I thought Mir was a Russian space station but there you go, obviously since retirement it's become a 'kebap' haus), been wandering around as much of the city as I can and trying to figure out what exactly works best as a short-cut.
And, of course, being a growing lad that I am, we've been out for a 'shop', since I'm quite determined not to leave Germany as borderline-malnourished as everyone said I left Malaysia. The supermarkets here, to a certain extent anyway, are every Irish persons dream – spirits and beer are unbelievably cheap, with 6-packs of beer coming in anywhere from about €2.50 if you try hard enough, while whole bottles of vodka can be had at better-than-duty-free prices, at around €7. Meanwhile, another German-ism that regularly presents itself when out shopping is the love of bottled water. Again, I've gotten used to it and consider it perfectly normal at this stage, but in supermarkets they literally have bottled water mountains. There was one (part of which is illustrated in the picture) in the local supermarket the other day so large you'd nearly need oxygen just to get the top crate down. But, in many ways, shopping here's much cheaper and so you might almost need that oxygen again to wake yourself up after you've done a pretty hefty shop and it still can't really come to a whole lot more than €50 or €60.
As for the learning German, that's another day's story…