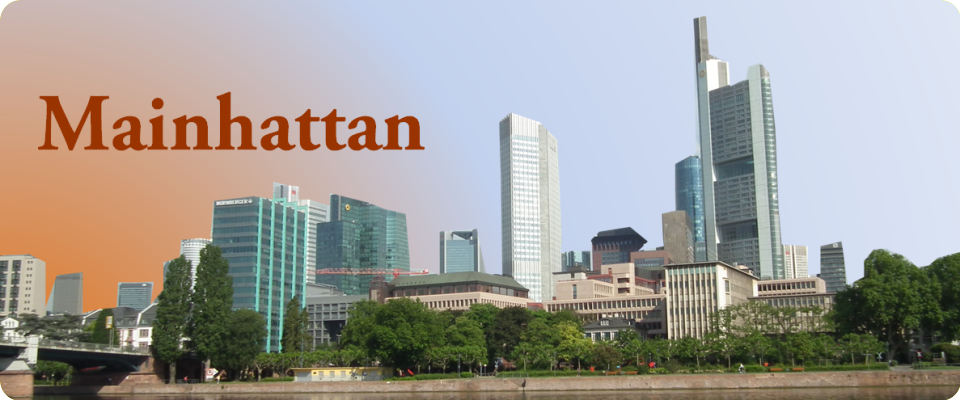 [current-location]
I'd have had no idea what to call this blog post, only that the guy who drove us back to Frankfurt last night in our car-share (or 'mitfahrgelegenheit'; see, we're getting there!) informed me, by way of finishing off a sentence about how Frankfurt was full to the brim with bankers, that the city is informally also known as 'Mainhattan'. It took me a while to get what was going on but since Frankfurt sits on the river Main, and there are so many banks and financial powerhouses, I copped on eventually. So, what's been going on?
Well, while our car-shares between Frankfurt and Munster to date have been largely uneventful, we have had one incident that stands out strongly in my mind. One Friday evening, we took a lift, that very unusually began by departing half an hour late in order to accommodate an extra two passengers. Now, the car was one of those station wagon things that has (technically) 6 seats besides the driver – but we all know that the two that are right in the boot really shouldn't count for anyone except the most growth-stunted 7-year olds. In my mind, station wagons are good only for transporting a batch of children from school to their home, on a relatively short journey. They are not acceptable under any circumstance, except in the case of urgent evacuation, to be used for a journey in excess of one hour. Likewise, the back two seats should not be used, at any time, to host the bums of regular-sized adults. So, you can imagine my displeasure when we had to wait the half an hour, since there was already the driver and three of us present and it could only mean that the back seats were to be used.
I actually got so worried that I was going to have to sit in the jump-seat in the back, that I sat in my preferred seat long before the last two passengers presented themselves. Finally, we were off. Our driver was however, not exactly au-fait with German streets and roads, and so rather than taking our usual direct route onto the motorway, we took off for a jaunt through the city, during peak-time traffic, which afforded me all the time in the world to stare out at a number of sights we passed on our way, none of which I'd any interest in seeing on a Friday evening. Not only that, but as my hunger grew to incredible levels during the journey, we made a stop-off to let someone out.
And when I say we made a stop-off, what I mean is we actually undertook a serious diversion from course, to the extent of adding roughly an hour onto the journey, in order to travel to Dortmund and drop off our fellow passenger. It was too much for my jump-seat friend, who upon exiting from the car, proceeded to throw a complete fit over the whole episode, insisting on not paying the full rate and threatening to call the police if the matter wasn't adequately solved. Funny how you can understand the gist of any conversation when you really want to know what's being said! Needless to say, I'm hoping not to see the blue, Volkswagen, station wagon again any time soon.
Back in the empire of Mainhattan meanwhile, we were very lucky to have a friend down visiting us a few weeks ago. In his quest for cheap accommodation in the city, he ended up in a hotel a little on the outskirts of town so we ended up walking down the river to join him for a drink one evening. Coinciding with that, we hadn't really found any 'great' place to just go and relax and have a drink – but this guy, without meaning to at all, had come across a complete gold mine – a place called Alte Sachsenhausen. Tucked away almost under a building and hidden away where you'd least expect to find it, there's a street not far from our house that's home to nearly every different themed pub you can imagine. There's an Irish pub, right next to a Scottish pub. Then, further up the street there's a Mexican bar, a nightclub-esque bar; even a Hooters, if you're into that. And, with pints as low as €3 (that's actually not entirely true, one evening I got half-price beer, so a pint ended up being only €1.75), it's not a bad place at all to head over to on a sunny evening.
Speaking of sunny evenings, the city of Frankfurt has been basked in almost Malaysia-like heat from about two weeks after I arrived – the temperatures are reaching as high as 29 degrees. I even dragged my bike out today to test if a) the bike could still work just as good in Germany, after being dismantled and re-assembled and b) if I could actually cycle on the right-hand side of the road and try and remember the German rules of the road without being hit by the No. 11 tram to Fechenheim. As it turns out, the answer to both is, yes. Or at least for today. The major problem instead is simply the heat – it's no fun when you're wiping the sweat off your brow and pouring water all over your face, especially when you haven't even gotten on the bike yet.
The good news with all the good weather though is, it makes everything seem somehow a bit more attractive – the cathedral, which I usually think is a little on the ugly side, looks great (I'm not sure anything will ever make it 'magnificent') and despite the throngs of tourists crowding into the 'old town' square near the river, all the old buildings seem much more impressive for a bit of sun and some heat. So, as we always say in Ireland, enjoy it while it lasts and let's see what the week brings.
And of course, there's always the trip back to Ochtrup at the weekend. Although Anna informs me that it's also a blue Volkswagen and the guy sounded familiar. Dortmund, here I come…