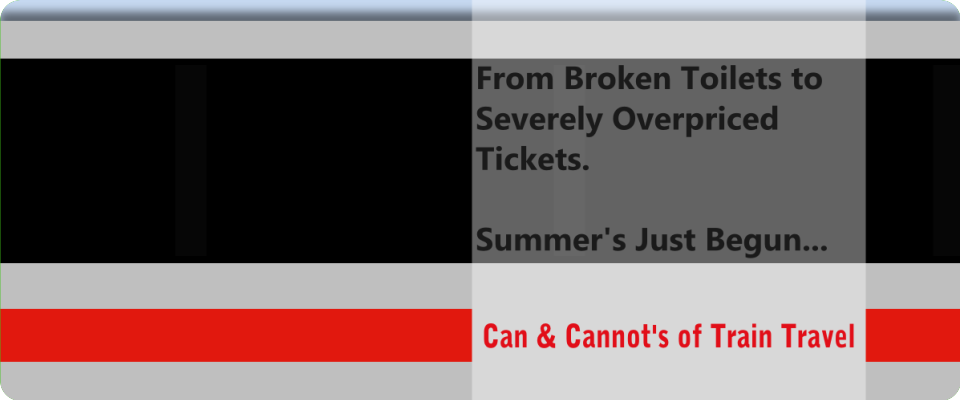 With summer heat rapidly covering every corner of Germany (along with E-Coli), it's time for a raft of German holidaymakers to look forward to the spuriously-titled 'savings' priced tickets and, if they're especially lucky, have a free roasting thrown in. I say that because last year, many of the intercity trains in Germany suffered malfunctioning air conditioners, sending temperatures inside soaring up to 60 degrees and causing passengers to pass out – and it looks set to be the same this year since the same problem started happening again as recently as last week.
Since I have to spend a fair amount of my time this week on the train travelling, quite literally, the length of the country, and having recently come to the conclusion that train services aren't really 'great' in any country I've been to, I decided this week to write a list (in Malaysian-style by using 'can' and 'cannot') of irritating things that I've found, from personal experience, to be vaguely acceptable on long train journeys and those are which completely unacceptable. In this post, I'll address those which are completely unacceptable beginning with the absolute worst.
Why is there a hole in the floor? Oh, wait…

The worst train journey of my life, and one which continues to come up periodically in my worst nightmares was from an Indian station called Madgaon to Trivandrum. Prior to the journey, I'd been staying for a few nights in what could only be described as a mosquito-infested mud shack beside a beach in Goa. Now and again, during the daily floods, the mud shack would be unable to resist the downpour and me and my shack-mate would return to find the water level as high as our mattresses. So, on our final night, to celebrate the fact that we'd both somehow survived the experience with no sign of malaria, dengue or drowning, we went for a meal at a 'local' restaurant. The next morning, feeling refreshed and ready to depart, I took a bus to the local station at 'Tivim'. After Tivim, I had to wait in this place, Madgaon for about 3 hours before the next train, the 'Rajdhani Express'.
By the time the train arrived, I wasn't feeling great and went to check out the facilities at either end of the carriage; for whatever reason, I wasn't really allowed move into another carriage. Anyway, right down at the end of the carriage there was the sole toilet – and guess what, it came equipped with one roll of toilet paper strung around a pipe. And guess what else? The toilet was 'eastern-style' and required something of a crouching-tiger-hidden-toilet-roll stance to use – and to make matters worse, once you adopted the required position, you could see the steel of the track whizzing by about 4 feet below your rear. The moral of the story; those toilets in Europe that look like aircraft toilets and have confusing automatic doors that have one button to close and one button to lock…they're actually a luxury compared to being caught short elsewhere. And in the end, I was caught extremely short and ended up frequenting the hole in the floor about 15 times before disembarking the next morning.
The lesson then is simple; had a chicken jalfrezi from a tiny restaurant in the middle of nowhere in India and now not feeling the best? Grab a 6-pack of toilet roll from a shop and cancel any train reservations you may have. You'll thank me for it afterwards.
Vietnam's Speed Demon
A couple of years ago, when I was in Vietnam, I elected to take the 'Reunification Express' from one end of the country to the other. It was touted as being a magnificently scenic journey, representing outstanding value for the price of the ticket and something you'd never forget. Well, it was a scenic journey, that was for sure, and the price wasn't awful either – although it was still about $80, which is a bit rough considering you can get beers on the street for 25 cent. But the part I definitely can't argue with was about it being an unforgettable journey. Admittedly, I knew it'd be a long journey but I came to realise afterwards that 28 hours on a train is simply stupidity at its worst.
To start with, there were 4 of us sharing a 'berth'. I grant you, the room was pretty comfortable and parts of the journey were great for a variety of reasons but as we trundled on through the afternoon into the evening, into the night and on into the morning, I began to question my sanity. And I also began to wonder what state my sanity would be in by the time I got off the train. Like in India, there was some sort of 'issue' with walking into another carriage so essentially, occupants were confined only to their own carriage, which came complete with some metal sinks and a toilet at one end for use by one and all. The other issue was, having been told that the journey came with meals included, I had deliberately let my stash of cash deplete somewhat and only brought a box of corn flakes and some other small snacks for the journey. Needless to say, food wasn't included free and I ended up also trying to ration the box of corn flakes over a 30-hour period, eating a couple of handfuls for all my 'main meals'.
The lesson from this is simple; you might think you'd like it, but I know nobody in my carriage except myself who travelled on the train for so long and I was dying to get off at the end and vowed never to reunify myself with it again. 28 hours on any train is almost certainly about 20 hours too many.
Tune into tomorrow to read about some more definite negatives of train travel, or click here to see if there's already any new posts on the occasional joys and unfortunate effects of train travel around the world.