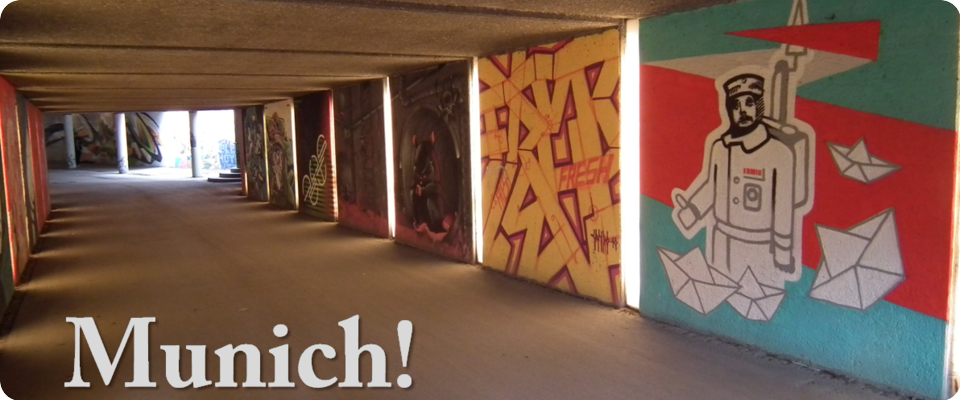 We'd been looking to get out of Frankfurt for a couple of weeks, but the price of the Bahn coupled with our seriously empty bank balances meant all bets were off. Thankfully, a friend of mine agreed to run us down to Munich, as he was heading that direction anyway, so we were more than glad of the lift. So, what do we think of Munich?
Well first up, we didn't get there for a long time – it appears that the day we picked to drive down there was some sort of Dutch holiday called 'Black Friday' (sounds strangely grim for a public holiday, I know), where everyone evacuates out of the Netherlands and seemingly down in the direction of the south of Germany. So, almost immediately upon leaving Frankfurt, we got caught in a traffic jam, and despite our very best efforts to escape, we didn't actually make it to Munich until nearly 2am (having left at 7pm). So, into the hotel and straight to bed, first impressions of Munich had to be put on hold until the following morning and when we finally did get our first impressions, it was…rain, lots of misty rain, grey skies and wind.
Leaving the hotel for breakfast, we somehow got incredibly disorientated when it came to finding a bakery or café, and we ended up actually seeing most of the main sights of the city before breakfast it would appear. We had the city hall, the many church spires piercing the sky, the market in the square, and finally, a café that appeared to be about to hit bankruptcy and, it turned out, no longer served sandwiches, which was annoying not just for us, but the next raft of customers as well. Oops.
So, leaving the café again after our incidental tour of the city earlier, we decided that accidental wandering was working out best so we continued on. We turned a few corners and suddenly were on a street which Anna reasoned was the most 'expensive' street in Munich, exclusively for those with a few shekels to their name – so we moved along, quickly. The next stop on our tour was the English Garden, a vast expanse of parkland, greenery, flowers and places to relax. We wandered around the English Garden for as long as we could, before the rain got too much and we repaired back to the hotel, which had an (surprisingly) empty pool waiting for us.
The evening time took us out to a restaurant Anna had been at before and had spoken highly of – which I have to say, in spite of the slightly higher price, was absolutely delicious. Not only the food, but the beer too, which is what I had definitely been looking forward to as a top attraction for the south of Germany. It was so good in fact, that after we had finished our meal, we decided to carry on the good work and go look for a traditional Bavarian bar. The really awesome thing about Munich was that, even if you had the audacity to not walk down one bar-lined spectacular cobbled street, you could almost bet that another would be along any second.
And we were right – soon enough we, without really knowing how it had happened, found ourselves standing outside the door of a very traditional looking Bavarian bar. It actually looked more like someone's house – so we had to go in!
The inside of this place was every bit as similar as the outside in terms of feeling like we'd just entered someone's house – there were only about 5 or 6 tables, a small bar, an old man, a young man and a whole bunch of beer taps. Not only that, but almost as soon as we walked in, the old man told us we'd have to be out by quarter to eleven; definitely like someone's house. So we sat in there and drank a beer, then another, before the old man wanted us out, and we wandered home, having to contend ourselves with the slightly less intimate surrounds of our hotel bar for one final round before bed.
The next morning, Munich tricked us. The morning started out dry, with only small grey clouds seemingly threatening our sightseeing for the day. Needless to say, we got about as far as 2 minutes away from the hotel before that turned out to be a nasty trick.
I'll write some more about our trip to Munich in a couple of days. In the meantime, let me know if you've been to Munich, what you liked about it, or anything else.
You can see the album of the trip to Munich, by visiting Facebook!