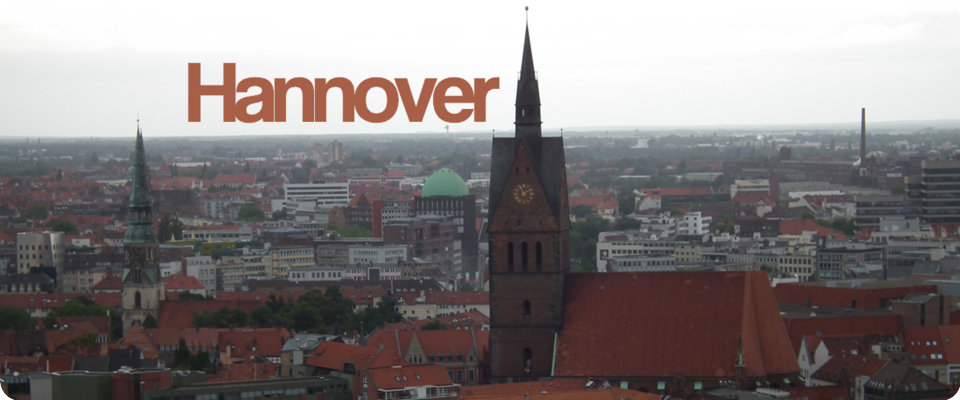 To escape the complete emptiness that envelops Frankfurt every Friday night for the entire weekend, and in order to be with Anna's family for a family celebration, we went up to Hannover last weekend for a change (which is supposed to be as good as a rest). Needless to say, owing to our usual quality planning, it also ended up being my first day of 'proper' work in a long time so, barely able to see from tiredness, I made my way to Frankfurt train station, onto the train, started to read (I don't even think I really read very much, in spite of the length of the journey) and some 2 hours later, we were standing in Hannover.
Now, I don't know about anyone else, but Hannover for me is one of those places I've heard about, I definitely know it's a city, but I never really knew much else about it to be brutally honest.
When we arrived it was getting late, and after a drink in the very swanky Cuban bar right next door to the station, we repaired to our accommodation, which was the 'Ibis Hannover City Centre'. I've never stayed in an Ibis before (that I can remember), partially because I've never had the opportunity or money to do so, and partially, if I'm being honest, because I'm not sure how to pronounce their name and it always makes me think of some sort of Greek food. Anyway, it was very nice, everything worked perfectly, and they had a bar downstairs that we availed of the following night with reasonable prices.
Up bright and early the next morning to pack it all in, we were wandering around Hannover city centre as early as possible looking for somewhere to eat. In the end, we settled for a coffee shop; 'Balzac Coffee', where the light fittings are quite close to your head – watch out if you ever go there, I nearly destroyed their lightshade standing up. While we set about trying to following some walking tour indicated on our map by a red line cutting through the streets, we quickly came to discover that the authorities of Hannover have even however, very generously, literally painted a big red line on the ground exactly where you should be going. If I was to say how many times I've been in cities trying to follow a suggested walking tour on a map – and let's face it, nobody really wants to keep looking at a map as you're walking around a foreign city at any time of the day – and ended up in the industrial district, or nearly in the sea in the case of Boston, I can't say how helpful actually having the directions painted out for you, is. Needless to say, there were the usual things along the route that I've come to realise Germans love; things like, Irish pubs, kebab joints and of course the trusty beer bike.
The beer bike has to be one of the most unusual contraptions (and I wonder, barely legal?) of all time, and seems to be as popular to drunken revellers in Germany, as Temple Bar is to drunk American tourists in Dublin. The concept is simple – you get a big bunch of people to go out drinking. Then, you nominate an unfortunate who has to stay dry, while you all then hop onto this oversized van-size bike, pedal your hearts out, all the while being served fresh, cold brews from the barman working in the middle of this unusual bike. Your sober friend obviously steers. I know it's popular, because sometimes I hear them screaming and shouting at the junction just outside my bedroom window late at night. Then, another thing that seems to be surprisingly popular in Germany – markets. The only market I can think of that happens with any sort of frequency in Ireland is Blackrock Market, and I've only been to it a handful of times, and of those few times, I still think I haven't actually bought anything. But in Germany, boot sales and flea markets and the like seem to pop up with almost alarming frequency, so much so, that our by now trusted red line took us right through the centre of one.
Like any market, it goes without saying that some of the stuff was pure and utter junk, although I've a suspicion that collectors could definitely pick up some decent stuff. By that stage, the only decent thing I wanted however was a toilet and thankfully, this market in particular provided me with the opportunity to have the first time ever spending money at a market in Europe – even if that was just to use an oversized 'toi toi' portacabin convenience!
And so the red line meandered. No joke, it went on and on, winding round streets, going around the back of churches only to come around the other side and on we pushed. To be fair, the scenery can't be faulted – I read that something like 90% of Hannover was destroyed in the Second World War and all I can presume is that Hannover was absolutely gigantic before the war, because there's a lot of buildings still standing there looking at me with serious age.
On we went, until we finally reached the town hall – on Friday (or Saturday) I'm going to write some more about the town hall, the rest of our weekend in Hannover and the 'pod' (you'll see). So, back soon!
Check out the next part of this adventure – Click Here
You can also click here to see all the pictures from Hannover here on Facebook!