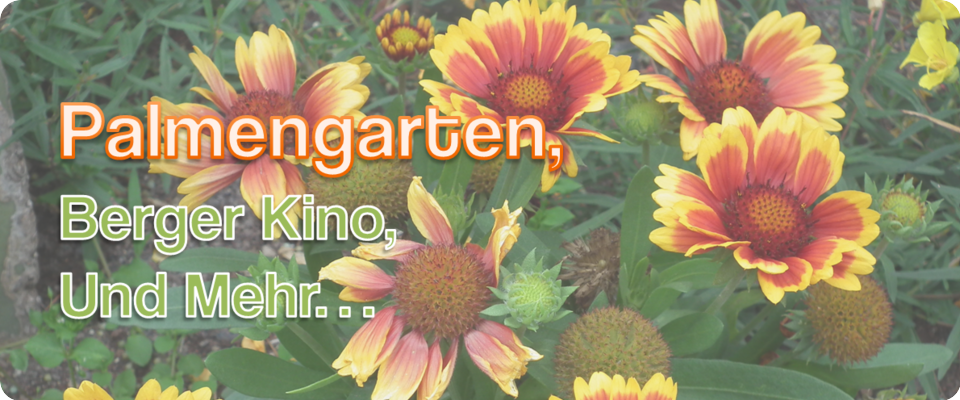 So, just one week after our epic trip to Hannover, the next weekend came around and we surprised ourselves by really going out of our way – to do nothing. I've started working and the over-an-hour long commutes to my new office have me more or less destroyed by early evening. So we decided to take it easy over the weekend and, finally, see what exactly Frankfurt had to offer us over the weekend. Well-stocked with food and 'Bergadler' from the local Lidl (ahem…6 bottles for the bargain price of €2.50) the Palmengarten, which prides itself on its 'numerous beautiful and interesting plants' was first on the agenda, for Saturday afternoon. In actual fact, leaving at 3pm was an incredibly poor idea because if you're not sure where you're going, the palmengarten is next to impossible to find. It's like asking someone to find the Phoenix Park in Dublin – when they only speak Japanese; seriously. We actually walked so long from the tram stop that we ended up having to stop a kiosk and buy some water.
Needless to say, as seems to be quite often in Germany, there is in fact multiple entrances all strategically placed for ease of use – but with not a sign for any of them to be had. It's €5 in, which seems a bit steep just to see some flowers – although admittedly, my fingers are anything but green – but actually, it's more than worth it. Entering into the place, there's a grand fountain, whole gardens decorated with, I have to say, 'numerous beautiful and interesting flowers' and much more. In our case, there was also a very unfriendly duck waiting to take our shins apart for us. No sooner had we navigated delicately past him, than we came to the next obstacle; an extremely angry swan who looked like he'd just seen his bank shares disintegrate into nothing. But, disturbed animals aside, there was also a pretty awesome tropical garden inside a building – which again, is great when you find it, but is otherwise shrouded in scaffolding.
Moving along, there was a train that I think only takes children (unfortunately) for a round trip of the park, more interesting gardens, some large-scale greenhouses where you could literally get lost looking at all the different plants, flowers and trees, before we suddenly ended up back at the start, not fully knowing how exactly it had happened. Not wanting to get lost trying to get out, as well as finding it, we decided to short cut through the park to the exit nearest our tram stop. Overall, the palmengarten was (I have to be honest) a whole world better than I expected a garden would be – especially considering I was seriously miffed at paying €5 just a few hours before that. Thumbs up.
Sunday, again, started out as something of a slow day. We'd heard tell of an English language cinema, named the Turmpalast in Frankfurt. Internet legend has it, that this emporium of English is nothing short of a disgrace and is largely condemned on internet discussion boards across the land. Never mind that though, it's actually been closed for some time so we kept on trawling the net until we discovered that the Berger Kino, a cinema near where Anna used to live in a nice place called Bornheim Mitte, also shows English films. Back in business.
To start with, we went out and had an early dinner, got our tickets and repaired to the imaginatively titled 'Irish Pub' in Bornheim for a quick Binding beer, before heading back to the Berger Kino (cinema). Does anyone remember the cinema that used to exist in Glasthule? Possibly not. It was nothing to remember, except for its vintage feel. Well, the Berger Kino (which is to be commended anyway for bothering to play films in English in a country where everyone speaks German) has the same sort of vintage feel. The entrance is small, narrow and almost hidden and it leads to a reception/ticket office/shop. Then, to get to the theatre, you walk down a narrow corridor with flashing lights, which sort of has the effect of feeling like the last step between the modern day and you going back in time to the 1980's. I love it.
The theatre itself, in our case, was more like the kind of room you go to see a school play – all flat seating – and came complete with a curtain (which I haven't seen in Ireland in a cinema for a good 10 years at least), which very mechanically opened up at the right time. It probably sounds dodgy, but in actual fact, with the tunnel into the theatre acting as a sort of time-tunnel, the whole thing feels perfect and before the film had even begun, I had almost decided for sure that I'd had a great time. The Berger Kino will almost certainly be visited again – the guy working in it even said goodbye to us as we were leaving!
We're trying to plan some trips in the next few weeks so hopefully I'll have even more to write about soon. Until then though, it's back to the 1980's and back to the Berger Kino as soon as possible – anyone any recommendations from your own trips to Frankfurt? Or cities you reckon are worth visiting in Germany from personal experience?
You can also click here to see all the pictures from the Palmengarten on Facebook!