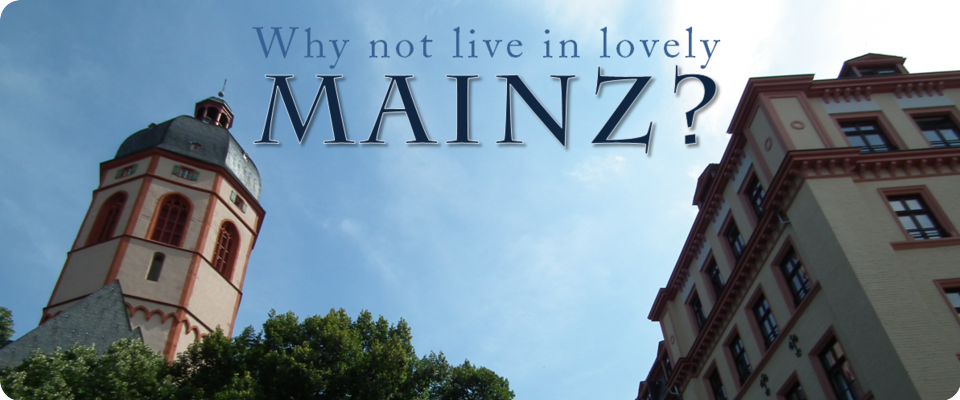 Why Not Live in Lovely Mainz?
Lately we've been discussing where to go live next – at the moment, Anna walks to work in about 20 minutes in the morning, which is perfect, but I have a commute of over an hour to get to where I need to go, which isn't so perfect. Assuming then that the ideal solution would be to go somewhere where we both had to commute for a less, but more equal distance, Mainz seemed like the perfect solution. Although where we live right now is more or less as good as it gets, we decided to call someone who had their apartment up for rent in Mainz and see if we could go see it, which she told us would be no problem.
So you can imagine then how grateful I was when she then postponed on the first night we were supposed to go see the place, and then followed up by cancelling the next time, because she'd already given the apartment away. Great. So, in the absence of actually having anything sorted in Mainz, we decided maybe it would be best if we at least travelled out to Mainz to see if it was even somewhere we'd want to be. I decided, in my head anyway (because announcing this would have made me seem, even to Anna, like someone with too much time on my hands) to 'rate' the place on the things that are important – to me.
First impressions count and all that, and my first impression (aside from, 'hang on, isn't this the exact same town I saw when our plane was descending into Frankfurt') was that the whole place seemed to have a bit of a buzz about it, something that Frankfurt occasionally seems to lack. There were hordes of people sitting out by the river, there was a giant food market packed full of fresh produce that seemed to occupy almost the whole town itself, and there was more people wandering around that you see in Frankfurt on a Friday evening – when they're all leaving for the weekend. It seemed like quite a cool place. It also has countless quiet and scenic spots where you can relax and sit, or even lie down beside the river and not be disturbed by anyone else, and chilling out is a nice factor to have. Unfortunately, in our case, there was a mad woman nearby with a baby doll in the child seat on the back of her bike, which was sort of ruining the chill out vibe today, but I'm pretty sure you could spend hours there if she wasn't lingering around. The first impressions and the river got a 70% – points coming off for the possibility of lunatics to ruin your relax.
Next up, we wandered through the city. One of the things I like about living anywhere new is its 'wander-ability'. Basically, when I come out of my apartment in a new place, I like to be able to hike off in any given direction for a walk and have a decent chance of seeing something interesting or nice. The streets of Mainz seem to offer this quite reasonably and to be sure, we took as many turns as we possibly could, wandering around almost in circles at one point. The only problem is exactly that – we somehow ended up wandering in a circle. Also, there was some sort of shameless Puma promotion going on, on the main street that was very distracting. Some of the streets we wandered onto were really awesome though – 80%.
The next big important test for me is the quality of food you can get when you live somewhere. Kuala Lumpur never had any problems with this particularly crucial test, and it's been so far so good in Frankfurt too. In Mainz, I decided to lay down the ultimate challenge – go to a kebab joint and try one of its finest. Doner Kebabs, as I've said before, are very strangely the preserve of everyone in Germany, as opposed to the preserve of drunks, like they are in Ireland. So, I went ahead and tried what Mainz had to offer – not bad, but certainly not as good a kebab as the one near the main railway station in Frankfurt, or dare I say it again, the all-time winner, the 'Mir Kebap Haus' in a little township on the outskirts of Frankfurt called Bornheim Mitte. 50% – and I hate purple cabbage, just so everyone knows.
Very roughly, scoring was complete. The ambience of Mainz is pretty cool – turn this way and you see a cathedral, turn that way and you see somewhere to eat, turn another way and you're at the river. Strangely, Mainz appears to have a very high proportion of hen parties taking place too, and Anna eventually ended up buying some syringes (minus needles) filled with vodka from an enterprising group looking to sell alcohol to fund their own hen party, which is a new one on me. But then, maybe that's because I come from a country where hen parties generally involve drinking all the alcohol, not selling it.
So, the final score? Well, by my very rough scoring system, they get a 66% on a number of metrics that most people possibly don't consider important. But, realistically, it doesn't matter because we don't even have so much as a single viewing lined up. But thanks for letting us look around, Mainz.