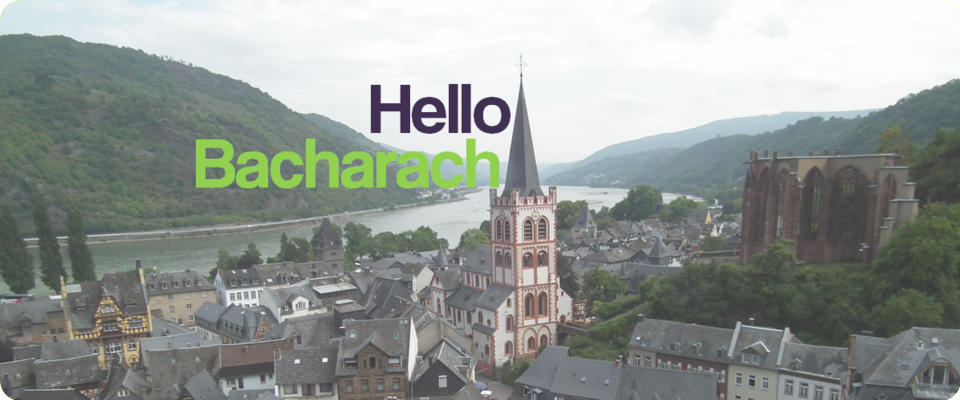 Last week, with a VI-visitor (very important visitor) over to check out Frankfurt for a couple of days, I needed to come up with somewhere interesting and scenic to visit, and quick. The big 'needs' were that it had to be not too far from Frankfurt, not too expensive to get to from Frankfurt and interesting and scenic enough to merit staying there for a few hours upon arrival – something which is notoriously difficult, with me in particular.
A colleague from work, who knows his wine (and, evidently, his small German villages) suggested we make a trip out to a place called Bacharach, a place which on the map at least, looked to be well out in what we in Ireland would call 'the sticks'. Google Maps, for a change, didn't lie, and it really was out in the sticks – requiring a length train journey from Frankfurt Hauptbahnhof to a small town called Bingem, before transferring onto a train from there to Bacharach. On the bright side, the train was an assortment of interesting characters, ranging from excited American tourists to an extremely smelly emo kid (trust me, I know he was smelly, I went into the bathroom right after him – he was smelly), schoolchildren and a variety of others.
Upon arrival, my first impressions weren't overwhelming. The town, despite having a name that sounded like a board game, seemed to be precariously perched on the edge of the River Rhine, with nothing holding it back from falling in other than a virtual wall of holiday camper vans. So, we walked down by the camper vans, trying to make the best of a perhaps bad situation, passing the local pensioners who were out enjoying ice creams and watching the barges pass by on the river, before turning in towards the town. I don't know why, because I generally do try not to jump to conclusions, but the whole thing seemed a bit awful.
Moving along through a pretty dingy subway under the road however, things very suddenly and very unexpectedly improved dramatically. The entrance to the town seems to be marked by a number of ancient watch towers, which you have to physically pass through to get to the other side and into the town. And the strange this is, once you do, the whole place looks almost magical. No joke, it looks like something out of Disneyland. Only better.
After wandering through the town and seeing all the old buildings, their paint making them look like they've been built at an angle, we continued to wander along out the other side of the town and up into the local vineyards, following a tour group of pensioners up the side of the hill with steely determination, reasoning that since they were as well-matured as the local wine and were still well able to get up the hills into the vineyards, then so were we.
And whether the pensioners knew what they were doing or were merely amateurs like ourselves, we ended up arriving at a very picturesque and worthwhile view out over the town and across the Rhine river itself. The town, which seemed small to begin with, seemed almost like a toytown from only a very lowly altitude. But what's a town full of vineyards worth if you don't know the taste of its produce?
So, with that, we retired back down the hill, stopping to note only the types of wine being produced by the local producer, some guy called Jost. Back in town meanwhile, we had a bit of an 'Irish dilemma' – do you know the way in small towns at home sometimes, every second shop is called Murphy's or Doyle's? And you eventually begin to wonder if the whole town is part of some Murphy Dynasty? Well, as it turned out, the hardware shop, then the souvenir shop were also owned by this Jost character. It began to seem too funny to be true.
So we settled into a small courtyard, opened a menu to finish off our trip to Bacharach and decided what wine we should try. Again, it was also too much to take but we definitely needed something local, of course, given where we were.
Something from Jost, of course. And even for me, and I don't enjoy wine all that much, it was delicious.