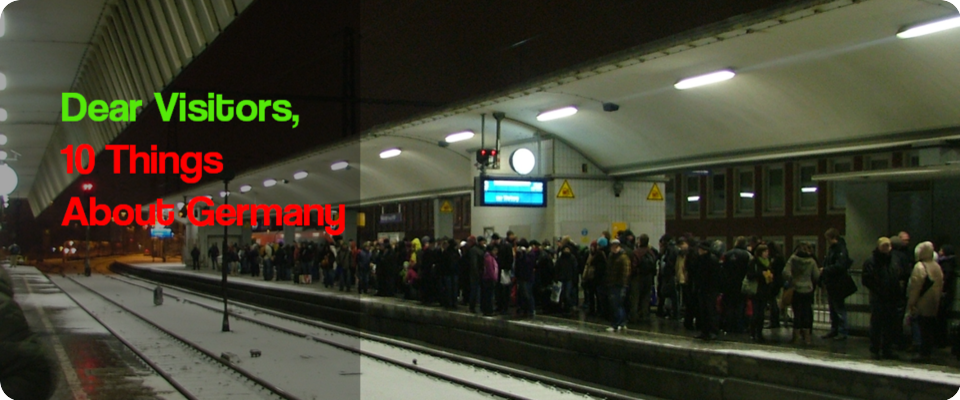 I've been living in Germany for close to 6 months now (if not already), and in that time, I've found my way with some things, gotten completely lost with others and sometimes I still can't believe that any tourist manages to find their way around. So, since most of the people reading the blog are English speakers (otherwise they're not really 'reading' it now, are they?) and therefore more likely to visit Germany for a holiday rather than a move, I thought I'd share you with some key insights from the frontline that may help you understand why things are the way there…
That train you took today, that was an exception.

I know that, in Ireland at least, public transport boffins always relay tales about how transport lateness 'wouldn't be tolerated' in Germany and that this or that 'wouldn't happen'. Sadly, because of how often Germany is quoted as a public transport Mecca, I always firmly believed that all train drivers kept a rope under their chairs in case they arrived late at a station, so they'd know what to do. That, however, is very much not the case. As a rule of thumb, I plan a delay of 5 minutes into every journey, maybe anything up to 15 for longer journeys. To give an example, the train I take to work is generally very delayed at least once a week, and delayed enough that I have to run to make my connection another two. Enough said.
Beer is to be drunk at all opportunities – and there are plenty.
In Ireland, only soccer hooligans drink beers on the train. And generally, beer isn't sold at say, food markets or that kind of things. In Germany though, it's not alcoholism that's causing you to have a beer with your croissant at 11 in the morning – its fashion. Drinking beer any time after 10am is not only reasonable behaviour, it's actually sort of expected. If you show up at a lunchtime food festival asking for a big steak and pommes frites, then you'll not be wanting to go and ask for a glass of tap water if you know what's good for you. Thanks to the epic 'pfand' system, this drinking behaviour basically has Government approval.
Cash Machines, Ticket Machines and anything else like them are worse than useless.
I don't know why, but the vast majority of train ticket machines across Germany are either 'defekt' on an all-too-regular basis, or else they're so complicated that even a team from Mensa wouldn't be able to purchase a cross-city fare on one. Cash machines likewise, aren't like the ones in Ireland that are only too happy to produce cash on demand for you – their German counterparts, after being told how much you want, really act the part of the bank manager perfectly and take anything up to a minute to decide if you really deserve the dough or not before dispatching it. This is important, as you could otherwise conclude that your card has been eaten, when that is in fact not the case, and walking away will simply mean the next person in line will get your card.
Food will always be barbecued if the temperature is above 1 degree.
This is no joke. We actually had a German neighbour living behind us in Dublin, and he'd be standing out in the middle of December grilling his turkey on the barbecue, while I was rummaging around the house looking for another fleece to put on. This, it turns out, is typically normal behaviour and the barbecue acts, in many cases, almost like a spiritual point of worship, that must be used in any weather condition short of getting frostbite.
Towns often look like they're from fairytales – get used to it.
The first couple of weeks I was knocking around Germany, one of the things that spooked me a tiny bit was how people would walk through these incredible, amazing towns like they didn't care less where they were. Towns with beautiful old buildings, historic shop fronts and vineyards rolling down the hills almost onto the main street – and yet somehow, nobody else seemed bothered, and it was as if I was imagining the whole thing. It turns out though, that there's so many towns just like the one that's put you into total shock, that Germans don't seem to really give much thought to the whole thing – because there's probably an even nicer medieval castle 3km's down the road.
So, in a couple of days, I'll hit you with the next 5! Let me know your thoughts in the comments below, or e-mail, and I'll be back soon!