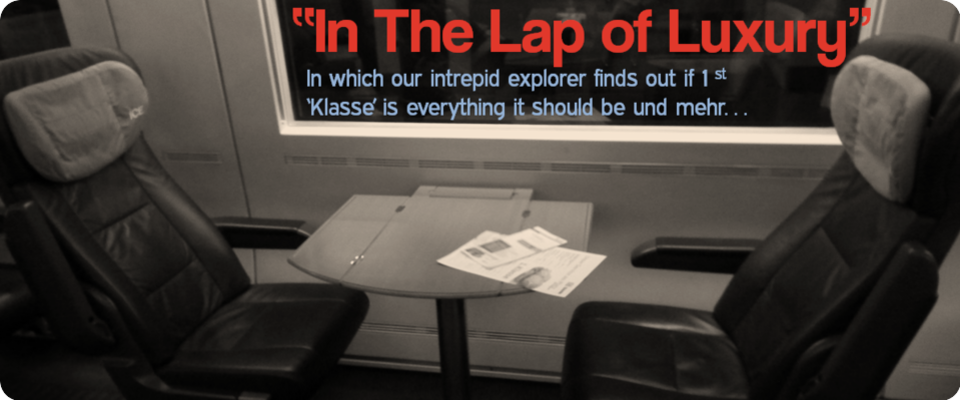 Lately we've been taking the train to wherever we've been needing to go, instead of chancing our arms with the complete randomness of the 'mitfahrgelegenheit' system of car-sharing, where you book a ride with someone and then pray for three things to happen;
a) That they actually show up in the first place.
b) That they're not a crazed maniac.
c) That your fellow passengers are also not crazed maniacs.
Taking the train negates at least two of these options – the train will almost certainly show up with better reliability than some person driving his or her car, and if the drivers a crazed manic, then the worst he can do is speed along the tracks, which will actually get you where you want to be even earlier. Or at the very worst, he might change tracks and you'll end up stuck in Dortmund for the weekend. Either way, the chance of serious injury and/or fatality is much less – I think.
The problem is, the Deutsche Bahn aren't really fond of cost-conscious travellers like myself, who want to journey on a Friday evening, when there's business travellers who'll definitely pay full fare. So the fares on weekends hover somewhere between mediocre and appalling. Every now and again though, maybe it's only on a full moon, some sort of pricing system breakdown seems to occur and you get where you want to go for much less than usual. So you can imagine my complete and unexpected surprise the other day when I learned that the journey I wanted to take was €80 – and the same price was applicable to either normal, or first class.
Don't get me wrong, I know that in Ireland first class on a train means you don't have to fight with a GAA fan trying to get back to Thurles after the match for your seat. But the way they make it out in Germany, it appears to be a decidedly more exclusive affair- certainly not for any old common riff-raff. There's even a 'lounge' you can retire to, away from the commoners, while you wait for your train to arrive. In my head, there'd then be someone smartly dressed at the steps of the train helping everyone and taking their luggage, then someone else to hang the coats up (like on aircraft) in a special wardrobe, before champagne was served shortly after departure – don't ask me where I get these notions, I've obviously seen one too many old films where this kind of thing happens. In fact, as we sat in the freezing cold on the end of the platform that wasn't protected from the rain, the only thing I was sorry about, was that I didn't have a coat to hand anyone.
Just as well it turns out. What is first class on German trains like? Well…sort of the same as second class. I mean, I didn't feel bad because I didn't pay ANY extra amount of money for it, and I probably would pay maybe an extra €10 for it, but certainly not much more. In our carriage, there was nobody welcoming us on to start with, and the only noticeable difference was that it was completely empty except for two horrible kids sitting opposite us, whose parents had largely decided to pretend they didn't own them, and were sitting in separate seats reading newspapers and drinking beer. Meanwhile, one of them was holding a string of wool and staring at me as if to suggest that I was going to be strangled any moment. All in all, despite only having 4 other passengers in our carriage, the tension was palpable. In the end, we actually got up and went to the Bord Bistro and had some beers while we waited for them to get off (which I hoped would be soon).
Returning back to our seats just in time for them to leave, the journey continued much the same as it would in any other seat. Nobody came around to offer us anything (even if we had to pay for it) – there was some newspapers stashed away that I suppose we were welcome to take, but otherwise there was nothing but practically tumbleweed rolling through the carriage.
We changed trains at Cologne, and into another first class section, which also only seemed to be only missing one seat at each row, with no other difference. This one however, lacked even further in service, and nobody even bothered themselves to come around and check our tickets – which leads me to believe it would be very possible to travel in first class for at least 2 hours for free in future.
The final straw? At the end of our journey, the first class section was so far to the back of the train that we nearly didn't have a platform to get off onto – so, if only having 3 seats across the row instead of 4 is your idea of first class, then go for it. Otherwise, I might be taking my chances in future with second class once again.
Thank God I didn't bring that coat.