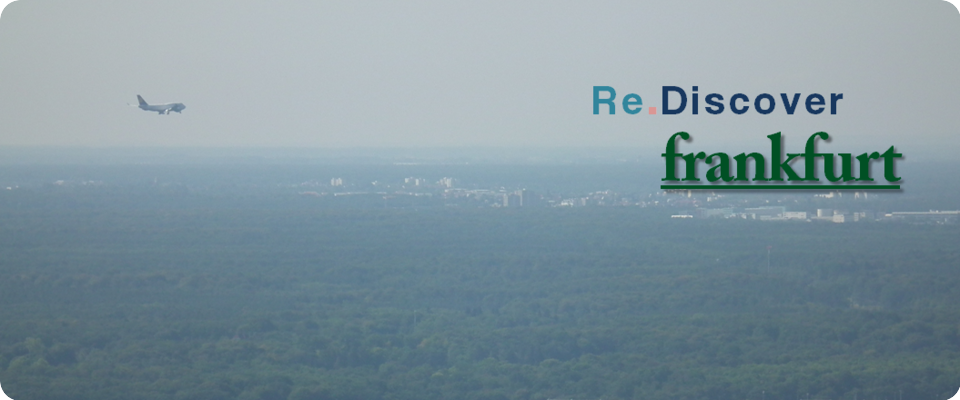 Recently, with a very important visitor over to see us in Frankfurt, we had cause to re-visit a few attractions we haven't seen in some time – in one or two cases, 'some time' being in the order of years, rather than weeks.
The regular carnivals have continued to show up in Frankfurt, as much as seems to be practical and one in particular lasted right up until the day I had been hoping it would be around – by which stage, as mysteriously as it had appeared, it had vanished into the twilight. Likewise, Wiesbaden, the city near where I work, played host to a giant wine festival, that unlike a similar event would almost certainly have been back in Ireland, strangely wasn't crowded by drunks and requiring an overbearing police presence. Instead, everyone actually stood around and sampled different wines, moving from one stand to the next, until somewhere around 10pm, most people settled at their favourite stand and proceeded to continue drinking for the rest of the evening – still maintaining the tastefulness of it though.
I'm not sure how the cities of Germany manage it (or whether the citizens are so use to seeing these carnivals that they don't even care for going 'all out' with them), but there seems to be an event nearly every weekend, and they still somehow don't seem to need a single security staffer in sight.
Moving along though, early on a bright Thursday morning, we decided to set off for another 'old sight' that hasn't been seen in some time – the Helaba tower. Mostly an office block, the Helaba tower is another thing in Frankfurt that you could quite easily actually miss if you didn't know it happened to exist, or didn't notice the crowds of people looking down on you from about 50-odd storeys high. For me, what I always remember best about it however, is not in fact its vantage point, but rather the ear-destroying elevator on the way up, which moves with such speed that my ears have never once managed a trip without wanting to cry. So, along we went – and, like most things in Germany, it was the same price still as it had been a couple of years ago – and up we went in the lift, its speed not having diminished with age. The morning we picked to go up the tower sadly, was one of the hottest mornings of what's been an otherwise dismal German summer, and the temperatures were roaring well into the 30's. The view however, in spite of the crazy heat, was more than worth the whole enduring-the-lift and trying-to-survive-imminent-sunburn thing, and we could see all the way out to the airport one way, and all the way as far as the flat land seemed to stretch in every other direction.
Not bad for €5.
The next stop on our tour of Frankfurt was the old part of town, down near where the cathedral is. There's an assortment of bars, overpriced eateries and tourists to be found down here day or night, but somehow the buildings themselves, no matter how many others are also taking pictures of them, never cease to impress me. They look old, they look traditional and they still look imposing, even when they themselves are resting in the shadow of Frankfurt's skyscrapers. Needless to say, for any visitor to the old part of Frankfurt, no visit should really be complete without a sampling of the local favourite tipple, 'apfelwein'. When I first tried this stuff, I thought it was nothing less than horrendous – sickly sweet and flat, like a Bulmers left open for a day and then drunk. But even I'm having to start admit, it may be an acquired taste. With the temperatures still burning in downtown Frankfurt, the semi-flat sweet drink was served absolutely ice cold, and I don't think I've ever enjoyed something that seems to have run out of carbonate as much in my life, and possibly never will again. That was, until the clouds moved in somewhere around our second glass and it started pouring rain.
Finally, it was back to the Palmengarten, Frankfurt's answer to the botanical gardens of most other cities. Although the admission is very cheap for what it is, it's a bit unfortunate that they make you walk the long way around from the train station to the entrance – as the first entrance we came to was closed, and apparently only open on bank holidays and Sundays, so you have to walk the perimeter of the park on the outside, just to get inside and then walk the perimeter of the park from the inside; quite unfortunate. Nonetheless, even with the temperatures (this was in fact before the drink of apfelwein, mentioned in the paragraph above) soaring, the flowers were out to greet us and for once, the tropical gardens in the greenhouse actually felt very 'moderate' compared to the intense heat outside. After many slow walks, ice creams and cold bottles of water, we finally made it right around the whole of the Palmengarten just as it was closing, and not before we had to endure one final walk around the perimeter of the park (on the outside) to return to the U-bahn station. Now you can see why the apfelwein was well deserved.
And after all that, it was time to sample some of Frankfurt's local beer…