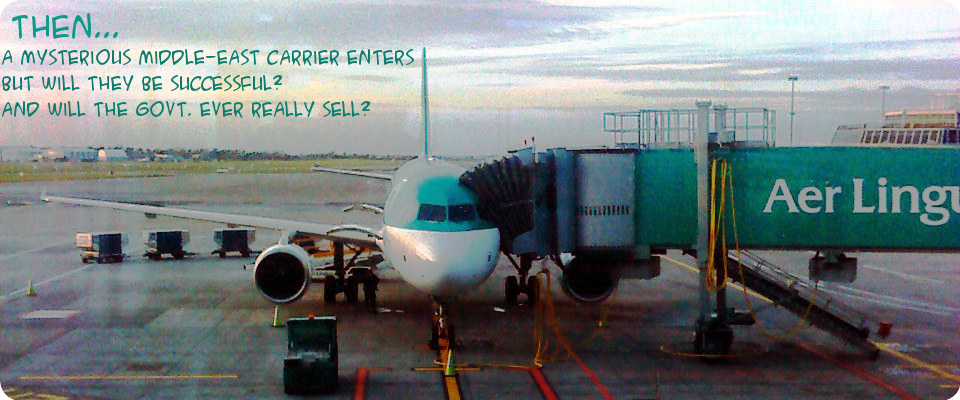 So there's been some talk in the papers lately (how old do I sound even writing this?) that Etihad, the Abu Dhabi-based carrier now owns a stake in Aer Lingus which puts it right up there with the big players like Ryanair, the Irish Government and strangely, Denis O'Brien. The word on the street – and by street, I mean the Irish Times – is that they're even trying to work out some sort of co-operation with regard to fleet purchasing, sharing routes, so on.
A couple of years ago I was ranting and raving about the whole Aer Lingus thing complaining that it wasn't being sold, and what a waste. Then, I had some sort of epiphany during my trips back and forth to Germany and realised that it really does provide an 'alternative' service from Ryanair, no matter how much more the price is, and that the service is simply superior – and getting better – and that sometimes price just isn't the be-all and end-all.
So, why do I think this is such a positive step? Well don't get me wrong – it won't be at all a positive step in the slightest if the Government continues to maintain absolutely no intention of letting go. I know it's a national treasure that sits close to our hearts along with the Rock of Cashel and Copperface Jacks' nightclub, but seriously; Etihad is as good as it's going to get. If it was down to me, I'd be doing a cash deal with them first thing tomorrow and they could have the whole lot. Don't get me wrong, the management in the place at the moment seem to be doing a fine job and I'm pleased that they've really put forth the 'service' aspect, because everyone knew that Aer Lingus was never going to be as cheap as Ryanair, no matter how hard they tried, were they? I mean it's like trying to ask Superquinn to be as cheap as Lidl at every price.
So, yes, I think the service aspect is where they should be going – and from personal experience, rude staff in Dublin aside, Etihad seem to have it pretty much nailed. The aircraft are modern, the food and drink is (complementary and…) excellent, service is top-notch and the price – sure, it's a little bit higher. But oil is on the constant up and the cost of throwing a plane up into the air just isn't getting any cheaper – so cost may be becoming an increasingly poor basis upon which to try and sell yourself. As long as they keep the costs as low as they can, increase the service as much as they can – then the price will still be attractive to those, like myself, desperate to avoid an unpleasant travel experience as with certain other carriers.
Now, here's the current problem. They're a small airline at best, and you just can't get the deals with a size like that. Aircraft list prices are the metaphorical industry toilet paper – nobody pays a list price, they pay what they should be paying considering how much they're buying, how big they are, and how likely they are to be needing more in the future. But when someone like Aer Lingus buys a couple of aircraft for long-haul, that's probably the last time you'll see them again until those aircraft are also done flying – if of course, you happen to be Airbus. So they're not really much good to you short of an explosive growth, which is why the Etihad co-operation on purchasing gets interesting. Etihad are growing like lunacy, and you can bet they won't be stopping since their Government is basically bankrolling them to do whatever they fancy. So, if you're Airbus chilling out in France sitting around and the next thing this one huge customer rocks up with an order for 30 aircraft with no difference (bar a bit of green paint on some of them) and is telling you they'll probably be back, of course you're going to be doing them a solid turn unless you want them heading to Boeing in Seattle next time they've got the cheque book open.
There are so many ways this could work incredibly, and so far very few I can think of how it can go terrible – the Govt. refusing to sell being the main one – but what do you think? Let me hear some opinions…