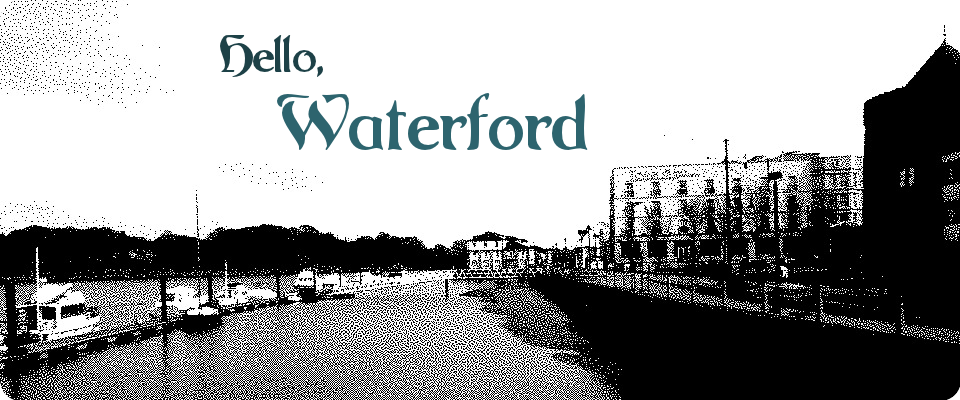 Since returning to Ireland, every bank holiday weekend (and there are quite a few here) have so far ended up with either myself or Anna working and therefore preventing us from actually going anywhere or making the best of it. We got another opportunity a few weekends ago and knowing how neither of us ever take too long to see a place before invariably getting bored, we reasoned we could fit a day trip in, at the very least.
Waterford's a city I haven't been in since I was about 7 and every effort to make a day trip down there so far has always been scuppered either by terrible weather or a lack of bus timetables that would allow for more than an hour a half in the place. To be honest, I'd no idea if there was even anything to see in Waterford anyway, so we took off early on a Sunday morning for the bus and the few hour drive south. Interestingly, I've always struggled with Bus Eireann as a transport proposition simply because the intercity routes nearly all stop at every settlement big or small along the way, which has never been something that appealed to me too much. Thankfully, they seem to be starting to move away from this and the bus didn't really stop anywhere for the first hour and a half.
Arriving to Waterford's a little strange – you come around the side of a mountain on a dual carriageway, following the terrain round and round and then almost abruptly and with no obvious signs of imminent arrival, there's the train station, a bridge and the bus station on the other side of it.
With no idea what exactly we were going to do to kill the time, we did what we always do in new places – which has and hasn't paid off in the past – just started wandering around looking for things to see or do. We came across the Waterford Crystal visitor centre, which was heaving with tourists – many of whom, I laughed to myself, were walking around and going out of their way to pick up some bit of crystal worth thousands and kind of pretend to weight it in their hands, as if they could somehow tell the quality and value of the piece in question. Personally, I was more intrigued by the possibility that somebody sooner or later was going to drop something and how that would go down.
I'm not really a crystal fanatic to be honest, although some pieces did look very nice altogether, and I also think I may have missed something while I was out of the country as I was quite certain Waterford Crystal had gone bust at some point – but interesting to see nonetheless!
Moving on down the street, the next 'attraction' came into view; Reginald's tower. Anyone like me who tries to see things on an extreme budget will enjoy these kinds of attractions run by the OPW, as they're nearly always either free or dirt cheap. The tower didn't disappoint either and was only about €3 in for 3 floors of interesting facts, trinkets and weaponry from throughout the ages. Easily Waterford's best value for money attraction.
Back into the city centre and things were a little bit more 'normal' – shopping centres, high-street brands you can see anywhere and a packed square since the weather was being unusually favourable. So, with our return journey approaching, we tore into a local pub for a pint or two and some food (along with most of Waterford it appeared) before getting back out of the place ASAP (I think the wait staff thought we'd probably seen something we didn't like, which really wasn't the case at all) and back to the bus station. All in all, a good place to visit even if only for a few hours – although I think having the car with us would probably have helped – and hopefully I'll see the town again sooner than the last visit…