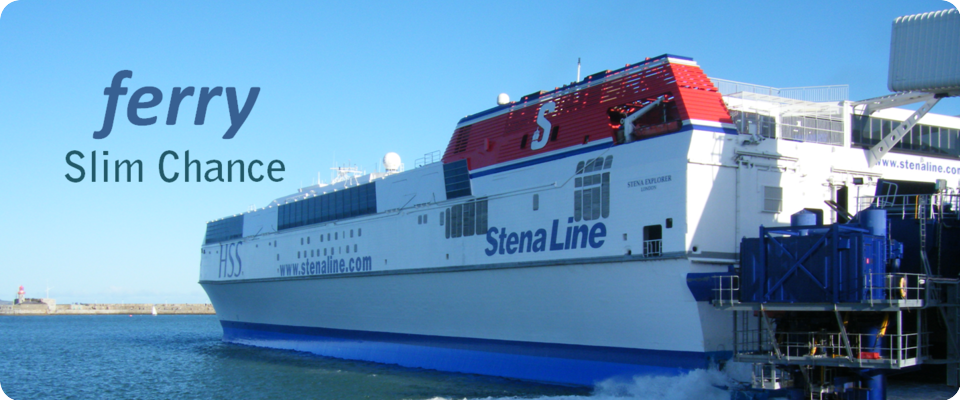 Ever since I took the ferry to Holyhead a number of years ago, I appear to have been added to some mailing list somewhere as a regular traveller, and so I seem to receive these e-mails a few times a month (or so it feels like) telling me what's going on. I am by all means a strong advocate (generally) of taking a flight to wherever I need to go for the following reasons;
1. Cost. Taking the boat with your car may have unlimited luggage but I don't need unlimited luggage and the price is nearly always higher when you factor in fuel to drive to somewhere at the other end, the cost of the ferry ticket and whatever you'll buy along the way vs. the cost of a flight plus even one or two pre-booked bags.
2. Dislike. I actually just don't really like taking the ferry – it seems to look shabbier and less attended to each time. So what that you have a guaranteed selection of seats? At least with the flight you'll arrive where you actually wanted to, and not Holyhead, the awfulness of which is unspeakable.
3. Disruption Potential. One time I took the boat to Holyhead, and on the return, for no real reason, it arrived about 20 minutes late. If I had been flying, it could have also been late, but they would have had to say something like "sorry for the obvious inconvenience". Here though, we just arrived and everyone got off, no reason given. Like it or lump it. And when the weather's bad in the air, it's also bad usually on the sea.
4. Irritation Potential. So there you are, resting in your seat on the plane when some little brat behind you starts booting your seat with all his might. Bummer. But on a ship, it's compounded all the more as kid plus all his friends race up and down, misbehave, fall into you and annoy the whole ship rather than one person.
Anyway, back to the e-mail, it basically assumed that I may need to travel between Holyhead (God forbid) and Dublin during the festive season. Find it copied below – and notice, aside from the pretty severe cost for a one-way car ticket and driver only, that the 'Fastcraft' is getting gradually slower – wasn't it just an hour and a half some years ago?
Now, what was all the more funnier about this, was I was only after reading a friend's Facebook status update just a while ago, posted live from the comfort of his ferry service…
So, who's used the ferry lately? Is there anything to be said for it, or do we need another ash cloud before we need it again? Or is it really the better, smarter choice?