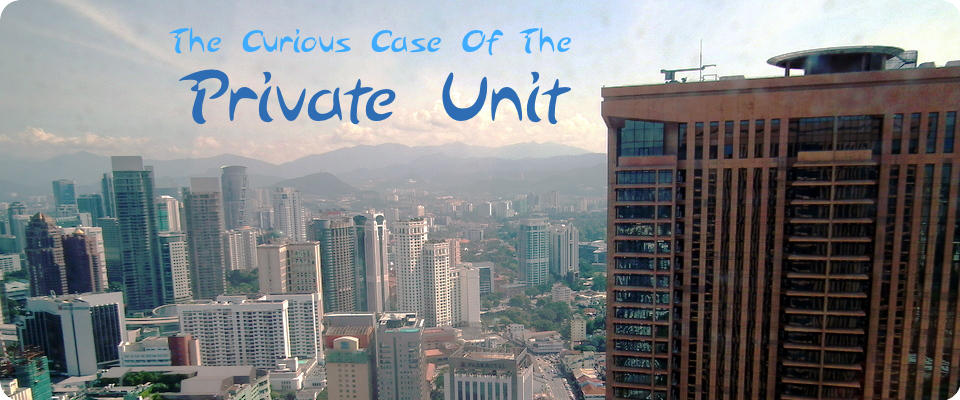 Leaving off from last time, we were en-route to Abu Dhabi, somewhere between the main meal and the surprisingly acceptable pre-landing "keep you alive" wrap. The last time I had to wait a considerable amount of time in Abu Dhabi, I was highly unimpressed. After being off-loaded in a new, modern and well air-conditioned terminal, I followed the signs for my next flight only to wind up in a hideous, windowless dome painted a bilious shade of green that would prompt anyone to vomit long before their next flight was boarding. Now, they're not to be massively faulted for this, as they were improving said dome the last time (over a year ago) I had to pass through it.
Familiar with this level of trickery and deceit, I took no notice of the modern, new and well air-conditioned terminal I disembarked into this time and following the signs through to arrivals, then flight connections and around into the post-dusk mayhem of Abu Dhabi Airport's transfer security, which is essentially the human version of the M50 at 8:30 in the morning, with some joining queues, some realising they need to go somewhere else and pulling out at the last second, some just stopped completely clueless and others trying to always jump in front.
If I had a major critique of Etihad to make, we could be here all night – but notwithstanding that, the major gripe I have is the connection time between the Dublin flight and the Kuala Lumpur flight; not far off 7 hours. This time, thankfully, we were herded back into the departures side of the new, modern (and so on) terminal but trust me, after 7 hours confined in that, even it gets highly irritating and boring as sin. Myself and Anna opted to eat our way through the place, with a starter of Butter Chicken & Rice for myself, followed by some chocolate, then a few hours later every last piece of Mozzarella pizza they had left in the pizza shop. I more rolled onto the plane than walked. But to finish my critique – Abu Dhabi Airport, please try and find some free things other than just WiFi to keep people entertained. Maybe a small free cinema – or sleeping pods? If you want, you can hire me as a boredom consultant?
The flight to Kuala Lumpur (as all second long-haul flights are) was about as much fun as another 8-hour plane ride can be. I was stuck in the awkward middle seat in the middle row of the plane, with Anna on the aisle and some Chinese guy beside me who was constantly at odds with his iPod it seemed. Thankfully after a glass of wine, I was fit for a nap and that was the last I can recall until breakfast. Off the plane, into KLIA, onto the KLIA Ekspres and onwards to KL Sentral, Kuala Lumpur's rapidly-ageing transport hub. Working on the presumption that KL's taxi drivers are still as irritating and unappreciative of business as usual, get a prepaid taxi coupon and go looking.
Although we intended to book into the Berjaya Times Square hotel, we somehow managed not to on booking.com as they have also allowed a bunch of "other agencies" to pretend to be said location and so upon arrival, I had to go searching for this man, Sharif or something, in the East Tower of Berjaya Times Square – this would be fair enough if we'd paid a bargain price, however we really hadn't and I had been fully intending to keep up the luxury of the previous night in Dublin. This man, Sharif, belonged to some company Golden Green Holidays (I'm linking to their Facebook page here as their cover picture is a room very similar to ours, although I've much more accurate pictures I assure you) with an address of A2209 East Tower. The big problem of course, is that East Tower is locked and you can't get in without a residents permit. Not a problem for someone like myself however, and I simply waited (in front of the security guard) for someone to come out and just walked in after them. So, what went wrong?
As luck would have it, I met Sharif surprisingly quickly for a 45-floor building. He was hanging around the ground floor with a bunch of other porters, security guards and randomners. He told me to return to the main hotel and he'd be over in 5 (it was actually 25, and he didn't even look for us before trying to leave again, only I spotted him as he was getting into the lift to leave again) minutes. So there we were, myself, Anna, Sharif, and his friend who was too busy trying to lock people out of the lift by furiously stabbing the door close button to notice what was happening.
Finally we reached the top floor of the building, with the time now striking 4PM in the afternoon and myself and Anna ready to collapse from fatigue. Sharif showed us to our 'Deluxe Suite' and cracked the door open. First thing, it smelled so strongly of smoke that we both recoiled and Anna even asked without delay if there was another room – "no, but I always tell people not to smoke" being the well thought-out answer. Second, it was freaking filthy – there were empty bottles of coke, glass marks and filled ashtrays on the table. The bed meanwhile was very well slept in indeed. My main man, Sharif, informed me that the place simply hadn't been cleaned and his cleaners would be along momentarily (they were) and if we could pay him in cash that minute, that'd be great. So, not really sure what to do and believing things would be better shortly after, we did. Then he told us to go have a walk so the cleaners could do their thing.
Unfortunately, fatigue was now heavily set in and all we could manage was to get out the door and collapse into the corridor, chatting amongst ourselves. And here it comes – the moment things went majorly sour – our neighbour suddenly opened the door, some European looking rightly pissed off for whatever reason. After a brief chat about how Sharif/Golden Green weren't technically supposed to be renting out privately-owned suites and about some 'problems' they'd had with guests of this particular suite in the past we were invited in. Orange juice and friendly banter later, our neighbours, following introductions, informed us that they'd had continuous problems with the suite next door being rented out, which it wasn't supposed to be, the various owners and how in the past, there'd been prostitutes, drugs and gangsters next door, one by one, altogether or mixed.
Now, whatever about the validity of the entire story – the private suite thing did make sense and let's be honest, who wants to sleep in a hotel room that you actually have been told has been frequented by prostitutes? So, we spent a night in there (waking up in the middle of the night because it stank so strongly of smoke I actually thought in my sleep I was puffing 20 Marlboro) and knew by next morning, it was time to hatch a plan…