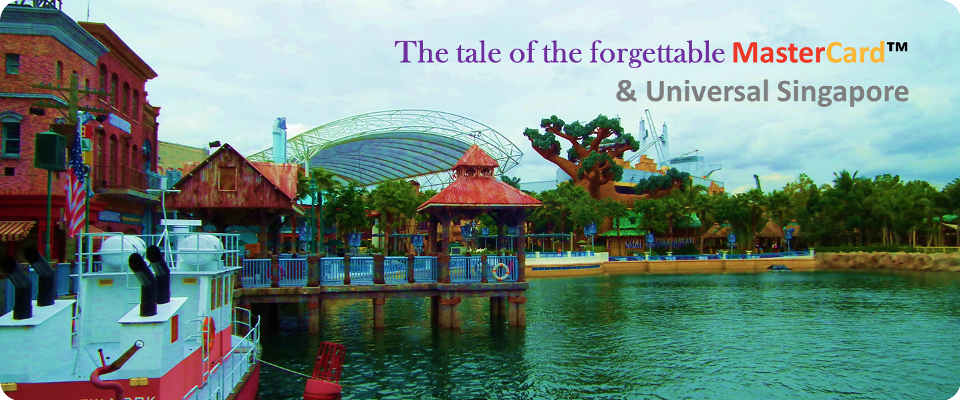 Bright and early the next morning, we got up at the crack of dawn after another less-than-restful night's sleep at the V-Hotel, owing once again to the dictatorial air conditioning unit in our room which decided for everyone when the room was cool enough and would promptly switch off, leaving the room to heat up to unbearable levels before turning back on again. Destined for Universal Singapore, we fell prey unfortunately to one of commercial Singapore's favourite (and most irritating) tricks – discounts for people paying with a certain card. We don't go all in for this yet in Ireland thankfully and it bothers me tremendously, because on one level, I can't help getting a bargain if I can but on the other hand, I don't want to be burdened with a wallet full of differing credit cards not to mention having to remember paying each one every month.
This time round, Universal Singapore had something like 10% off when you paid in advance with your MasterCard – obviously this kind of deal (especially on the crazy prices they're otherwise charging for a day at a fairly small theme park) was a serious sweetener, despite the fact that my MasterCard and I have had something of a tumultuous relationship over the years. It all began when for some reason my direct debit got cancelled meaning I had to remember to actually pay the bill every month. Needless to say, this never happened and I have since received countless letters informing me, initially, of dire consequences for not paying – although in recent years, the letters have been toned down and focused more on my potential inability to pay. Thankfully that's also far  from the truth and it's more inactivity than inability – I just struggle to remember to pay a bill for 50 odd quid every month. Anyway, this has reached such a pique where I try my best no longer to use the MasterCard, preferring instead to use the visa debit that a number of banks are now issuing.
I weighed this decision up heavily in my mind – possibly pay up the extra 10% in interest charges after forgetting some months down the line, or else remember and get the discount. In the end, being a stickler for a discount, I went with the MasterCard. I'm expecting the card to be blocked by the end of this month as I know for sure I haven't paid it yet. So that tell you how successful that was.
Back onto Singapore's public transit system – which is uniquely packed at all times of the day and night – where we once again had to relieve our pockets of the stash of used tickets which we were due our deposits back on. Arriving to Universal, it appeared we'd done this one cleverly – it was a Monday morning, not very sunny out and the first few attractions were completely devoid of anyone else. One unique aspect of Universal Singapore, is their insistence on actually putting you through airport-style security before the more major rides. A bit bizarre and I don't see the 'free lockers for 30 minutes' being much help in the midst of a summer peak day. Nonetheless, as you can see from the pictures, we were able to tear around the place and to be honest, given the size of the park, had a large portion of the place covered before midday. From then on, we dialled down slightly and re-visited the same attractions, had some food (most unpleasant, and highly expensive) and were out of there before 4.
As is often the case with theme parks, it's the attractions you're least expecting any kicks out of that prove to be the better bets. There was some Jurassic Park effort where I got stuck sitting beside two guys on one side and two girls on the other (acting as a sort of midway pillar between them it appeared) in a raft, which was surprisingly more exhilarating than I was really expecting. The stunt show meanwhile, although providing a wealth of picture-taking opportunities was 'mediocre' to be honest and I was barely warm in the seat before the show was over again. No joke, it must have lasted 15 minutes and not a second longer – there was a bit of a storyline, more explosions than Baghdad has seen in recent years and then as quickly as it had started it was over again, with what felt like a few thousand of us all cramming for air on the way out.
But the worst part was, with no sunshine knocking around, the intense muggy heat that left us both (me in particular) craving the cool refreshing spray of deodorant and a fresh t-shirt – which ended up becoming my first port of call after the trip to Universal. We were so bad in fact that we seriously tossed up the merits of taking a taxi rather than subjecting other transit users to our well worn-in clothing.
Into the evening and feeling much fresher, we headed out to Chinatown for the night to get some food, see if there was anything special about it and perhaps buy some souvenirs. Chinatown's are one of my usual banes of travelling – they all look the same, i.e. crap, rely on some sort of 'old-school market' buzz to create any sort of atmosphere, are largely staffed by far more Middle East/Non-Chinese than the Chinese themselves and frequently contain little else that you couldn't buy in an old Roches Stores if you could find one. Every now and again of course you strike it lucky with something most unusual, like my LED programmable belt in Hong Kong where I could have it scroll "You Love Thatsh…" in neon green lighting, but that about sums it up. While Singapore's Chinatown largely follows this trend, there are perhaps better eating opportunities than at many of the other versions and in the end, with 4 meals split between ourselves and a number of Tiger's, I was more than fit to roll home and pack for the flight to Bali.
All with the memory of using the MasterCard already well flushed out of my mind.