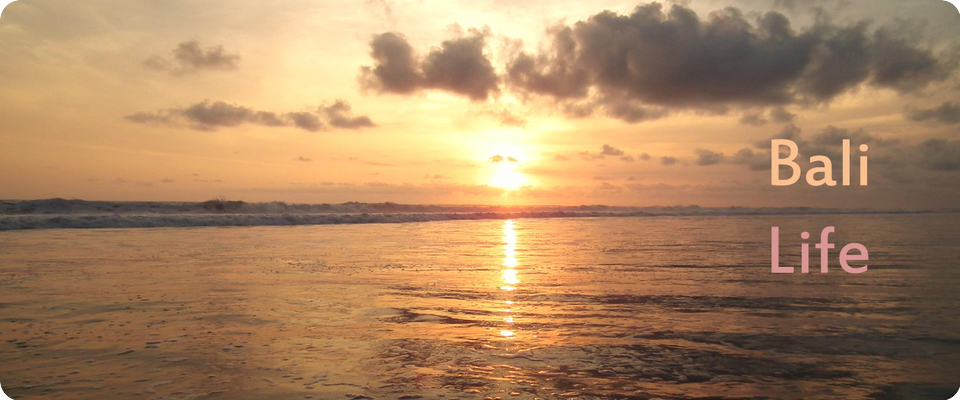 After my last post, on my first few moments arriving into Bali, our trip to the supermarket and getting to the house, I was in desperate need of an Alaska-cold Bintang beer and a shower, in no order.
From there on and for the next few days, life followed in much the completely same un-orderly manner – get up, generally throw myself straight into the pool in any fashion, hop out, shower, doss for an hour or two and read, head for some lunch, come back and possibly doss more and begin the drinking session again (if not already done so at lunch!), more pool-time and then dinner. Evening times spent out on the upper-level balcony topped every night off for me perfectly; even if we were, at least initially, slightly freaked out by the almost 3-month-old-kitten-sized gecko completely defying the laws of gravity above our heads on a nightly basis.
Along with the general chilling out, we had a wonderful gardener (and maid) who seemed to take care of everything you would otherwise normally have to consider at some point. And, although we were in desperate need of the rest, we eventually mustered up the energy to head out for a day trip with the property manager, Made, who also runs his own transport company. Setting off initially to view some mountainous land, we carried on in search of lunch; eventually coming to a completely deserted eatery stretching alongside the coast that served up one of the most perfect fried rice dishes I think I may have ever tasted.
Back into the car (and the glories of air conditioning, which I in particular hugged as if my life was depending on it – which I think it may have been) and we carried onwards winding our way slowly uphill as we peeled ourselves completely up and away from the coast, as the air temperature outside got cool enough that even I was able to bear it comfortably. On we went, climbing in the car (which in Bali also involved blind overtaking, sudden and abrupt moments of acceleration and ridiculous road cornering – the likes of which could have you sufficiently penalised to be off the road for a year after just a few KM's in Ireland) before reaching the summit – a majestic old tree, the base of which is split to make way for a road (pictured). While it would be unusual enough by any stretch for the base of a tree to be dissected by a road to begin with, it gets even more bizarre – as legend has it, if a couple can pass under this tree and still come out on the other side together, then the relationships one up. If it doesn't work out like that, bummer – don't make plans. Anna passed through (by herself) and I joined a moment later, to be sure we couldn't jinx anything.
From there, it was back down the hill – complete with the same comical driving – and onwards to Made's next laugh opportunity of the day; a temple down by the coast once again where there is a requirement for all who enter to be decked out in some colourful attire. For Anna, this posed no problem – it simply looked like she was wearing a skirt bought locally. For me on the other hand – well, even the guy lending these items out (who I presume has seen it all before) really enjoyed the situation and made sure to gesture in such a way while creasing himself laughing that I was left in no doubt as to how ridiculous I looked. To make matters worse, the heat was not being good to us at this stage of the day and the idea of having to wear an additional layer of clothing beyond what was fully required wasn't appetising in the slightest. I roamed around the temple in as timely a fashion as possible, while trying to enjoy and make the most of it, before gladly throwing off my robe and heading for the cool comfort of the car. It was lovely however, and we still did spend a considerable time wandering through it and taking it all in.
Returning home, we were back in the car only an hour or so later and headed back out for food again (and what we were promised would be an exciting 'local dance'). This time, on Made's suggestion and at Anna's insistence we dine locally for the evening, we headed off to a night market, walking around for a while and deciding what to have, before finally settling for a 'Martabak'. If it hadn't been cooked in front of us, we'd literally have been completely clueless as to what it was or even what was in it – but it was absolutely one of the most delicious meals of the trip, followed down by some sort of similarly-cooked chocolate desert, also from the same stand. The only problem was a familiar one; coming away with two boxes of food each, we were full in no time and ended up carrying at least a box each around for about another day before admitting we'd never get round to eating it.
And the dance for the evening? That's definitely a story for next time…