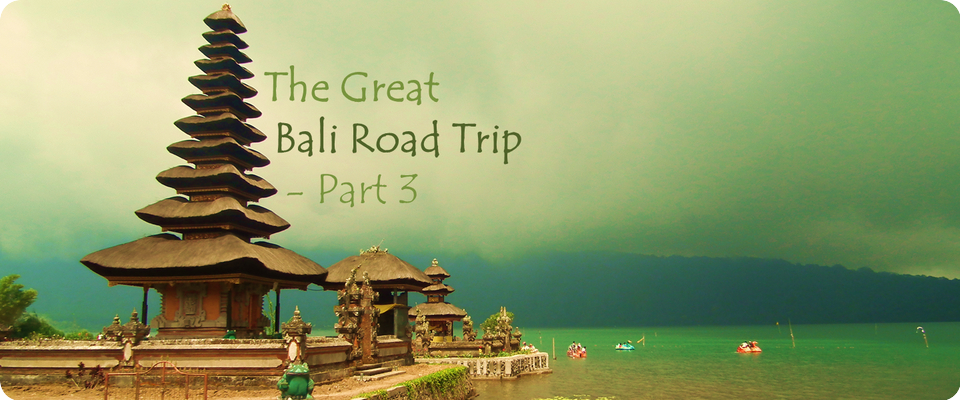 From the last thrilling installment of our road trip, we continued on after the waterfall tearing back up and over the same mountains we'd come down the previous night, passing out vehicles (and in one case, an ambulance) as we endeavoured seemingly to get back to the other side in record timing.
We stopped en-route only to pick up an ice cream, in one case take some pictures of a fearless monkey that was sitting on top of a fence taking whatever anyone threw at him, and enjoy some of the cool mountain air before slaloming back down towards sea level. We came to our next halt at a place called Lake Beratan, where a large temple and greenery opened out to a massive lake, backed by mountains. As is always a bit the case with these things, the pictures don't do justice to the time of day that we were now approaching and with it, the hordes of tourists were out en-masse.
One thing that sprung up time and time again in our conversations was (in spite of the extreme irony of the situation) the beauty of the place set against the tourist capacity before it just strains the place to complete breaking point and where tourism grows and grows to a point where it's so mainstream and expansive that a lot of the people who originally went there for peace and calm can no longer find it there. There's no doubt however, that although a heavy fog hung over the place like it was trying to choke us all out, it was still very intriguing.
Back into the car after one of our traditional 'lightning speed' trips around the lake and the journey to our next stop was one of the longest, taking a few hours to reach one of the final stops of the tour – the temple in the sea, Tanah Lot. Tanah Lot sadly dragged up the old question once again in record timing for us; Tanah Lot's entrance, for those who may remember it, was not unlike the old toll plaza on the M50 in terms of size and appearance.
To get down to Tanah Lot, one must walk a very long and exhaustive pathway – not unlike the 'long walk' in an airport past every catering and retail franchise they can cram in, just to get to your plane – past market stalls, souvenir shops, the odd photo opportunity stop and much more.
I'll be honest – the first time this happened to me, I was blindingly disappointed. I remember it well – Niagara Falls, and I was wholeheartedly expecting some kind of beaten old mud path winding through trees and then opening up to the natural wonder. Instead it was the most horrendously over-commercialised tack I've ever seen – to this date in fact. And while it's more understandable for this to be going on somewhere like Bali, I always still wish we could be a bit more careful presenting natural wonders for what they're supposed to be…natural.
We actually tried quite hard to get a 'site-suitable' picture where it looked like it was supposed to, but the one featured was as good as it got in terms of the crowds present.
Back into the car and onto the final leg of the tour – back home – during Bali peak time traffic. Made decided to take us for one last diversion through the 'backroads' and being honest, it ended up being one of the highlights of the second day of the road trip. On tracks just wide enough for the car to fit through, we cruised through rice paddies, through gates barely wide enough to fit the car through, over bridges that looked like they were never designed or to be utilised for vehicles before eventually getting stuck on a hill with an oncoming motorcyclist. It was much more of the nature I'd been hoping to see, and only thanks to Bali's peak-time traffic seemingly.
Safely back home, it was time for one last meal out, a last period of enjoyment of Bali and what it had given us (including one final Bintang for the road, in my case) before packing and getting ready for the long trip back to what would be – regardless of the actual weather – a cold, miserable Dublin.