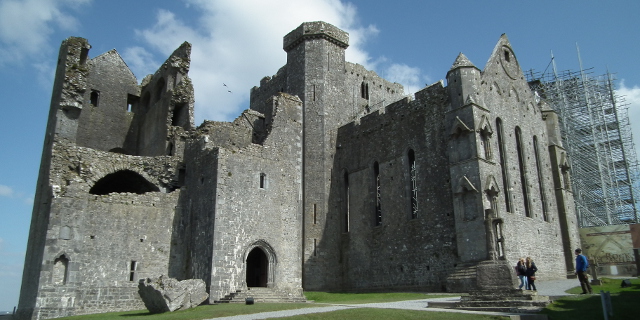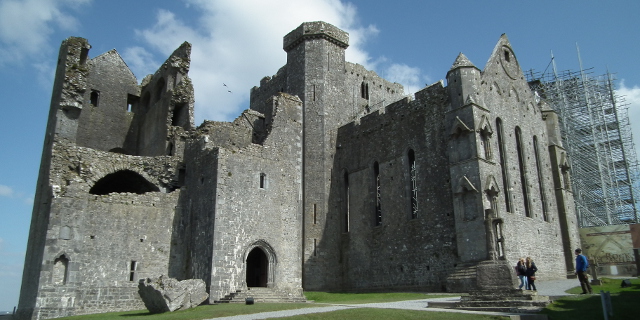 With a week to take off in March, Anna's parents coming over to visit and no money ourselves to really go anywhere too far, we decided to do something that I, as an Irish citizen, rarely wish or care for; to actually 'discover Ireland' as we're constantly urged to.
Like everyone who spends most of the year living in their own country, I'm never really enthralled at the prospect of using up good holiday leave to just stay in the same place and see more of the same thing. On top of that, I am very much aware that Irish travel and souvenir companies know how to milk the system and play the act to an extreme that very few others do – and this annoys me a bit as well truth be told, as I often feel that it's no wonder tourists have such a hilarious view of Ireland after what they get to see.
Anyway, what with this being the year of the gathering and all that, we set off, four of us in my Peugeot 206 (which I'm certain was designed for one or two people driving around a city, as opposed to four people plus a week's worth of luggage driving a number of hours a day on the motorway). First stop, Cashel.
After a very speedy journey – turns out the car can in fact maintain great speeds; it's just reaching the great speeds that's the issue – southwards, we arrived. I've never been in Cashel before and for anyone unfamiliar, finding a spot to stop at unless you know where the designated car park is, is troublesome enough. I parked outside someone's house and we immediately somehow arrived into the nearest souvenir shop.
It took me probably only four minutes to tour the shop and get back out onto the street again, certain that I'd seen everything that might possibly have interested me. The rock itself is much further up a steep hill (by foot) and while impressive from the outside, it was only really once we were standing inside that it really comes across as something quite spectacular. It's so easy to dismiss these sights really, but the history and preservation in them is really something when you consider it.
We toured the place by ourselves, did the German thing and ate our packed lunches, before checking out the souvenir shop – I myself stood outside this time, opting not to subject myself to the hordes rambling through every Irish item they could lay their hands on, proclaiming how quaint/cute/delightful they were.
Back into the car and onwards to Cork. I've been to Cork twice in my life (as every Dubliner grows-up learning, Cork is generally to be avoided at all costs) and both times were out of necessity, so it was strangely nice to be in Cork without really needing to race somewhere and then go home. We took in the city centre, headed to a delightful pub down a side-street for some food, before hitting the English Market, for which Cork is famous.
As long-time readers will know, I detest markets in general except open-air farmers markets. I wandered in, half in fear of over-anxious stallholders, people swarming everywhere and all the other things I usually can't stand. No. None of it. It was spaced out, clean and fresh, some of the produce (not all though) looked delicious and everything was so well presented I could have bought up half the market in one go.
In the end, we made some purchases including a loaf of bread so delicious that it didn't even make it out of the market, it was completely gone by the time we left.
Back into the car once more and on we went, headed for Acton's Hotel in Kinsale. A word of warning perhaps for those not familiar with the road from Cork to Kinsale, filter lanes and turns seem to spring up out of nowhere. We got there though, still early in the evening and with plenty of time to scope out a local bar, enjoy a few beers and a good meal and some rest for the next morning's drive.