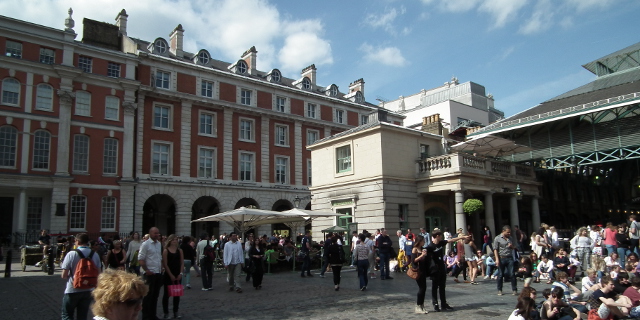 Weekend Blast in London – Part II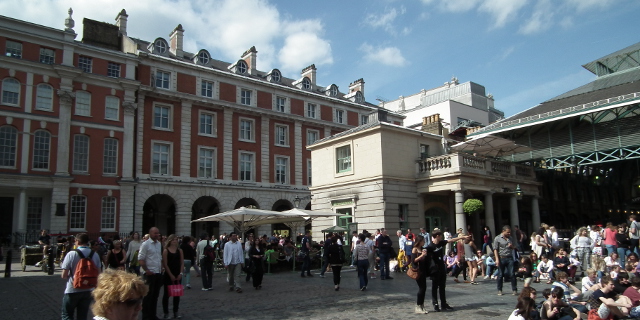 Following on from my earlier post, and with unbearable midday heat hitting us hard, we wandered around the city for as long as we could take – it also seemed the place was packed due to a pride march – before winding up at Covent Garden.
Being honest, while I like London itself, there's no doubt that the sheer volume of people passing through it would put me off going downtown on anything but a completely ad-hoc basis. I suppose when you live there, you don't go downtown very often no more than I don't in Dublin, but still.
After spending an hour two at Covent Garden, we reverted back across the city under the cover of the streets (by tube) to a place called Canada Water to meet up with an old friend and her partner, and indulge in a couple of pints (incidentally, I can't remember the name of the bar, but I do remember wanting to indulge in more than a few pints as the evening wore on!).
One of the things they suggested doing to escape the crowds the next day and see something different – and also stay relatively closer to Gatwick than London – was to head out towards Brighton, seemingly only a 30 minute or so train ride from where we were staying.
So the next morning, with the sun already blazing down on us once again, we headed to the train station and set off for Brighton. As I say, we left Horley and the weather was truly unbelievable – steaming hot and not a cloud in the sky. The journey progressed, the good weather following us all the way; until somewhere, at some junction on the outskirts of Brighton, we started noticing some fog.
As we carried on, it got worse and worse – and by the time we actually arrived, there was really very little of Brighton to actually see…
Literally, you couldn't even see the sea. Walking down the pier could have been walking down a rickety wooden pier in the middle of a field! We wandered into the local shopping centre, before coming outside to find after about an hour and a half, the situation had improved somewhat.
We wandered some more, eventually finding a Krispy Kreme (we don't have them at home, and they still bring me delightful memories of my time in Malaysia, where I first discovered them), picking up a couple of Original Glazed's, carrying on, and finding our way to what was presumably the cultural quarter, which was far and away the nicest part of the place.
By then, even the pier was beginning to look vastly improved and after an hour or two more, we were satisfied that Brighton wasn't half as bad as we'd initially concluded, and were ready to head home.
The lounge in Gatwick – which we spent a considerable amount of time in due to being so early as usual – by the way, was one of the best yet (Number 1 Lounge, I think?) and a very easy and comfortable way to spend a few hours. I'm sure you can pay in if you happen to wind up stuck in Gatwick for longer than expected.
Before long though, we were back on the flight and heading home, after a great weekend in London (and Brighton).