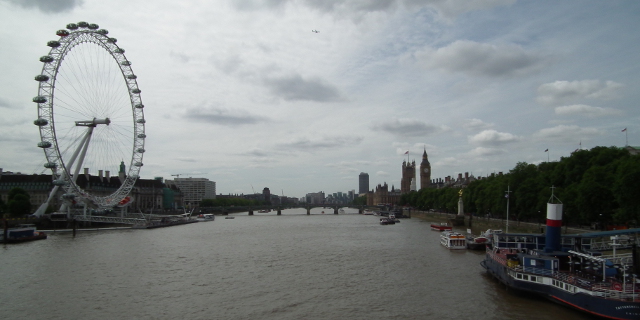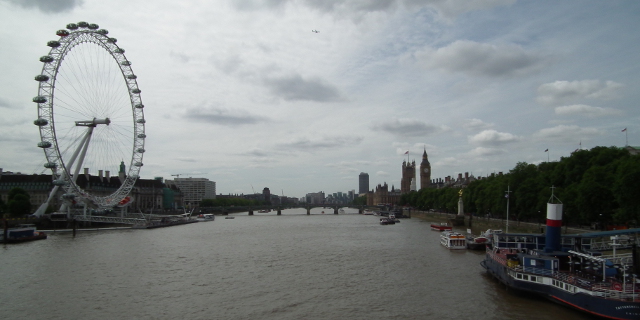 With no other major holidays planned for most of the (normally dismal) Irish summer, and my being restricted from taking many holidays due to work commitments, we decided on a short break to London to see something different for a few days. Also, with my Aer Lingus Gold Circle membership presumably expiring the same weekend, it gave me a well-earned chance to try and garner a few last-minute pity points, if nothing else.
We flew to Gatwick (Heathrow too expensive, besides which it's always congested and difficult to get around) and stayed not far away in a guesthouse called the Gatwick Turret, a short (unmetered, bizarrely) taxi ride away.
Next morning we were up and out; for the ridiculous price of accommodation in London, you can get so much better value further out and even factoring in our train costs and time taken – which was only about 35 minutes each way – we still made a considerable saving over staying downtown.
London, as always, was uncomfortably jammed. There's days when I wander around Dublin and think to myself how packed it is; but really, we Irish have very little idea of how packed anywhere can be until you see what it's like in London, every day. It would drive me ballistic. What I will say for them though, is the touristy areas are just so well though-out and nicely presented.
The London Eye (once you ignored the absolutely horrific queue snaking up to it from afar) was surrounded by street artists and performers, barely a piece of litter in sight, and the public out enjoying picnics and perhaps a few drinks on the lawn opposite.
Anna had got me tickets to the VIP Turtle Experience at the Sealife Centre, so we carried on and proceeded on inside. The whole place is actually far bigger than what the entrance would suggest and after a slightly nerve-wracking glass floor crossing, we headed to the waiting area for the 'experience'.
I always find it interesting how these attractions are laid out behind the scenes and how close you are to being there without actually seeing anything; in this case, the entrance to the feeding area was literally through an unmarked door in the pram parking area. A few steps beyond the door and there was the water's edge. Our guide told us all about the turtles, expected lifespan, their never-ending hunger, how they were both on diets due to being overweight. After that, we were allowed get straight into it and hand them out their exciting meal of…lettuce.
No wonder they're both greedy and always hungry; imagine 3 square meals of lettuce every day. I'd be nicking everyone else's food myself to be honest.
Overall though, while short (around 20 minutes perhaps?), it was a great experience and aside from actually getting to feed whopping big sea turtles in person, you also get to skip the ticket queue (a serious bonus by itself), and have all-day access to the aquarium.
The aquarium itself by the way is probably one, if not the best I've been to, to date. It's large and sprawling and you can easily spend any number of hours in there; my only complaint once again would be the possible lack of crowd control and so you sometimes end up standing around for 5 minutes or more just waiting to get close to a display due to the volume of people.
But it was definitely worth it and a great time. In the next part of my mini-series, I'll talk about the rest of our day in London and our brief trip to Brighton.