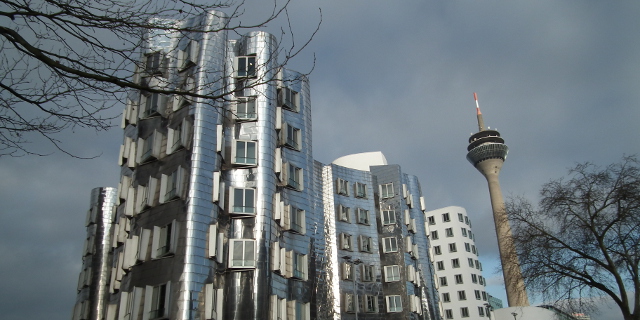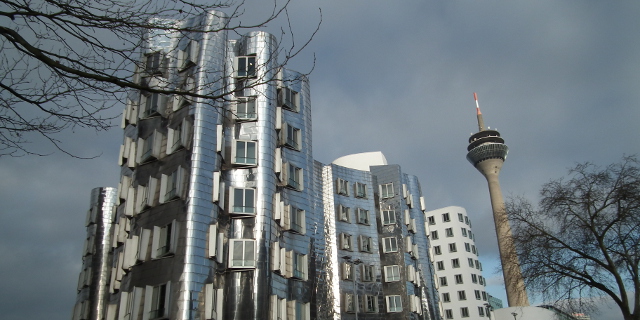 With such frequent flights to and from Dusseldorf – only to hop into a car and drive further North-west for another hour – successfully under our belts, it seemed a crying shame not to have actually ever stepped off the airport premises and into the city itself.
Finally the opportunity came about some months ago, with a flight not leaving for a few days and nothing really too important to be doing in the meantime – we headed down to join some of Anna's friends and explore the city for a day or two. First impressions count for everything as you know, and my first impression was positive; with a short walk around the city centre, seeing the main shopping streets, the walk along the river eventually winding around to the big wheel, before we came to a stop at a nearby eatery for the evening meal. I don't need to tell you that, like everywhere else in Germany, eating out is to an Irish person at least, incredibly cheap.
The next morning we were up bright and early once again and into the car for a driving tour of the city, taking in more sights again (too many actually to remember to be honest) along with some of the outer industrial areas of the city. Considering manufacturing just isn't that big in Ireland, it's always interesting to see the absolute dearth of manufacturing strongholds as you circle many German cities compared to the very few in Dublin, most of which you'd have to actually deliberately set a course to find rather than just stumbling across them.
We parked up this time in what I was informed was a new and up-and-coming district, the 'hafen' or port – as an aside, what is it about ports in major cities being revitalised or refurbished and becoming the new hip places to be? It seems to happen nearly everywhere – where a glut of new modern apartments, offices and shops are going up all the time. Sure enough, it looks exactly I'm sure, as intended.
You'll also find over there the TV tower, a staple of most German cities it seems and the local TV studios. In our case, we also settled down to an interesting meal in a restaurant where you could more or less, for a set fee, assemble your own food of various meats and vegetables as many times as you liked – and it would all be cooked for you. Included in the selection were things like kangaroo, springbok, etc. A word to the wise; the springbok is definitely still springing.
We spent numerous hours enjoying, eating and then finally resting in the restaurant before settling sufficiently to walk the boardwalk distance from the newly-revitalised 'hafen' into the city centre, turnabout, and walk back.
With the winter only starting to ebb away, the river had well burst beyond its usual breaches and the other side was suitably flooded. On the whole though, it was a city I'd be keen to see again – with great shops, good character, plenty to keep yourself occupied (if you've the money, as always) and reasonably good transport links – Dusseldorf Airport wouldn't be top of the list for carriers but still, you can get to most places you'd want to go one way or the other.
We slowly meandered back to the port once again, took in a last look before the very short 10km. or so journey to the airport (another plus!), which we're all familiar with by now.
For somewhere I unwittingly pass by so regularly, it was nice to finally put a 'face to the name' as people say, and see Dusseldorf. Here's hoping it won't be so many passages through the airport again before I actually head downtown and see what's only a few miles away…