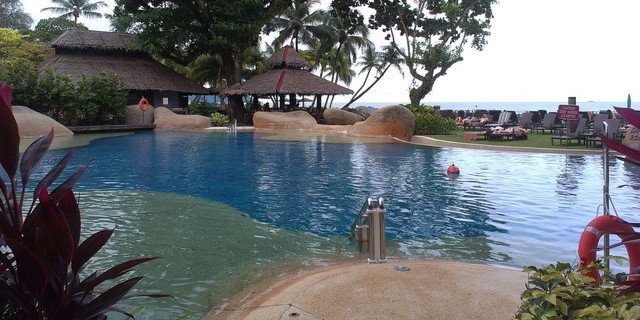 Everything Finish & Penang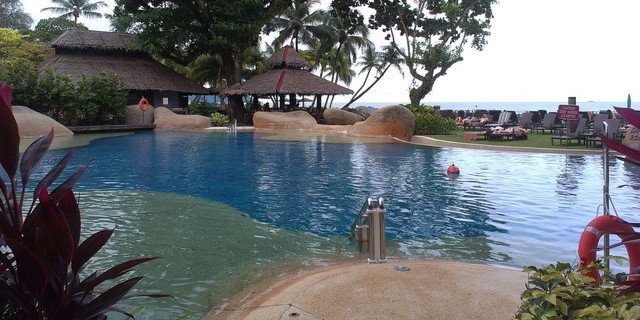 Since writing last, things haven't quietened down in the least; we've been to visit nearly all of our old contacts, been doing some work for Anna's ex-employer (I, in particular, have a large project from her that'll take some time), and of course we took our leave of absence from Kuala Lumpur to head north for a few days to the sunny island of Penang.
In the meantime, I've been slipping back into habits of years ago; becoming over-reliant on food courts (Little Wok, what have you done?!), being affronted by the cost of alcohol in a country that generally is still a little cheaper than back home, and visiting Krispy Kreme whenever possible (they have the freshest donuts the world over, right here in KL for some reason). It's so easy to forget some things though – like trying to get a sim card from a phone shop, only to hear that they were 'all finish'. You can sometimes go through nearly an entire menu in a restaurant, only to find out that 'everything finish'.
Having told everyone back home about – and dragging my mother to see for herself, when she was here a few years ago – the cultural and culinary shock and overload that is Jalan Alor; a street where food hawkers more or less set up shop on the street, and you get to sit on the road in an ageing plastic chair that often warps slightly as you lean forward or back, while trying to figure out what restaurant it is you're actually dining at as the 'waiter' goes back and forth between 5 or 6 different stalls to piece your meal together; yes – well we've been there a few times too. For old times' sake – and the years haven't been good to the chicken satay, or the version of it we tried anyway.
It was no time really before it was time for our visit to Penang. While I noted (with laughter), the amount of people either on my Facebook, Twitter or Instagram complaining that I was either being paid too much, having too nice a time or whatever else, the truth was, the stay was a prize from a gala dinner last year, the winner of which I know and who was never going to manage to use it in time. Cue myself and Anna, who are always looking for a cheap or free way to holiday more for less. Flights to Penang from Kuala Lumpur go for anything as little as €20 return (including taxes/charges, which aren't as ridiculous here as they are back home anyway) making the stay a total no-brainer.
We went with Air Asia, Asia's equivalent of Ryanair almost charge for charge – it was about €15 cheaper than the national carrier, Malaysia Airlines (a friend would later, correctly wonder  – how cheap were we that such a massive difference in terminals, luggage, comfort and food was still not worth €15 extra return). I know they're doing the Ryanair thing, but the two terminals at KL's airport really are a universe apart. Every time – and it has been 3 years now since the last time – I see the budget terminal, I can't help think how ramshackle it is. Although it is, by all accounts, on its way out.
The flights were short, about 50 minutes each, and Penang, possibly because tourism is just that bit more important to it than back in Kuala Lumpur, seems to have wrangled everyone from the airport staff, the airport taxi service and even the food stallholders into being a great deal more friendly and a great deal less opportunistic (seemingly) than back in Kuala Lumpur. The taxi drive to the hotel was a solid hour – longer than the flight up – but what a hotel to arrive to. The hotel has two wings, the Rasa Wing and the Garden Wing, both completely separate. We stayed in the Garden Wing and found the whole hotel, for the region, to be an exceptional rarity; quite old but immaculately kept, and beautifully maintained.
Our first evening, we visited the local food stalls and tried the chicken satay (infinitely better than the Jalan Alor experience), chicken and cashew nuts, fried rice and one other dish. The next morning, with the threat of the rainclouds closing in later in the morning, we took up the complimentary shuttle bus to Georgetown, Penang's city, to have a wander about having heard that it was slightly more well-preserved than KL. The city is quite small, certainly walkable, and stretches from the water's edge, through various districts, back about 15/20 minutes on foot. Truthfully, it is very much more preserved and thought-out than the larger capital. Sure, they also have luxury condo blocks and offices, but much more effort seems to have been given to either integrating the old with the new, or just shunning the new in favour of renovating the old. It works very well, and looks great.
In fear of the post running on too long, I'll continue with the rest of our stay in Penang next time around. Also, as many of you know, I jotted down my travel memoirs recently in a bite-sized book, available exclusively on Amazon for Kindle – thank you (many of you) for your very kind words and compliments about what was, in my mind anyway, never intended to be much of anything. It will eventually be available to order in print, and I am working on trying to expand it out a little more for that.