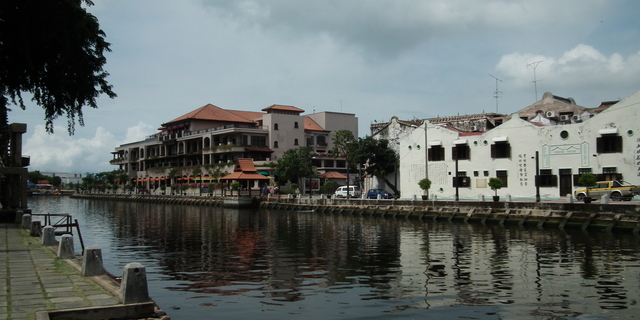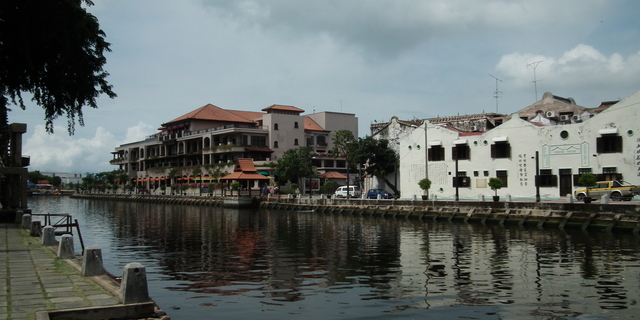 Despite having been to Malaysia roughly once a year, every year since 2009, neither of us have ever (regrettably) spent much time outside of the capital, Kuala Lumpur, and it's something we've both been trying to put right this time around. We've heard great things of Melaka, the Cameron Highlands, and an unnamed elephant sanctuary, so we've very slowly started to try and put things right and see some of Malaysia's destinations, other than just flying elsewhere whenever we needed a break.
Melaka, a UNESCO heritage site (you'll be told same by someone sooner or later), is only a little over an hour's drive from KL, or closer to two hours if like ourselves you have to take the bus. The good news is, gone are the days (we remember them) when a bus ride involved a trek out to a place called Bukit Jalil by train, then time spent looking for the right bus operators' booth inside a giant tent, before standing outside and watching buses depart, hoping yours wasn't one of them. Since then, they've constructed and opened a truly incredible bus terminal so spacious and well thought-out that the majority of European cities could do with copying the plans. Think more like an airport than a bus terminal. Buying a ticket is easy; you find a window, you go up and tell them where you want to go and when, then they show you a screen with empty seats (not unlike self check-in) and you pick the ones you want, you pay and that's it. No more jostling with half of KL at various bus operators' windows only to find they don't serve your intended route.
Nevertheless, a long coach journey is a long coach journey, and Melaka's bus terminal sadly isn't much to write home about. Also, worthy of note is that the taxi counter doesn't give you a coupon or allow for prepayment or any of that like it is in KL, they sort of just tell you a price and point you out the door, where no taxi will use the meter (this is useful info if you haven't been there before) but you can at least insist on the price just told to you inside.
Our driver dropped us off right in the heart of the old town, Dutch Square complete with its famous bell tower, Christ Church Cathedral (there seems to be one in every city really, doesn't there?) and – more importantly with our lack of a map – a tourist information centre. The square itself is something to take in, though it can be hard to really know the best place for a photo that gets everything in. The whole part of the old town, also known by the lady in the tourist centre as 'where you want to stay' straddles the Melaka River, and the combination of old-world well-preserved buildings and the river flowing straight through really does look spectacular no matter what way you look at it. Probably because of that, we spent the first few minutes after coming out of the tourist centre just twirling around, taking everything in as best we could.
Unlike KL, you can do this quite successfully without anyone offering you a pair of cheap sunglasses or a knock-off HTC phone; though we did eventually have to fend off an overly-keen potential tour guide. Wandering across the bridge and into the real old world, we started off trying to keep to the left before realising that a certain majority of shops and restaurants stretch from one street straight through two buildings, leaving you slightly disoriented back out onto a different street than the one from which you came if you're not careful.
There's so many shops, café's and souvenir places you could stop in on a trip to Melaka, it's hard to know what to describe; we wandered in and out, especially due to the blazing sun outside, of as many places as we possibly could, finally stopping for lunch in a nice little restaurant set in an enclosed courtyard not far from the river.
Renewed with energy after a delicious (if a bit expensive) lunch, we carried on, mostly wandering randomly after figuring that trying to pre-plan a route was a waste of time and to just take the day as it came. We wound up at a Chinese temple on the outskirts of the old town, before wandering back across the river and finding the (free, and worth a visit to be honest if you have a bit of time to spare) Architecture Museum. The museum, set in an old colonial building, details Malaysia's architectural past, influences, styles and takes you right up to the present; with little displays en-route showing you the type of tools and equipment used right through history to the modern day. As I say, free and surprisingly worth a visit.
As the daily rain clouds finally started to move in, we headed up to the top of the hill to get a good view right over the old town and also see St. Paul's church. As it turned out, we were largely the main attraction and spent a good 20 minutes having our pictures taken with never-ending crowds of Indonesian tourists.
We rounded the day off with a brief (but again, interesting and free) visit to the Customs Museum, which one again was very well done and laid-out, representing an interesting insight not just into Malaysia's customs, but of the country itself through the ages.
With that over and done, there was just time for one final snack and drink before finding a taxi back to the bus station and preparing for the long, rain-covered road back to KL, having thoroughly enjoyed our day in Melaka and wondering why we never bothered before.