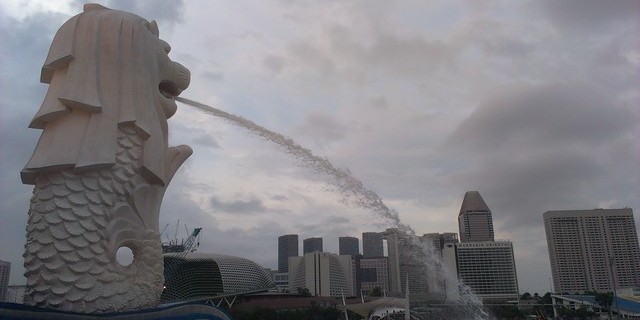 Singing in the Rain; Singapore
More or less a week to the day after our trip to Melaka, it was time for us to sit ourselves back into another bus – this time for the long and irritating trip south to Singapore. We've always travelled with the same bus company – Grassland SuperNice – mostly born out of laziness and if I'm being entirely honest, also out of sheer admiration for the brazenness of the company name. The journey takes easily around 6 hours, and much of the latter stages are taken up hopping off the bus to exit Malaysian immigration, then back on and off again to enter through Singapore immigration, and all the waiting in between as you wait for each and every passenger to (hopefully) make it through in a timely manner. Whether because they were nearing the end of their shift or what, our drivers also got progressively more entertaining and lively as the journey neared its end.
First impressions of Singapore are regrettably always the same – it always seems to be raining (which is saying something considering how often it's raining in KL at the moment) and it's always absolutely impossible to get a taxi. We trudged to the local MRT station, reasoning that although we didn't have any local currency, they must be advanced enough to accept credit/debit cards in their ticket machines (heck, we even have that feature in Ireland). A word to the wise for future; yes, they do have that feature, but only for locally-issued cards. Not Ulster Bank or AIB. So a walk, in the pouring rain, back to the nearest ATM, back to the MRT station, only to find that the machine won't take anything more than a dollar or two above the fare (presumably, so it doesn't have to issue you much if any change, which is exactly what I was badly in need of).
After an MRT journey and a long walk in the rain, we finally wound up in our hotel for the few days, the Value Hotel Nice, one of the cheapest places you can stay in Singapore – and surprisingly, one of the best, with a receptionist who was literally a human mine of local information (find the Value Hotel Nice, find the guy and ask him something…seriously). Even though we were there to find out whether Singapore was somewhere we'd be interested in, we also badly needed to try and secure a visa for Myanmar, which was the following week so we were straight out at the crack of dawn next morning to try and get our visa applications lodged.
Again, for future reference, don't bother – the Myanmar Embassy in Singapore will completely refuse to even consider processing visas for non-Singaporeans. Don't waste your time – besides the queue looked horrendous and was out in the blazing sun, so I'd have fried long before getting served anyway!
Back into the searing heat of the day and neatly deposited back onto the top of Orchard Road, we pondered the question – what actually would you do during your free time living in Singapore? There's such an abundance of shopping opportunities and excess far beyond even KL's wildest dreams. To give you an example, we hopped on the bus to head home and decided we'd check out our own local area for the rest of the day (Balestier Road), having already seen most of the major tourist attractions in town. Along the way, there was – no joke – a new luxury condo block just being finished with an elevator inside that actually takes your car up to your apartment and parks it for you just beside the living room. I mean…how excessive is that?!
The other problem I would have (and I think will always have in future, even just visiting) is the frightening (and rising) cost of everything. The first time we visited, it was quite expensive by comparison to other Asian nations and gradually getting worse on successive visits. This time though, it seemed to be matching even Dublin-levels, which are already beyond ridiculous. On a positive note, the friendliest receptionist in Singapore had armed us with a ready-list of cheap and delicious nearby eateries including the nearest Bak Kut Teh eatery, and Loy Kee, a Hainanese chicken rice shop; which we went to, and it really was delicious, though me and Anna definitely could've gone for more than the 'friendship set', which nearly resulted in a non-friendship as we tried to evenly split it out while making sure we each got our fair share…
The trip down was short however and after a few days of seeing the sights, eating the cheap and local food, pestering the VHN's receptionist with questions, meeting and making new friends, it was time for us to head back to the SuperNice and head north again, happy to be back in the embrace of ever-cost conscious KL and ready for the next week for our trip to Myanmar…