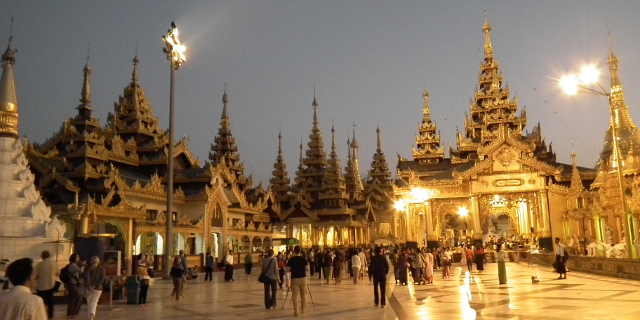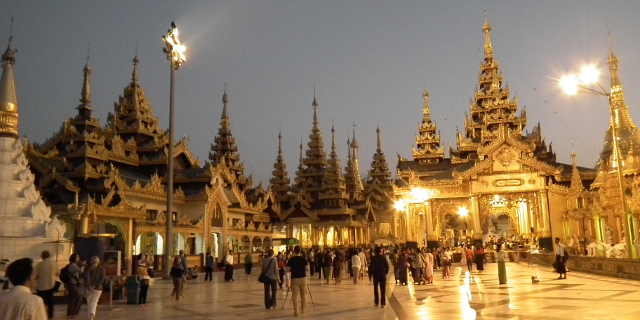 With our higher-than-average walking speed, the walking tour was relatively rapid. Truthfully, Yangon is in great shape all things considered and if you were to visit in the next few weeks (as I'm not betting what way it'll be like in months), it's a fantastic culturally-rich and intact city, with few if any modern office blocks or apartments. The whole place is a throwback to colonial territory, as if it were almost still in practice. The downside is that as time is passing, far beyond the best-before date of many of the buildings, many look ready to crumble, or their frontage has been long replaced by growing vegetation.
For us however, the walking tour wrapped up quite quickly, depositing us most unwelcomingly in a market. As many of you will be aware, I loathe markets of any description – they are largely all the same no matter where in the world you go, and by largely the same, I mean largely terrible. It goes without saying I found my way out of there quicker than can be imagined.
After lunch, we decided to head up to see the famous Shwedagon Pagoda, one of the more popular (and taller) attractions in Yangon, and one of the few things largely popularised outside the country. With Yangon supposedly being such a safe place to be, we walked up there, encountering (unusually for such a strongly and rapidly-developing place) not so much as a single person trying to sell us something. Please hold onto that attitude, Yangon.
The Pagoda, no doubt, is incredible. Not only is it incredible that something like this could even be completed in the 6th century, but more so how vast an area it encompasses and how much detail is literally everywhere you look. You have to leave your footwear – note to anyone going there; they asked for a tip when we returned so keep some loose money ready for when you go to collect – at the entrance before (in our case) ascending a heap of stairs and passing through an airport-style security checkpoint. Up more stairs and just like that, it was suddenly in front of us.
There are plenty (and I really mean plenty) of monks wandering around, many of whom offer advice and information – and one also tried to induce is into teaching in his English school, the details and acceptability of which is questionable at best – on the whole thing, presumably for tips, though we also declined on that note.
To be honest, after an hour or more, I had seen what I considered to be everything there was to be seen and would have been more than ready to head off in search of some food. But nonetheless, we stayed on (as did most others) and sat for an hour or two more, waiting for the beginning of the sunset to hopefully catch the dream picture – more Anna's idea it must be said, than mine. In the end, this was one of the best ideas and one of the highlights of our trip; the Pagoda by dusk really does look spectacular.
With our trip to the Pagoda finally out of the way, we decided to head for another place recommended to us by none other than our map (always a source of overly-expensive or tourist-trap suggestions), the 50th Street bar. The bar, as we found out, was well hidden down the back of a narrow alley and seemingly not at all the place you would want your
taxi to stop ideally. Nevertheless, the pizza (it was deal night on pizza) was incredibly delicious, the beer was flowing merrily and we ended up staying there for a number of hours, put off only by the smell of cigarette smoke lingering in the air. Back out into the cool night air and we walked (not advisable, despite being a very safe place and nothing happened to us) back into the city centre and home.
One more day left in Yangon, and we planned to take a trip on the circular railway and take in the last of the sights. With that, we headed back to our hotel and into bed. Next time, I'll let you know how the Circular Railway went and finishing our trip in Yangon.