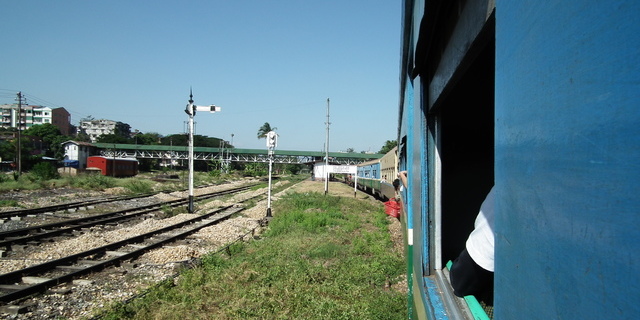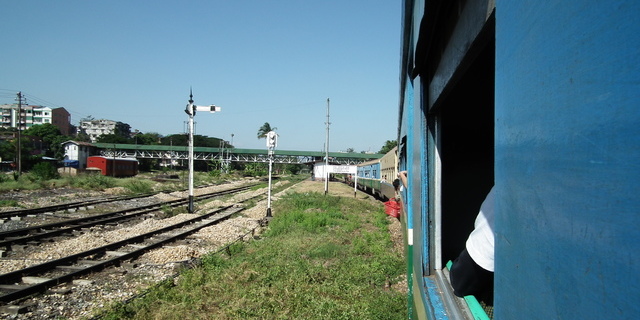 After the previous evenings successful round of pizza-eating and pint-drinking – the local brew is to be highly recommended by the way – we were back up early, with the smell of the refuse lingering outside not so bad having decided firmly against using the air conditioner the previous evening. As I mentioned before, it seems to be quite difficult to find food easily in Yangon as you might expect; it is largely purchased either off the streets, or in one of the very very few and far between restaurants and shops you might find.
For our breakfast, we went up to a restaurant the other side of the road from the train station – and as with all Yangon restaurants, felt like the only people who thought eating was appropriate for the time of day. Next stop, the train station to pick up tickets for the Yangon Circular Railway. We had read plenty about the railway – it takes 3 hours, is very cheap, and seemed like an outstanding way to get out of the city a little, relax and see some of how the city really operates. The idea is that, far from being a deliberate tourist attraction, the circular railway is one of Yangon's major public transport options and the train, which stops at a number of stations along the way for moments at a time, travels in an elongated circle so there's no confusing line-hopping or changing anywhere.
Needless to say, the train is heavily subsidised and cheap for locals, but not so much for tourists – though the price was still more than acceptable (a few dollars). It seems to be predominantly an Asian thing to require sight of tourists passports' for nearly just about anything (they practice the same insistence in KL too, although laziness frequently dictates that just knowing your passport number will also be acceptable in place of carrying it around), so even for something as simple as buying train tickets, passports' were required. Best to know who's on-board I suppose.
Unfortunately – and this is something Tripadvisor won't tell you – the train has become something of a tourist attraction by itself and so as it pulled in and we lined up on the platform, we were two of close to 20 or more tourists also all lined up, cameras dangling around necks and cameras at the ready.
So, what's the train ride like? Well, as many had warned us online, 3 hours is a long time to be sitting considering the bench that's provided. But more than anything, once you learn how to crane your head through the window opening that will almost surely be much lower than your shoulders, quite spectacular really considering the price. Our first few stops took us along platforms still well inside Yangon, slowly working our way out of town and into what must be the equivalent of their commuter belt, continuing on to wooden huts, tin roofs and mud-paths. Seriously – you could almost take this train ride and then say you've seen all the main sights, and more, of Yangon. People got on and people got off, some took the time to try and strike up a conversation with us too, and somewhere around halfway while out in serious agricultural territory, we stopped for a few minutes and people scrambled to throw foodstuffs and produce into the train, literally heaping it in. If that's not for you, don't take the train, as everyone on board whether they had anything to do with the produce or not helped out and started pulling the stuff through the window openings, everyone racing to make sure it was all on-board before the train set off again.
As the journey continued, most of the product and vegetables were taken off as we went along and got closer towards Yangon again – though incredibly and in a sign of just how small the city is, it really doesn't get very built up again until the last two or three stops before arriving back into Yangon's main railway station.
For the rest of the evening, we returned once more to our favourite (and of the only) restaurant and I, in particular, treated myself to a few final rounds of the local beer while watching the Malaysian football team try to carry themselves to victory on a centrally-mounted TV in the restaurant – they didn't, but never mind. Before long, it was time to start packing again and up early the next morning for our flight back to Kuala Lumpur. Would we go back to Myanmar? Absolutely, but Yangon only has so much and it seems like we missed out by not making time to visit the other places like Bagan that others spoke so highly of – next time…!