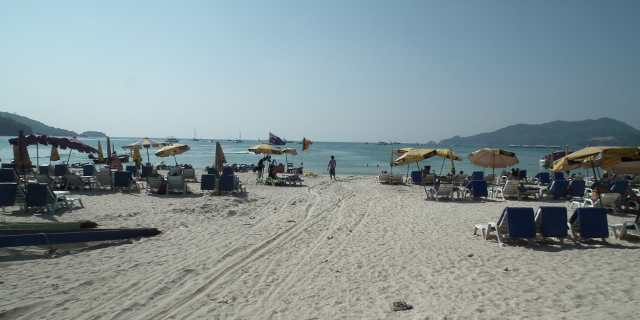 Phuket, Why Not?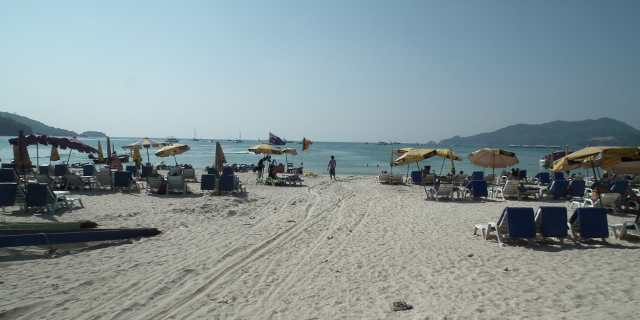 Thailand does tourism really well – in our experience to date – and in many cases better than more-developed neighbours like Singapore, which seems to be largely out to bleed you dry with attractions you can easily find elsewhere in the world. So, with a weekend free and a need to travel, we booked a cheap AirAsia Go trip to Phuket, staying at a hotel – the Burasari Resort – in Patong.
I'm going to come straight out and say it; it wouldn't really have been my intention or wish to stay either in Phuket or Patong, owing to their reputations as hardcore party destinations, but funds were tight (what's new?!) and Patong seemed the best of two shady options. Air Asia continues to fly from KL's LCCT airport, the closure of which I'm now practically counting down the days to. Honestly, it was never a very nice airport, but at this point it has a totally uncared-for feel about it and I really feel it needs to be done away with as soon as possible if tourism is to really be encouraged seriously. I know Ryanair/DAA forced people to walk through prefabs at one point in Terminal 1 back in Dublin, but then Ryanair flies within Europe only and is renowned world-over (in spite of recent efforts) as being scabby.
The flight was reasonable and we were standing in long lines for immigration in Phuket Airport in no time. Normally we get our hotel to arrange a taxi or whatever for us, but that was not possible on this occasion so we headed outside and went looking for the meter taxi counter. Honestly, one area Thailand needs to work (and I was shocked, because this seems to have gotten worse there, but improved a lot in Malaysia) at quickly is the taxi tout situation. Literally, everyone was jostling for business, rudely too, and it must be very difficult and irritating for first-time arrivals to find the genuine article without getting ripped off. Similarly, the meter taxi stand (go out of arrivals and turn right, just to save you the time looking) was a shambles with nobody seemingly that interested in going to Patong and a woman standing at a counter rudely demanding you hand her over 100 baht just for her to argue with the drivers over who was going to take us.
That said, the irritation for the meter taxi – particularly in the evening as this was – is worth the effort, as the journey cost a little over 600 baht, versus the 850 or so the hawkers inside and immediately outside the airport were looking for.
Onto our hotel – the Burasari Resort. I wrote a proper review on my TripAdvisor profile, but it was fine – honestly, hotels in Thailand have a tough time, they're of an extremely high standard and people expect a serious treat. You have to do something very special to stand out in Thailand, for me at least. The Burasari first impressions were good, the room was very clean, large and well presented. The let-downs for me were the complete lack of food in the hotel after 10pm (we tried, so there's no comeback on that one), the ridiculous situation they have with the ratio of sunbeds to guests which really is plain silly, the staff also seemed a bit cranky and disinterested and lastly, my room in spite of the niceness. As I say, it was a lovely room – but it was supposedly an 'elite'; though it still lacked the lounger/chair and separately, bathtub as promised in their writing material (you'll see they appeared cleverly not to understand what I meant in the Tripadvisor reply). So yes, stayed in much better in Thailand for the same money. It was very nicely thought out though, just not quite good enough.
On to Patong itself – exactly as feared. It's been wildly overdeveloped, with food, drinks and general daytime activities costing the same if not more even than locally here in Kuala Lumpur. Come on Thailand, I know it's not supposed to be like that. Our first morning we spent wandering around the pool area at our hotel looking for a bed, relaxing for a few hours, before heading out. If you want to come back from your holidays repeating the date of the next boxing match at Bangla Stadium over and over, get a temporary (or permanent) tattoo or pay to sit on a crowded beach with hundreds of other sunseekers, then you'll be right where you want to be. For us, it was too much. We wandered up and down the streets, had a lunch along the way, before retreating back to the hotel for an hour's rest after the chaos of the city streets.
Next time around, I'll tell you about how we spent our next day or two in a place we'd already decided we didn't like, and coming back to Malaysia once again…