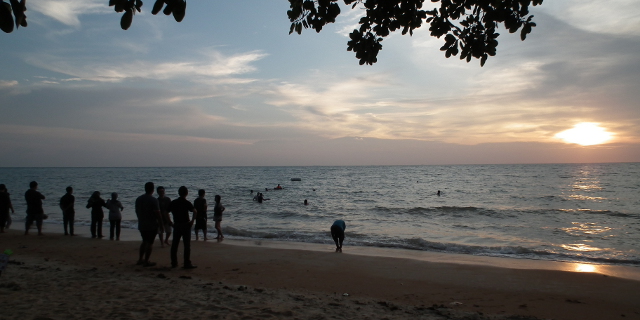 Hello, Port Dickson
Port Dickson seems to evoke mixed feelings among folks I've talked with – some had said it was great, well worth a visit; others saying it was average and not much more. Either way, I was interested to give it a go, if for no other reason than the sheer convenience of it to Kuala Lumpur, supposedly a little over an hour away.
With our hotel booked and my car – hopefully – capable of undertaking the journey, we left home around midday on a Saturday afternoon. I'd say in normal circumstances, the journey is really extremely short – more so, the more speeding you do as well, which is par for the course on the roads over here – but somewhere along the way an accident on the motorway forced our navigating officer, Waze, to command us off the highway and follow very narrow, small back-roads for most of the remainder of the journey. When we finally reached the motorway again, after what was certainly a very scenic trip, there was literally only one more exit and we arrived into Port Dickson.
Similarly, our belligerent American navigating friend insisted on us taking a right at the 'roundabout', which we did and then proceeded to unwittingly take in an entire tour of the Port Dickson seafront, right down to what must be the town at one end. It was very nice indeed, but with petrol levels dwindling (though you never really know, as my fuel gauge drops to near-zero on any long journey) and our hotel not being located in the swamp that Waze thought it was, we were clearly out of place. One about-turn later, and we passed the roundabout (where we should've gone left) and there it was finally, our hotel.
For the night's stay, we stayed at the Thistle Port Dickson, which is comfortably away from populated areas and set neatly up a driveway to make you feel like you're going to stay at a palace rather than a hotel. It was one of those occasions where I was almost embarrassed passing the security hut in my car.
Into the reception – those happily without children may note, as we did, a clown standing out front doing balloon animals, though it didn't bother us at all as we knew the children were likely being distracted leaving us free to have the pool to ourselves – and the check-in was quick and painless, with a beautiful reception area facing out to the sea and a lovely breeze rolling through, which you'd know nothing about back in KL.
Now, the hotel stay I will admit, was gifted to us by a friend who won the stay at a charity event – though I'd very gladly pay to go back there again. Anyway, perhaps on account of this, but the room we were given…well, it wasn't really a room so much as a mini-apartment. Two big balconies, a very comfortable living room, big bedroom (with one of the balconies) and a nice chaise longue set into the wall by the sea-facing windows, and a walk-through bathroom that literally took you from one side of the suite to the other. Yes, this was the life. It was actually so much the life, that we discarded our plans for an instant pool trip and instead ordered up room service as quickly as we could.
Room service generally, is another concept I don't get down with – usually lukewarm food, all jumbled together as it's been wheeled all over the place to get to you, served by someone who tends to be relatively disinterested in the whole thing. No. This on the other hand was a revelation – the food was actually so hot I had to wait a few minutes, and it was really delicious. Almost, I'm sorry to say, better than the restaurant meal I had later on. I took the food and sat out looking straight out to the sea. Perfect.
I wish I could say we thoroughly explored the nooks and crannies of Port Dickson, but no, we definitely didn't. If it's any help, the town itself looks reasonably average; most of the hotels are quite spectacular, though a few looks pretty hit and miss; but the beach by and large although not crystal-clear waters, is very inviting and near our hotel anyway, very quiet.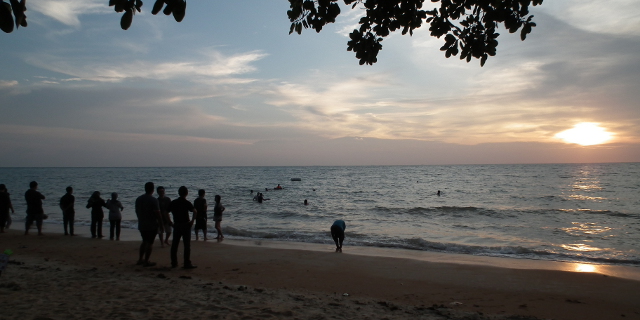 Instead, we took in the massive pool, walked the beach around sunset before repairing to one of the restaurants for food. We went down to a beach bar afterwards for a few drinks, before heading home and doing exactly what a stay in Port Dickson seems to suggest – relaxing and chilling out.
The next morning we wandered the beach one more, enjoyed the (hearty) breakfast before trying out the journey once more, with our navigating friend back in action once more – 1 hour 10 minutes flat. A perfect time for a lovely weekend getaway.