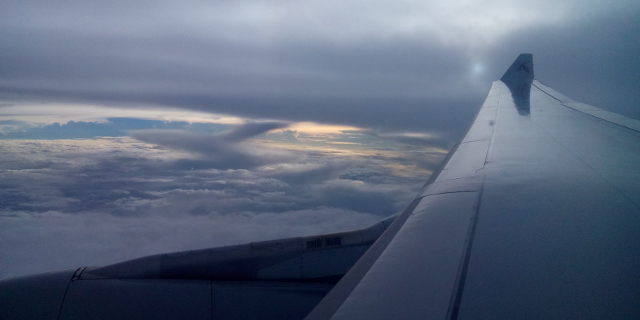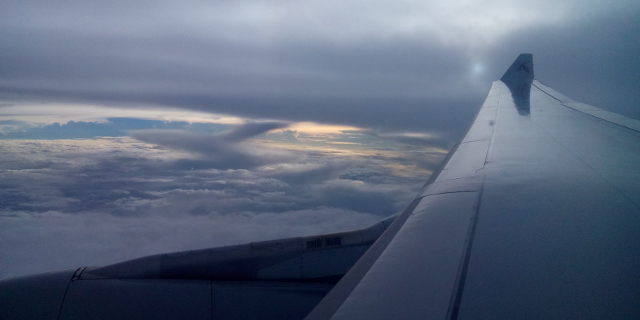 Having flown with Malaysia Airlines up to Phuket, I was thrilled to find that the self-proclaimed World's 5-Star Airline, Qatar Airways, flies this very route back. As Qatar Airways frequently tops the list of possible airline combinations heading to and from Europe, I was quite eager to give the airline a go on a shorter route first and let's be honest, they really push this 5-star thing pretty hard so it had to be something special, right?
Arriving to Phuket Airport though, things started off a bit badly. The check-in agent we got, whether it was a bad day for her or whatever, was among the most sullen individuals I've encountered in many a year, completely devoid of any Thai hospitality let alone 5-star hospitality. I was willing to write this off however, as I also would be lacking in empathy if someone forced me to wear a toilet-blue blazer all day long.
Moving along then to the flight itself, it goes without saying that it was a light load as the flight continues from Kuala Lumpur back to Doha. In spite of that, there wasn't a welcome to be had (there was someone standing in the entrance alright, but she was in fact making sure that nobody crossed the threshold into Business Class and pointing out which aisle to take, but as I say, no greetings) and after finding my way to the seat, I must admit I was instantly disappointed by the legroom. Very much standard and the seat itself was absolutely nothing to write home about.
Another curiosity of Qatar Airways that I've noted in other reviews is a deep love of boarding and then leaving early. Likewise, we also were already bouncing our way to the runway by the departure time. Unusually, this once again came with no greeting or introduction from the crew, and we proceeded to watch the safety video in silence like a bunch of bold school-children. Honestly, it was one of the more surreal experiences I've had to date on a flight – actually, I even remarked that it felt like a ghost flight.
As we soared into the sky, the only announcement in fact referred to the availability later on of mobile networks and WiFi. They made such a big song and dance out of this in fact that you can imagine how stunned I was to discover that you actually had to pay for this feature – this was never mentioned, nor is it clearly mentioned on their entertainment system which gives otherwise very detailed instructions on how to access the internet. Grave disappointment.
On the plus side, a ridiculously hot chicken wrap was handed out (grudgingly, again) at some point during the journey. While this was acceptable food, one strange thing is that myself and Anna both got the same pie/wrap, which both turned out to be completely different.
Honestly, this post already has gone on too long and I'm only keeping it going to give you a taste of how sterile and uninteresting the whole experience was. I was so disappointed that an airline that prides itself on giving world-class service was so dry, void of any character or personality and everything about the whole flight just so bland and unremarkable.
So it was with unspeakable joy that we finally landed and both rose to our feet as quickly as possible, gathered our belongings only to be once again confronted with the aggressive dragon from earlier when we were boarding. This time around, she was stopping us from exiting so as to let the important passengers off first; for me, this is perfectly acceptable, but to do it with all the subtlety and grace of a bored nightclub bouncer is not OK and I was pleased to know I was imminently to be free of her awful service levels and disinterest for people in general.
We got off wondering was this really it – I mean, there are other 5-star airlines and they are assuredly much better – how could this be so…bland? Who else has tried QR and what have you thought? Looking forward to hearing some opinions.