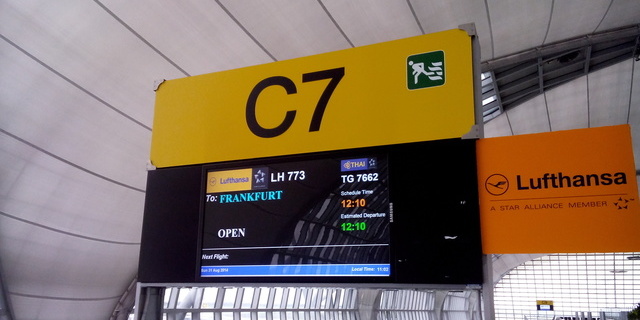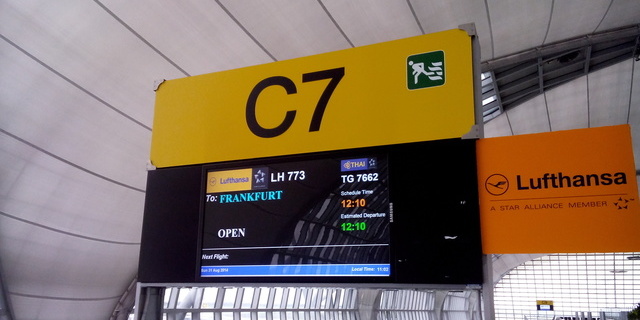 For our long-awaited and booked last-minute trip to Germany, we were left, highly unusually, with little to no option but Lufthansa. Myself & Lufty have had something of a chequered past, as I have found their outstation agents to be particularly insensitive, of little assistance, meanwhile their prices are generally of the level of eye-watering one would expect of an airline that cares little for 'economy' passengers (read; cheapskates) like myself. So it was with trepidation that I accepted our comically-long itinerary from KL to Bangkok, Bangkok to Frankfurt and onwards to the little-known airport of Muenster/Osnabruck.
Our first flight, from Kuala Lumpur to Muenster went off fairly smoothly. Malaysians really don't care much for formalities and so in spite of Malaysia Airline's "all self-check-in process", we wandered into the queue and up to 'baggage drop' without anything to show for it. The guy also didn't worry too much about it and we were airborne bang on time, leaving our second home for our…original home. Well, via Bangkok. Malaysia Airlines is openly coming to an end on all but the most profitable long-haul routes, and it is a shame, as they're a very good airline.
Bangkok Airport meanwhile had a trick up its sleeve. We disembarked, swung right for the transfer lounge, walked a serious distance down to an escalator being manned by a very stern-looking woman. I walked up to her, explained the situation (baggage tag in hand) that our bags were checked-through but we needed to collect the boarding cards so if we could just head up to the transfer lounge…NO. I didn't even get to finish the sentence before she told us, in short, absolutely not, we'd need to wander the seemingly 3-mile long stretch back to the Vietnam Airlines ticket desk (of course, you would associate them with Lufthansa as a regular passenger?!) and get them there, before walking back to her.
At another information desk meanwhile back on the corridor, we were told no, in actual words 'it's best not to listen to her' and that, as expected, there was a Lufty desk right after the transfer security. So I walked back, mulling how we would tell the woman that we'd been specifically instructed to ignore her. Thankfully, in the meantime she'd gone off shift and been replaced by someone of similar hospitality. As she carefully turned down a bunch of Asian would-be transfer passengers, I made my break and went straight for the escalator…but with one final step to go to freedom, she started screeching and I was hauled back to explain myself.
Finally, with all the drama and complete lack of knowledge of the Bangkok Airport staff (which by the way, was very disappointing for what is presumably a serious transfer airport) out of the way, we got our boarding cards issued and onto the flight – after security, as expected. The airplane itself was visibly quite old, but the retrofit seats and entertainment was reasonable. The seat, I'm sorry to say, was stiff as a board and very thin for a long flight, but by contrast the legroom was very acceptable. The entertainment screen, disappointingly, comes with no remote so I was left being jolted back and forth for many of the 12 hours as the kid behind me chopped and changed what programme he wanted to watch. Irritating in the extreme, to say the very least.
The food however, was really excellent (though perhaps they should keep the same provider going the other way, as the flight catering on the way back was grim) and topping it all off for me, was the Club Mix (channel 6, for those interested).
Frankfurt Airport is a terrible mix of old (and showing signs of it, though they are trying I guess) and new (which does look good) and some of the gates are scandalously far away. Our flight onwards for example, involved stairs or one lift for everyone down, then a very long walk, then back up more stairs or one lift again, then another walk, then back down stairs again – sorry, what? On top of that, Anna was welcomed home by some power-tripping security guard who was going ballistic, literally screaming and making everyone's lives a complete misery (another guard actually encouraged her to report the woman as apparently this is her standard welcome for all transfer passengers day in day out), but you know…we mostly just wanted to get out of Frankfurt Airport). It's a shame, as it could be a great transit airport (I always liked Terminal 2 much more – and this just confirmed it for me) with more terminal consistency – and a bit of hospitality training mightn't go amiss either.
I'll finish up the remainder of the flight and our time in Germany and lovely Deventer in the Netherlands next time around, including visiting my cheap prescription drug 'dealer' in Holland (where else) and the power-flight to Muenster.