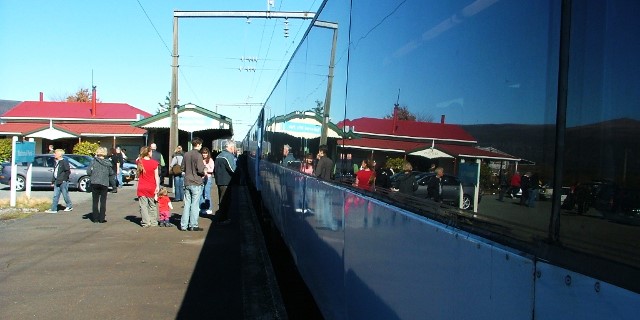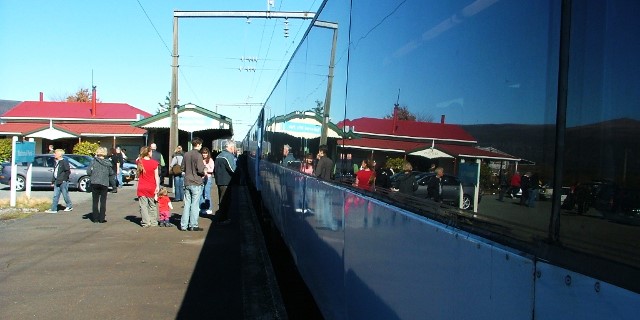 While much of my travel nowadays is deliberately conducted in the most time-efficient way possible so that I can get to where I'm trying to go and enjoy the sights, one of my most favourite (even if it may not be so at the time) ways to get anywhere and see a country properly is on the ground, in a train.
It strikes that so many countries continue to massively underinvest in their national railway systems and yet they all have so much possibility – not just for tourism, which I admit, may not be a massive money-spinner, but for general public transport purposes.
Train travel can take you from city to the absolute depths of the countryside, from the warm humid lowlands to snowy highlands, and the longer the journey, takes you up-close and personal with the best, the worst and the majority average of humanity. It also somehow allows conversations in a way that flight doesn't – we all know how conversation go on a plane; there's a few awkward minutes of hushed conversation as the flight prepares for take-off, interrupted depending on whether one passenger or another wishes to really hear the safety briefing, then either the conversation continues after take-off or, mysteriously in many cases, simply dies out before take-off not to be picked up until just after landing. I always find this very bizarre.
Train travel has no such interruptions and once the conversation starts, there's no need for an end and no interruptions really to worry about. Here's 3 of my favourite train journeys I've taken over the years;
The Overlander; Auckland – Wellington
The Overlander was an all-day affair kicking off bright and early in the morning in Auckland. This was one of the most beautifully scenic train journeys I've been on to this day and I still can't speak highly enough about it. As a cheap backpacker with a rapidly dwindling budget, I had little option but to bring along sufficient ingredients to make my own sandwiches and food on-board the train, with breakfast consisting of a Subway coffee and sandwich inside the train station hall.
The first hour or more after leaving Auckland was pure fog – you couldn't see a tap outside the window and I dozed on and off for the first 2 or 3 hours, completely uninterested in waking up fully. When I did, I was so refreshed and had been joined by a seatmate who had a friend sitting across the aisle from her. A striking aspect of rail travel is how friendly people are regardless of situation; these two elderly ladies, while slightly bemused, were intrigued to learn of my travels and shared a laugh with me as I turned my table into a mini-kitchen later on to prepare my sandwiches.
When we finally reached the midway stop of the journey, what a treat – we were allowed off the train for 20 minutes or so and the climate had plunged, snow-capped mountains lay not far off in the distance. Consider this from a reasonably warm Auckland morning that we'd left. Truly spectacular.
The Reunification Express; Hanoi – Ho Chi Minh City
My huge mistake with this train was taking the entire line in one go, which no sane person (nor I again) would ever do; simply put, you pass too much wonderful scenery that you want to hop off and explore, and with a through-ticket that's just not possible. Lesson learnt and I'll know for next time. Aside from that, while the train is reasonably modern, extremely well air conditioned and pleasant, being on a train for any amount of time approaching the time it took becomes too much.
For me, this journey was a lesson in decency. I got on the train (having already had some ups and downs along the trip) really suspecting the worst of the other 3 people in the cabin; paranoia was slowly settling in, which of course is the solo traveller's nightmare as it prevents you from doing much else other than worrying. Honestly, as the hours passed, I learnt that these people were some of the nicest, most generous folks I could ever have had the fortune to share a train carriage with – through broken English and hand-signals, they shared much of their food (I'd forgotten to take any this time), helped me order from the food cart and towards the end of the journey, even took pictures with me with their children like I was one of their own. It goes without saying the scenery was always magnificent and a journey well worth doing – but perhaps in stages, rather than in one go.
Lake Shore Limited; New York – Chicago
Another mammoth train journey, and again well worth it. This journey kicked off in the afternoon from New York's ridiculous busy city centre and worked its way through the evening across the countryside, stopping every once in a while, then through the night and arriving into Chicago the next morning. As always, I didn't have the luxury of cash to splurge on a cabin or berth for myself so I opted for one of the sleeper seats. The scenery was incredible as we so often transitioned from town or city into the countryside, seemingly deep rural countryside at times before gently transitioning back into a town or city.
More than that, the sheer number of stops along the way meant a constant change of people to talk with; it was almost like a speed dating opportunity. Again, I seemed to be the only one going the full distance and as we rode through the night, I had at least 5 seatmate's, all of whom I shared at least a few words with at different times. By the next morning, I was actually all talked out and ready to arrive in Chicago – and try and catch a few hours of stationary sleep!
Again, the scenery and the people so often make the journey – what have been your favourite journeys and why? Drop me a comment or chat with me on Twitter!