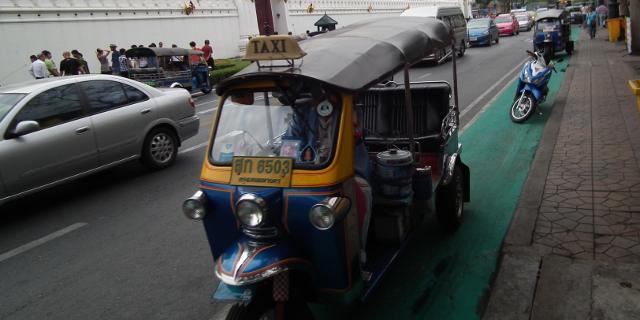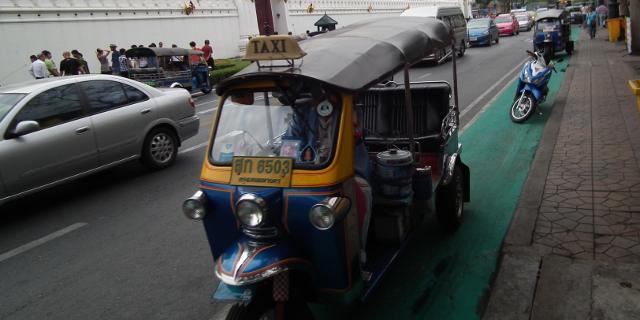 From where I left off last time at Wat Arun and back onto the ferry for the 1-minute crossing to get to the other side of the river, we wandered aimlessly around on the other side – but honestly, there's really no need. A few footsteps any direction out of the ferry terminal and, as I quickly discovered, you stumble more than arrive intentionally at Wat Pho.
As with so many tourist attractions I've seen in Thailand over the years, there's a special 'tourist' rate applicable (which, in the case of Wat Pho is very thinly veiled as a benefit due to receiving a small water bottle in return), though it still really isn't extortionate I suppose – more ridiculously, the guy was accepting exact change only and refusing to serve anyone not with exact change.
Once inside, there's no doubt, the reclining Buddha – which ultimately is what we were most interested to see – is something quite spectacular. It's larger than you can possibly imagine and just trying to fit any amount of the Buddha into a picture is a serious challenge. To consider when and how this was built is simply mind-boggling completely by itself, let alone the thought, detail and effort of the whole thing.
Back outside in the searing heat, we toured the rest of Wat Pho, and don't get me wrong, there's seriously plenty still to see, before wandering back out onto the streets. This area is simply tourist-central and you need to know that, because the offers of help, taxi rides, tourist assistance and so on is simply never ending. As we tore away on foot in search of the 'Giant Swing', the area changed dramatically from a tourist mecca to well…I'm not really sure…
Simply put, every shop looked like this. It seems somehow we'd found Bangkok's Trophy District, if such a thing exists.
This is one of these curious moments travelling when you see street upon street full of shops selling the same thing – trophies, in this case – when you could possibly go a lifetime, as I have so far, not knowing what the equivalent area is in your own hometown. Does Dublin have a Trophy District? Strangely, I've never even wondered before where one would pick up a trophy back home.
Don't even get me started on trying to find the way back to the ferry again – which, after finding the Giant Swing – I began to wonder if I'd ever see again.
The last night in our hotel, Sukhumvit Suites, was capped off by room service mistakenly ringing our doorbell (incessantly) at 3 in the morning, when they intended to charge the room next door to us. Overall by the end of our stay in the hotel, I had become very dissuaded with the careless staff attitude and the absolutely awful restaurant – see my no-holds-barred TripAdvisor review.
After a very quick breakfast the next morning (quick, because the eggs that I was almost forced to order never actually materialised and the rest of the breakfast offering was completely forgettable), we made one final walking tour of the area, before grabbing a taxi back to the airport. Our taxi driver, comically, agreed to use the meter (this is more difficult than you might hope in such a big city as Bangkok) and then proceeded to drive towards Don Mueang Airport as if his life totally depended on it. If we had been in a plane during stretches of the motorway, we'd have become airborne.
Back to Bangkok's old airport, Don Mueang is clearly showing signs of age – I thought the whole place looked very retro (though still very functional), but I see that it stands as one of the oldest continuously-operation commercial airports in the world. Honestly, from an interior décor and furnishings point of view, you'd know. I'm pretty sure this was airport design circa 1995. Functionally though, it's one of the most practical airports I've been in ever – no overcrowding, no temperature problems caused by too much glass and not enough AC, clear signage and passenger flow.
Slightly unfortunately for anyone outside the gents, there's even a wonderful view from the urinal straight out to the corridor – TMI, I know.
Anyway, with that the trip was done and dusted, onto my AirAsia flight and back to Kuala Lumpur until next time!