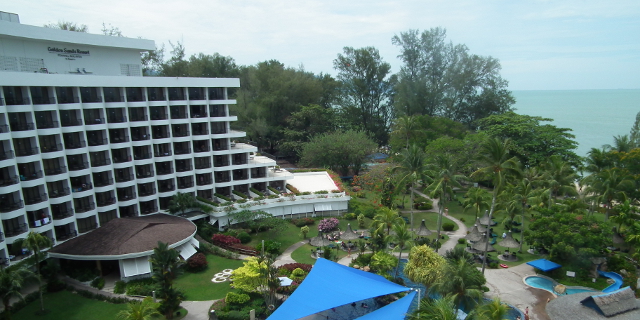 Penang New Year!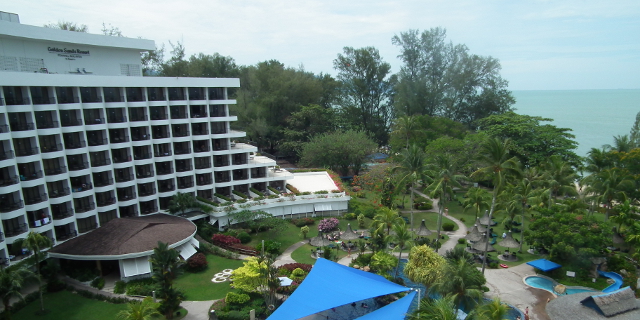 With Chinese New Year upon us far faster than I felt it should have and long weekend here in Malaysia to spend, my urge to get moving caught me once again. Needless to say, with Chinese New Year representing (seriously) the biggest human migration on the planet, all flight options were more or less either fully booked or outrageously expensive, as indeed were most hotels with any kind of reasonable distance from Kuala Lumpur. Having stayed previously in the very delightful Rasa-Sayang Resort by Shangri-La, and indeed the Shangri-La Kuala Lumpur more recently back in December, I was delighted to see that among the most sensibly priced options was the Golden Sands Resort, just next door to the Rasa-Sayang, up in Batu Ferringhi in Penang – and also, another Shangri-La property.
It goes entirely without saying that what would normally be a fast four hour drive was far more of a slog than I would have liked. Driving to Penang from Kuala Lumpur, you drive slightly out to the west of Kuala Lumpur, before joining the highway for the north. From experience, the changes in landscape really are something to behold as you leave the Klang Valley and up north through flatlands for a period and undulating hills, before coming across wild mountainous terrain and huge jutting rocks on the section between Ipoh and Taiping. It's true what they say, if you want to really see a country, travel on the ground, not the air.
More problematic however – though mildly expected – was the wild traffic we encountered as the journey progressed. Thankfully my bladder was in good working condition, as were my fellow passengers as it was a non-stop journey; simply put, every Rest Stop (and there are plenty along the highways here in Malaysia) looked like a doomsday scene, with bodies urinating anywhere they could and cars parked a few hundred meters before the rest stop itself on the motorway and for yards again after the rest stop ended. The rest stops themselves meanwhile, were like toy shops on Christmas Eve; absolutely packed to capacity (and then some).
Some six hours later however, we pulled into the Golden Sands Resort (by Shangri-La, for what it's worth). Reception was smooth and quick, the luggage service a bit slow but still fine. Where Shangri-La always excel in my opinion is such consistent comfort, cleanliness and rooms. Our room, an executive sea-view room (it was a twin, which wasn't entirely desirable but no choice was offered unfortunately) was beautifully kept, immaculately clean and as always, with the AC blasting out already so that nobody got turned inside out with the sweat unpacking the luggage.
Noticeably with the Golden Sands Resort, it's a far more child-focused resort and kids were running all over the place. We decided, with the long journey behind us, to try the beach bar, Sigi's, and see what delights they had in store for us.
Honestly, one thing I've noticed as being a bit…lacking with Shangri-La is their staffing levels and subsequent staff attention. We arrived down to the bar and then waited (having asked 3 separate staff members) for a good 20 minutes for our table to cleared of the existing dirty plates – which all free tables had, so there was no use moving elsewhere – then another 10 minutes before a few menu's finally appeared, then another age before we were able to order. In defence of the staff, the guy did apologise profusely and explain they were very busy (when he gave us the bill at the end, not before), but having seen this before with Shangri-La (and I've always let them away with it so far because everything else is so good), it just strikes me as a bit daft not to have foreseen this potential problem over a heavily-booked Chinese New Year weekend. The food similarly, I'm sorry to say, at the bar was not especially delicious – the chips were lukewarm and the sandwich so heavily buttered (or something) that the grease had all but made the bread translucent. Yikes.
That said, to escape from the normal routine either way, even if it is hot and humid Kuala Lumpur, is something to be treasured and I spent the rest of the day pool-lounging – regardless of any and all kids that were sprinting around – and wandering the beach (once, each direction, before hitting the pool again), before dinner time was nearly upon us and with Penang as such a local foodie haven, there was only one place on my mind; the ramshackle-yet-strangely-delicious multi-option 'Long Beach Café' just a few steps up the road! All for next time…