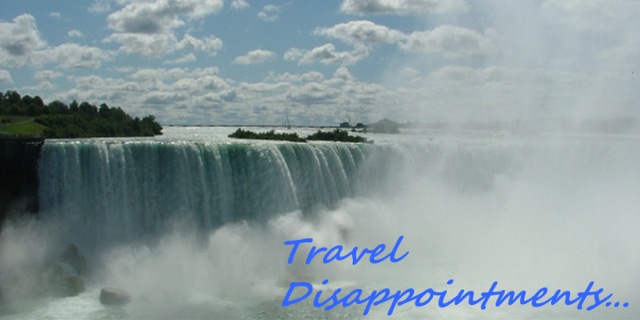 In travel blogging most people, increasingly myself also, like to focus on the positivity, the beautiful sunrise's (for which we got out of bed possibly with a hangover to see), the lesser-spotted temple in amongst a rural village, so on. What sometimes I feel I don't see enough of is complete travel honesty. The fact is, my experience has not always been good and I'd be telling a barefaced lie if I said otherwise – between persistent irritation the whole way through the Forbidden City, to absolutely unforgivable hostels, it's not all plain sailing.
By far the most consistent offenders though are the attractions we've heard so much about and are probably most impressed, particularly as we start out, to visit. Here's my list of the 3 biggest travel disappointments.
Niagara Falls, Canada
The Falls definitely need no introduction. Nestled between the US and Canada, Niagara Falls are one of the defining must-visit attractions if you happen to be even remotely near them on either side of the border. Having not heard much about the falls, my mind had conjured up what the experience might be like; dropped off on a muddy road in the middle of nowhere, following down a mudpath being careful not to slide or trip for a few hundred meters before peeling back huge branches to see this beautiful waterfall cascading. The truth? Nothing even remotely close.
We took a Greyhound Canada bus down there and the first sign that my illusion would be shattered was getting stuck in a hardcore traffic jam in the city itself. Getting off and realising that the runway-wide promenade was actually running alongside the falls, my disappointment could hardly be contained. The falls – alright, they're spectacular and the noise of all that water feeling the effects of gravity is something, but this was tourist trap on the grandest scale known to man. In fact, here's a small sample of the skyline…
Manneken Pis, Belgium
The Manneken Pis, by itself, is one of the most bizarre landmarks you could ever hope to imagine, but if you haven't yet seen it, you're in for absolutely no treat whatsoever. Having already very successfully ticked off Belgian beer on our list (a few times actually), we made for the Manneken Pis. OK, so without wanting to sound like some weird sleaze-bag the…bronze boy is absolutely ridiculously small. Moreover, he's mounted surprisingly high off the ground so after you work your way through the awkward maze of small streets and suddenly find yourself (most likely by accident) standing facing Manneken Pis, the only photos possible look like he's pissing down on top of you. Which given how ridiculous the whole thing is, he sort of is.
When we arrived to the Manneken Pis, I had absolutely no idea only my two travelling buddies immediately went about getting their cameras out and taking pictures. I had become distracted by an ad for a waffle shop. I turned around, nearly blinded by the sun as I tried to look up and see what it was. Honestly, I know this may sound somewhat exaggerated and you know, perhaps it is, but it was truly one of the most disappointing sights I've ever seen in my entire life. Please let me know in the comments by the way if you've seen him, and if he was that disappointing or if I was having an off-day.
Trevi Fountain, Italy
Before you continue, in case you're not familiar with how the Trevi Fountain should look, click here and view the Google results. The picture it pulls from Wikipedia or wherever looks lovely doesn't it? Now, see my picture of it, taken once I'd managed to fight through the first 3 or 4 lanes of people only to find another 2 rows still to go before you could actually touch the fountain itself. Honestly, what none of the pictures on Google accurately show you, is just how compact the area is and how surrounded by other buildings it really is. It's packed!
Not unlike the Manneken Pis, we arrived into this narrow little square feeling like we'd become trapped in some sort of mass stadium evacuation and then suddenly, there it was, this fountain in amongst all the madness. While there's no doubt that Niagara Falls and even the Manneken Pis himself were by far the greatest let-downs, this historic old fountain, for me at least, was a grave let-down. The only reason it doesn't score worse is because, if you had the money or resources to clear the entire area at dusk, I'd say you could make it look somewhat special. But for me? No, never again.
What are your biggest travel let-downs, or what sights have you gone out of your way to see that turned out to be a waste of time? Let me know!