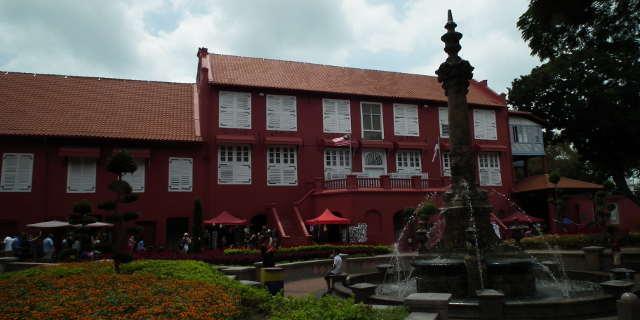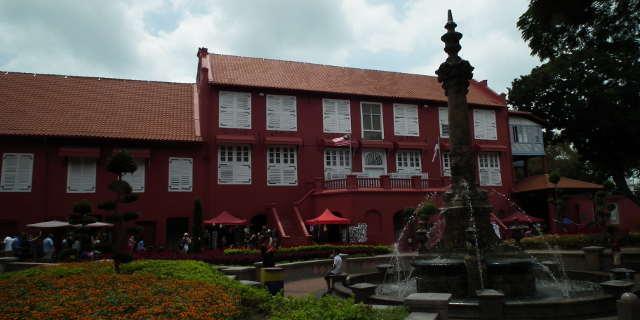 It's been well over a year since I was last in Melaka, Malaysia's ancient Dutch colonial port and present-day UNESCO Heritage Site and honestly, it's somewhere I keep meaning to bring people to visit – but end up never bothering, in favour of local attractions here in KL instead. Finally, last week, the opportunity came up once again and I jumped.
For anyone thinking of going from KL, take the bus! I can't stress this enough; I'm not sure how parking is down in Melaka but the driving seems a bit crazier again than in KL, and the streets as you get closer and closer to the actual old town just get tighter and tighter, to the point where one side of our taxi was balancing delicately on a drain beside an open pit, while we wrestled with another car for lane-space at one point. Besides, if you haven't seen how KL does bus stations, then…you haven't seen a modern bus station, I guess.
When we first came to Kuala Lumpur in 2010, the main bus station was fragmented between a place in Chinatown which looked like one of the worst ways to arrive to a capital city, and then another out near Bukit Jalil, a truly awful open car-park served as the bus terminal, while an overheated tent served as the ticketing office. How you would buy a ticket was as follows; walk into overheated tent, become briefly overwhelmed by the sheer number of ticket stalls for different companies, proceed to walk stall to stall looking for a company serving your destination until one had a route, time and availability to your liking, buy ticket. Generally, you'd be so worn out by finding these things as you wished, that price even came last in consideration.
What I'm saying though, is now the bus terminal is nicer than many country's airports. It's well organised, you can buy a ticket for any bus company at any of the main stalls, the car parking is dirt cheap and it's so beautifully air-conditioned – which of course is an absolute must when accompanying a visitor from the Western World, who should otherwise be wearing a fleece and rain-jacket this time of year. So we got our bus, Mayang-Sari and off to Melaka.
OK so listen up, Melaka's taxi drivers don't even really have meters, let alone have any intention of using them so from the bus station, the current price seems to be now around MYR20 to the old town. This is a marked increase in price since my last visit – I did ask and slightly complain, but hey, nobody really cared and all the drivers seemed to be in agreement.
But wow, arriving to the old town this time, as before to be honest, was something else. For first-timers, there's very little realisation you're about to arrive at the Dutch Square other than the sudden glut of old red buildings in the last 20 meters or so before you get thrown out.
It's a crazy place and hard to believe it was actually a genuine port and major colonial settlement for a whole manner of European would-be settlers in a time when then were was, critically I'd imagine, no air-con. I'm sure there's a right way and a wrong way to see Melaka, but my own personal way is to always start off by crossing the bridge and actually just getting lost amongst the old shop-lots on the other side of the river, wandering in and out of shops, wandering through shops from one street to the other and somehow, always winding up down near the Chinese temple at one end. Same thing happened again, though this time I did stop to try out the Geographer's Café. Honestly, I stopped in only because it looked inviting and was one of the less-busy places. As it turns out, it seems to be something of an institution and yes, the food was great too.
As I say, I wandered some more until once again, winding up at the Chinese Temple in the wild, wild midday heat. Back over and across the river again and in for some cooling off to the Architecture Museum of Malaysia, which is free and always a worthwhile place to visit. Unless you have an innate love of architecture, or better still you actually are an architect, 20 minutes will be sufficient but some of the models and frameworks of old houses are really wonderful. Lest we forget, in the mad Melaka heat of the day, it also has a bountiful supply of air conditioning.
Back out into the heat and it was up St. Paul's Hill to take in that wonderful view across Melaka, new and old. I don't know what it is about Melaka but every time I visit, without fail, I seem to come across Indonesian tourists (large number of them) who want to take a photo with me. This never happens in KL, where I imagine there must also be equal if not larger numbers of Indo tourists, so someone'll have to explain my apparent attraction only in Melaka?
Melaka's an all-round awesome place, but the normal 'city' of it is, honestly, like any other city and with only the day to spare it was back to the bus station before long where I negotiated my ticket back to KL – courtesy of 'Delima' this time, Malaysia has truly so many bus companies it's unbelievable! Back on to the bus again with the early stages of heat stroke going on and beautiful memories of another great trip to Melaka.