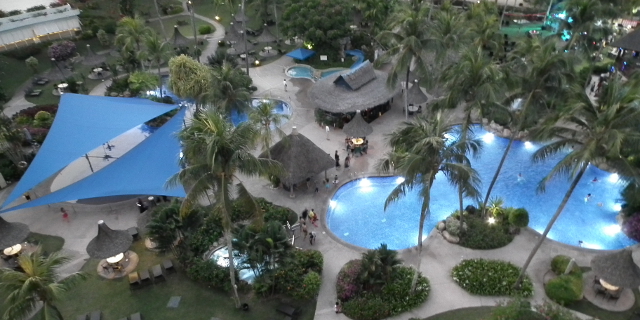 Penang New Year – Part II
Continuing on from my previous post on our trip to Penang just about in the nick of time for Chinese New Year (I'll be honest – the last of the Yee Sang was being tossed as we more or less ground to a halt out in the car park), we sat around as the sun lowered itself further and further from the sky, slowly setting over Batu Ferringhi as the last of the jetski's and banana boats – yes, there are a lot, if a quiet beachfront is what you're after, this isn't it – returned onto the shore.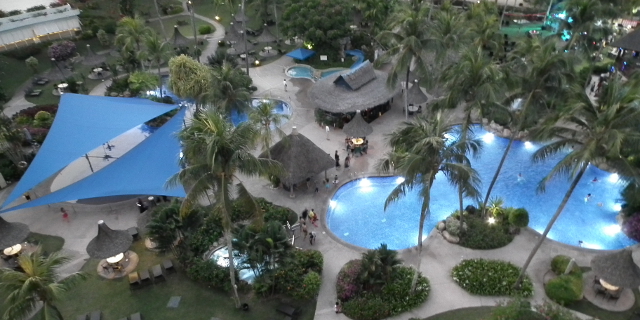 If Batu Ferringhi is Penang's tourist mecca (and it is), then Long Beach Café is the very bizarre food mecca that brings together tourists, locals and randomers alike in pursuit of cheap and unbeatably delicious grub. One thing that's always given me the giggles here in Malaysia is the myriad ways food has to be ordered and consequently served – I can never get a handle on the various systems. Indian places for example, frequently have a help-yourself scenario where you get all your own food and they come round belatedly and judge how much you've eaten in deciding on the bill. Many Malay places meanwhile tend to have food hidden behind a glass counter (think along the lines of Subway and you're halfway there). And on it goes.
In Long Beach meanwhile, one must remember the table number – the easy part this time, 69 – then go and order the food, give the table number, return to your seat and wait, and then pay each individual stall as the food arrives. Wow, what a treat though – the net effect to me of this ordering system is ordering far more than I, or any of my party can possibly ever hope to eat, and only realise same as more and more plates steadily arrive.
On the night in question, I got through 20 Satay sticks, a char kuay teow, a (not very nice) chicken teppanyaki and part-way through an Indian curry and a few pieces of garlic naan before finally having to call it quits. Plus two 'Big Tiger's' – Tiger, the local beer. What a feast. So cheap (relatively, though you can also do better in Malaysia if you try) and absolutely delicious.
There was only time to return back to the Golden Sands' 'Lobby Lounge' for a nightcap before it was time, thankfully, to turn in for the night. Sadly, as I cited earlier, the hotel had a trick up its sleeve for the Chinese New Year celebration which was to have only one girl wandering around (when she finally did appear). Not getting a drink doesn't bother me massively – after all, the price hotels charge here, it's clear in whose interest selling drinks lies – but with a lobby full of fellow Europeans and Chinese on their jollies, the looks of horror and disdain grew rapidly as each minute ticked by.
Shangri-La, if you need to learn anything from this (and as I say, I've already wrote – and got a response – on TripAdvisor) it's never leave Europeans and Chinese sitting in a lounge looking for drinks for too long after fleecing them for super-inflated nightly room rates. They absolutely do not appreciate it.
The next day, once again, I'd be telling filthy lies if I was to suggest we did anything other than lounge around the hotel – Penang has beautiful sights, many of which I've been so fortunate to already have seen such as most of Georgetown, the National Park, the splendid beaches hidden throughout said National Park and much more – but honestly, when you're only there for a few days and with otherwise wonderful facilities at the Golden Sands Resort (aside from the lethargic and invisible staff), it'd be very rude not to take full advantage.
It's just as well we did too – as our time drew to a close in Penang and I attempted to drive back to Kuala Lumpur on Saturday afternoon, the highways were absolutely packed to the rooftops. A journey of normally around four hours took a quite nerve-wracking 7.5 non-stop hours of crawling. By the end of the long drive home, I'd a pair of feet on me like flippers from accelerating and then braking on repeat for such a prolonged period. Flight next time? Yes please. But Penang worth the trip? Absolutely.