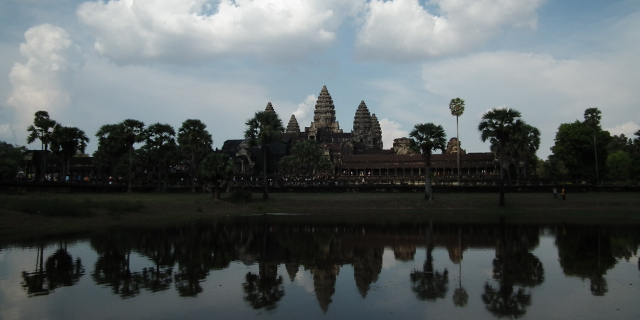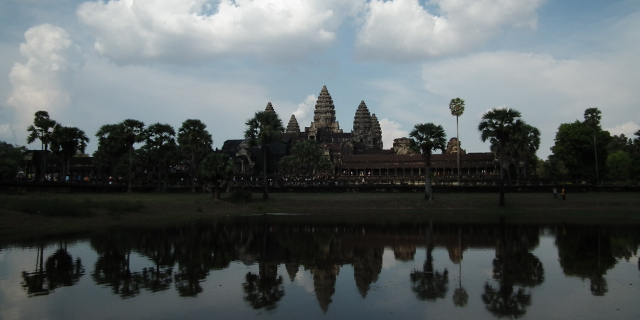 Not that the previous day was wild, or filled with excitement, but my sleep was incredibly awesome the first night in Siem Reap – until, like so many awesome hotel sleeps – some kid went running down the corridor outside our room screaming like a wailing banshee. It was time to get up for our tour!
As I said in my last post, my review of the Angkor Miracle, the breakfast was just 'OK' and nothing to lose the plot over. It catered for everyone, and I secured a fresh omelette by professing to be picky and not wanting some of the items from their pre-cooked selection (it worked). Off-topic, but here we go; what has happened to so many kids of all ages that they can only sit with their families when there's an iPad placed in front of them playing cartoons? It's so sad to see kids slumped in their seats like a sack of spuds with their parents going and getting them a selection of food and then just pushing it in between them and their electronic company. Rant over.
We picked our tour guide, Rany, based on his hardcore TripAdvisor reviews, to which I've now added. If TripAdvisor was a university, this guy had been handed an honorary doctorate such was the strength of his profile. Sure enough, he was downstairs already, hanging out with our concierge and immediately went off to get the car started. Picking a tour guide in Siem Reap can't be easy, as there's hundreds, but Rany initially for us also came with two important points; unlimited cold towels and complimentary water.
While I'm writing (and you're now reading this), we're both laughing at how silly that sounds in picking a tour guide – but no joke, Siem Reap was burning all day long.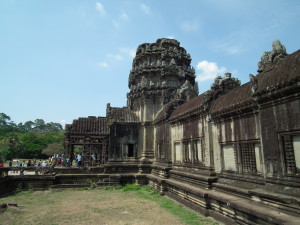 He drove us first to the central ticketing office where, after parking, he marched us past the hordes of people and straight to the top of the queue of one window. Honestly, I'd have just given up if I was in the queue as we were in and out of there in about 5 minutes flat and back into the car looking at the same people not having moved. Normally I hate that kind of thing, but in Siem Reap you will end up wanting to do anything to avoid the heat except at an attraction.
First stop was Angkor Wat, probably the most famous of all the temples. Listen, Angkor Wat, like so many other world-famous attractions is so unexpected. You're driving along, looking at what appears to be a river, turn a full right-angle and oh look, it's Angkor Wat and that was the moat! Rany was out of the car before us and as I say, while I normally have no time for wildly expensive tour guides, he wasn't that expensive considering time saved and his tour was excellent. We went in via the most unused route in what must be the whole temple, consistently steered well clear of the crowds and he frequently let us sit in the shade while he explained majorly in-depth the history (and the present) of the area.
Angkor Wat is every bit as busy as you'd expect but with Rany's guidance, you wouldn't have known it. He was an expert photographer as well and I've pictures of the whole place, thanks to him, that looks like we were the only people there. No joke.
After spending a couple of hours there, it was back into the car for a round of fresh ice waters and cold towels, before being ferried on to Angkor Thom for a look at the entrance gates and the couple getting married, who we both took turns to try and discretely photograph. After that, it was onwards to cross the bridge and head towards Prasat Bayon.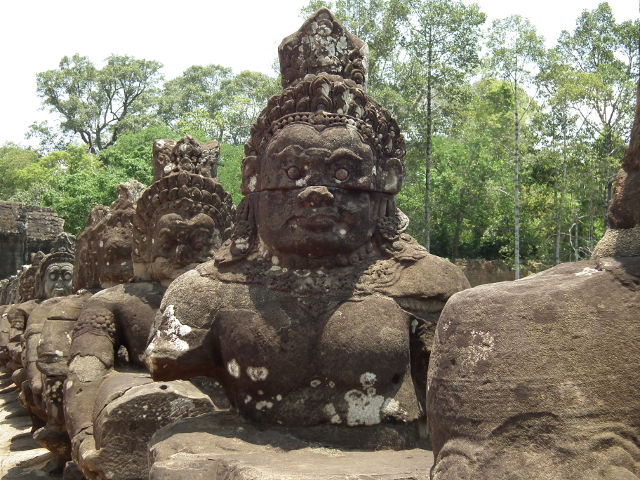 Once again, we must have spent a couple more hours in there, also driving past the Terrace of the Elephants (nobody wanted to get out, heat will do that to you as it turns out) and a couple more lessons of both past and present before stomach's were seriously rumbling.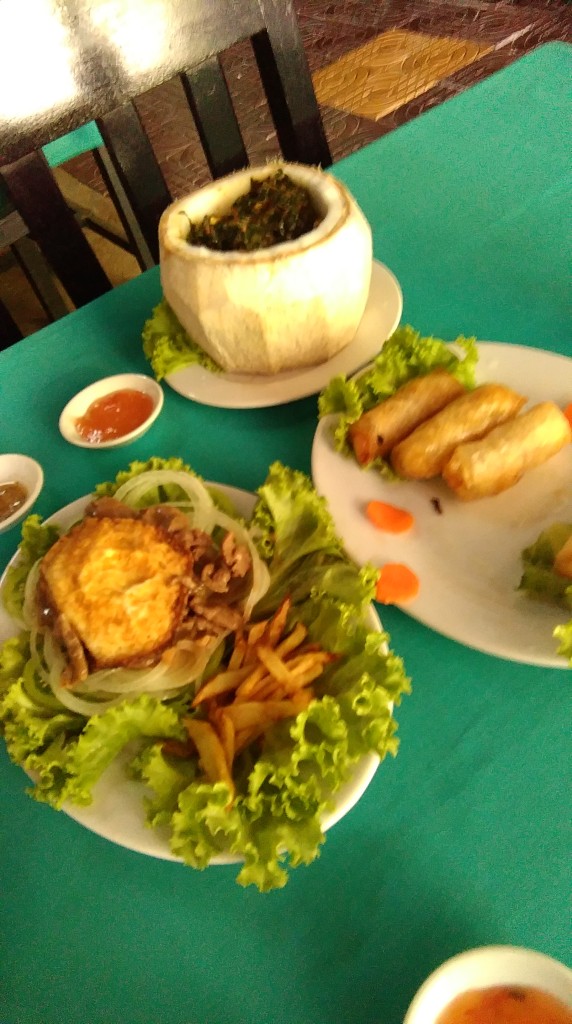 I don't know about you, but I had really no idea about Cambodian cuisine before the trip over. Amok (get it now?!) seems to be a major speciality so we ordered a chicken amok, some Cambodian spring rolls and beef loklak (p.s, that link is more for me than you, as it looks delicious and I want to give it a go sometime). Amok was delicious, once again – the trend seems to be to serve it inside a coconut as pictured, with shredded up leaves. The Cambodian spring rolls – I won't lie, a spring roll is ultimately a spring roll, though they were still very delicious and tasted great. I always would like a bigger portion of spring rolls. The beef loklak was also great; I don't know how to describe it though. It reminded me of beef stew with various herbs and spices topped off with a fried egg.
I really have no idea what the obsession with a fried egg is that somehow magnifies the wonders of the meal, but to be fair, they also sell 'premium' versions of a meal here in Malaysia too, that usually is only differentiated from the standard by the addition of a fried egg.
The meal was awesome and I'd have been happy to sit there and nurse a few more Angkor beer's before moving on, but sadly it was time to hit the car again and shuffle on! Next time round, I'll finish up on our tour of the temple's but let me first leave you with this video shot from the hands of yours truly (that's why it's so shaky) showing a few snapshots from the trip overall;