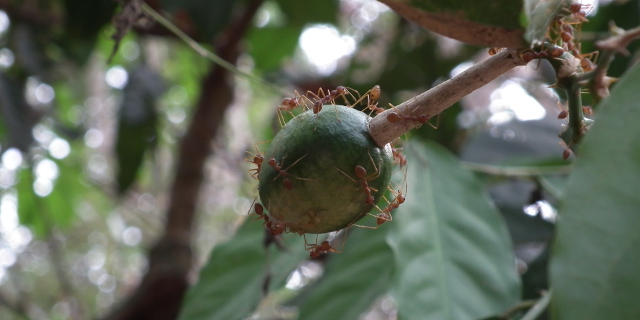 Amok Amongst the Angkor's – Part II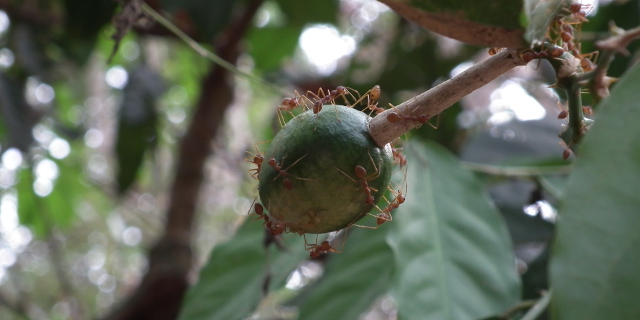 After our delicious lunch, as I mentioned in the previous post (and the Angkor beer, which I could easily have enjoyed a second or third of), it was back into the car with our tour guide, Rany, and onwards to the next stop; Ta Prohm, which is of course the same temple as seen in the Tomb Raider film.
Of course, not too unlike Angkor Wat that we'd seen earlier, the place could use some extra 'love' from the tourism board, and you have to pass a bustling market, which is purely focused towards tourists, to get onto the path down to the temple. When you do reach it though, wow, it's like a twisting convoluted hybrid of tree and ruin. The trees literally grow from, apparently, wherever they fancy and in places you can even see branches running alongside a wall, through an opening and up through what may have formerly been a temple ceiling. In many ways, it almost looks like planned madness.
In spite of the late afternoon and the fatigue wearing in on all of us, our tour guide nevertheless sat us down and did his best to get through to my weakening attention span and explain a bit about Ta Prohm, the history, its more recent use for Tomb Raider and so on. As I say, I remember snippets but it was getting on in the afternoon and perhaps after all that Angkor hadn't been the wisest idea in terms of staying bright and alert!
We wandered throughout, but it seems late afternoon is a popular time for Ta Prohm as it was filling up massively as we completed our tour and made for the car once again. By now the market sellers had also become significantly more aggressive in their approach, so I guess that says something, go early!
To finish the day up, we wound up at a temple – the name of which completely escapes me – far older and far less 'trafficked' than the others. In fact, when we arrived we were the only 3 of about 9 people in total! Let me know in the comments if you know the name…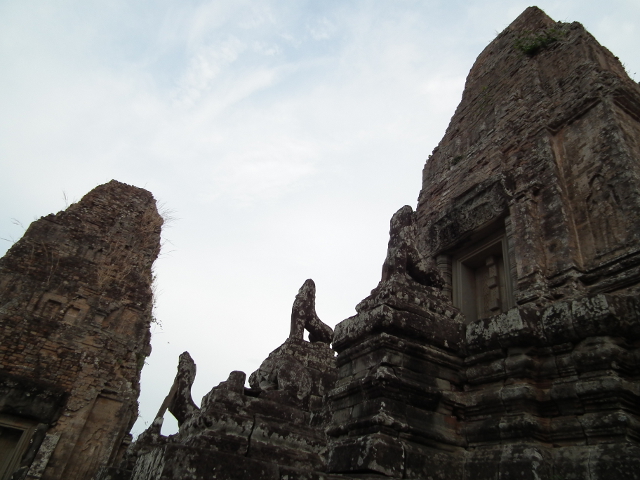 Honestly, I think all tourists can happily agree that there's so many temples anyone can see in one day without being completely templed-out of it, if such a thing exists. Definitely while the last temple was a pleasant change and far more outdoors, there was really only so much more 'appreciation' I could give it, without coming across as a disinterested yob. I really wasn't…but y'know…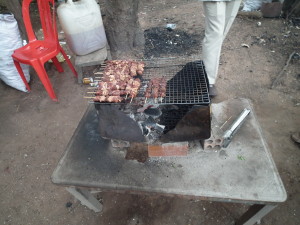 So our tour guide, sensing that our attention spans had collectively all but reached and scraped clean the bottom of the barrel, took us across the path to a nearby 'vendor' (aka, a man standing over a ramshackle barbecue cooking some kind of meat on a spit) and bought us some kind of kebabs. Honestly, he had bought them long before I'd a chance to say no thanks, or pretend I was allergic but they were actually very delicious.
To cement his place as the best tour guide in Siem Reap, Rany also got me another fresh Angkor, fished out of a cooler box the barbecue master had with him perched on top of the grass a few feet away. What a way to finish a very, very long day touring.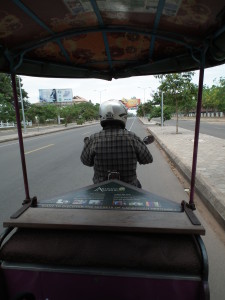 By the time we returned to the hotel, we were completely wrecked and it took pretty much all my energy to drag myself into the shower – it goes without saying that after the long day out in the heat, I could have nearly hopped into the shower in my clothes and everything – and get ready to go anywhere for dinner.
After a few hours though, we were fighting fit again (reasonably) and into the back of another tuk-tuk heading downtown for another great meal, this time at a wonderful Italian restaurant, Mamma's Shop. Wonderful – and a few more Angkor's of course, not that I needed them, to make sure I slept well after this long and interesting tour!