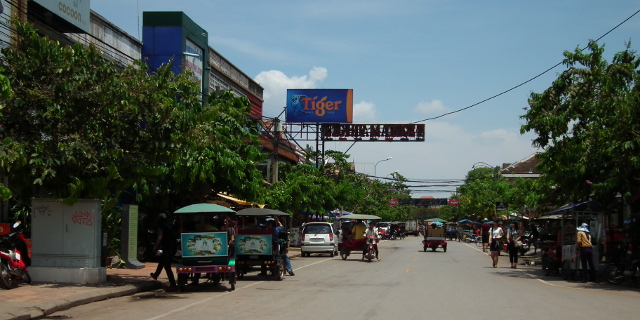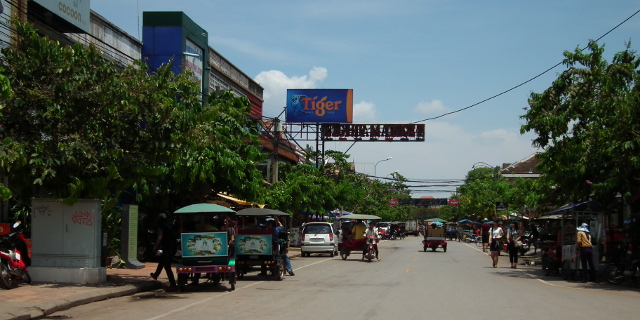 After our intense all-day tour of the many temples of Siem Reap the day before, I honestly felt like I'd probably never wake up. I slept as long as I could before, once again with the regularity of clockwork, some kid flew past my room screaming at the top of their lungs. Breakfast at the Angkor Miracle was once again a bit of a sad affair – made worse by the seeing the same depressed-looking kids as the day before plugged into their tablets and completely tuned out of the world.
After breakfast, we pounced on a tuktuk and headed downtown to see the Siem Reap Massif for itself. I feel like city is a slightly ambitious term for The Reap, as the whole place is very much a hop, skip and a jump from the airport and only gets very marginally more built up in what you might normally call the 'CBD'. For us, a petrol station acted as the waypoint of the outer city border, which tells you something. We headed first to the creatively-titled 'Bar Street'. Honestly, sometimes I don't know why we bother – it was like any other bar street and with the exception perhaps of the more immensely-potholed streets, it could have been in Mallorca, Spain to be brief.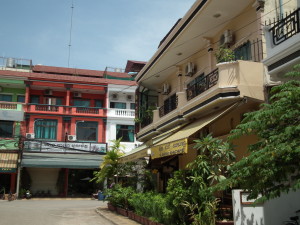 Then again, I also just don't really care for bar streets anywhere, and the one we have here in KL, Changkat, is also pretty much horrendous.
We decided in the end to retrace our steps a little bit to the previous night and head back into an area of town just across and around from the children's hospital, which seems to be the sort-of home of Siem Reap's new upmarket gourmet district. The previous night we'd dined in a wonderful Italian place, Mamma Shop just on a street nearby so we reckoned we'd have better look with somewhere nice to sit and relax over in that same area.
As you can see from the picture, the streets are all just bulging with old buildings in a wide variety of colours and all looking beautiful. Honestly, I have a never-ending amount of pictures just of these buildings on my PC.
We struck the jackpot with a little coffee shop/café called The Hive (which it turns out is actually wildly popular among visitors and the expat contingent). The drinks were awesome – and I do love my coffee, so I'd be reasonably qualified to know a good iced latte – and as I was in need of a light snack, I went for some fried rice too, which was really good. Considering the price, I was expecting a miserly portion of fried rice (especially given the upscale look of the place, no offense The Hive) but being real, I pretty much waddled out of there and back into the heat.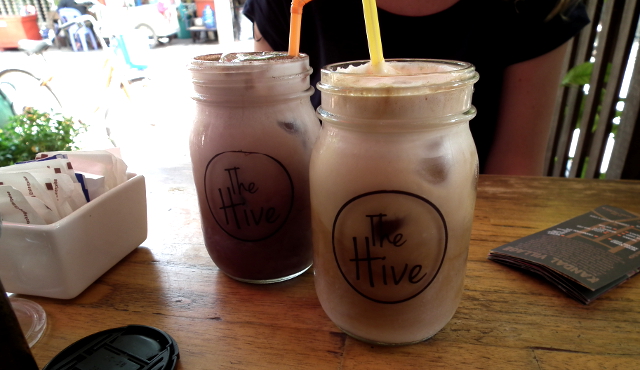 We wandered around town some more before winding up back at the market. Markets – I think I'm pretty much on the record at this stage for my deep hatred of markets. Tourists, fellow travel insiders and everyone seems to love 'visiting markets' on holiday. I don't know why but it just does zero for me; crowded masses, haggling for hours for something you actually don't really want and a near-eternal struggle just to buy an orange for less than $20.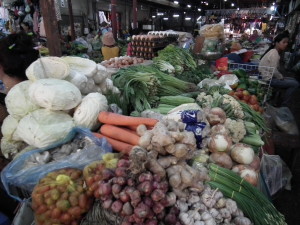 Anyway, with time on our hands and very little money to negotiate with at any rate, we wandered in. Seriously, this was almost the anti-christ market of all others I've been to; maybe this is where I've been going wrong, stuff the tourist markets or anything even with A tourist in it. This one was hard-core local and maybe it was just the time in the afternoon, but nobody even got up out of their seats let alone tried to abduct me into their stands. It was like they really couldn't care less. It was local to the point that I was by far the tallest person in the market (hence the aerial pictures), the smell of warm open meat, various fruits and vegetables clashed almost shockingly and the only people negotiating were locals with other locals.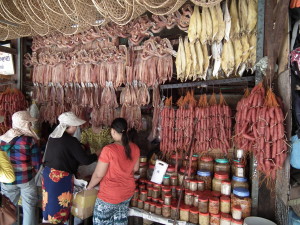 To actually wander through a market without being nearly hijacked is unbelievably refreshing, even if that smell seemed to be slowly searing through my nose bone itself. There's food everywhere you look, stall traders casually sit there reasonably confident you've no way to cook any of the vegetables or meat and so there's no reason to get up and only as we started to leave did one or two make a fleeting effort to ask if we wanted to buy a bag or some souvenir. How relaxing!
After that, we had time to hop back into our tuktuk for one final look over the Angkor's and get ready to head home…all next time!