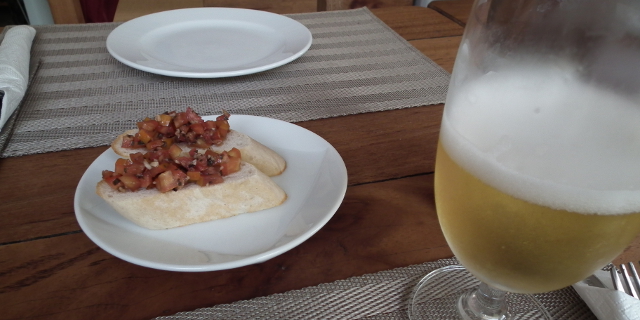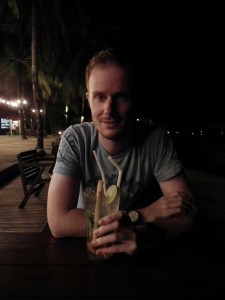 With an unprecedented whole week in beautiful Khao Lak, my first major effort of the week was figuring out where to pick up decent, reasonably-priced proper Thai food. Over time, I've had increasing difficulty with this, with my last visit to Bangkok and the worst chicken fried rice I ever half-had in my life representing (hopefully) the lowest point in this apparently eternal search.
For reference, the fried rice tasted awful – which as I understand is already difficult to do – and the chicken was so disgusting I had two bites and immediately began wondering how much lomotil I'd packed.
Back to Khao Lak – it went like this;
[button url='#' style='teal']Night 1; Gold Elephant – 3/5[/button]
First night, we very energetically barely made it across the road to the facing "Gold Elephant". I've actually been there before and I could've sworn it was much smaller – but then again it wouldn't be the first time my mind started playing tricks on me. This place does a pretty good mojito, I'll give them that, but far and away my worst lingering memory of the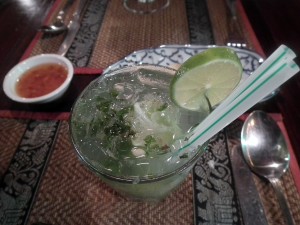 place for me was the ridiculous speed with which meals were served. The starters (spring rolls, how imaginative on my part) literally came out like on a rotating carousel as the waiter having taken our orders just went in – it was frightening and sort of ruined the ambiance for me. The food was good though, but just be aware you may be all finished and ready to go home within half an hour.
[button url='#' style='teal']Night 2; Spinach Restaurant – 4/5[/button]
This place is really nice and I can see why tourists love it; it feels like going to Granny's house for a slap-up meal; if your granny was Thai of course. The spring rolls here were considerably improved and they also did a pretty mean mojito (my cocktail benchmark drink). The main courses were also good, though strangely, and perhaps it's because Khao Lak really is a tourist town, all the food felt somewhat dumbed-down, or very lazily spiced – as with the night before too, to be honest. It was great, good food but I wouldn't have said no to a bit more flavour or spice. For the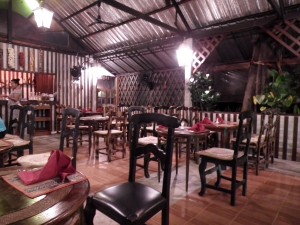 desert, we went for some kind of banana pancake thing with chocolate sauce; that was more like it on the flavour scale. For good Thai food, this was probably the place I'd have gone to again after my top choice.
[button url='#' style='teal']Night 3; Walkers Inn – 4/5[/button]
This was a bit of a surprise; I'll be pretty honest, we wandered into this place purely on the basis of supposedly good Western food (and come on – we live in Malaysia, so one night off seemed more than appropriate) and that some expat named Andy runs it, which seemed too much of a coincidence to pass up on. You can't miss the place really, it's a large orange building very visible from the street. OK, let's get the 'not great' out of the way; the pizza was sort of just average. Not that it was awful and for those drearily missing the flavours of home, it's fine – but we're spoilt particularly in KL with very authentically-done pizza and this was sort of, as they always said in my school reports, 'good effort, need to try harder'. The burger though, and in my case the fish and chips, were both very good. Even thinking about it now, I'm actually salivating just contemplating that burger again. If Andy is some slightly larger fella that sits out front eating a massive meal with Yorkshire puddings making me jealous, brought to him by his family, then we also saw him. While he didn't introduce himself (and neither did I), Andy – or whoever it was – did shout over as we were leaving and ask us how everything was. Fine Andy, though I wouldn't have minded some Yorkshire puddings…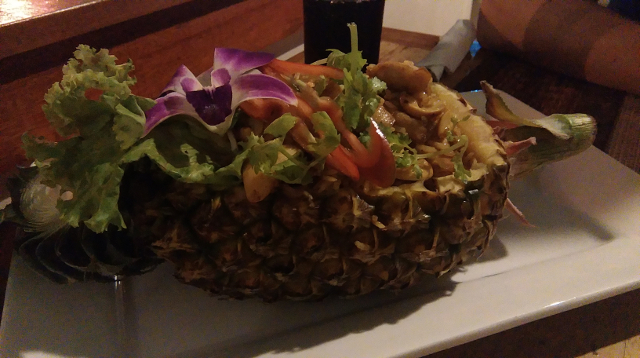 [button url='#' style='teal']Night 4; The Light House Restaurant – 4.5/5[/button]
This place completely shocked us, whatever about the other venues. I can't even find any mention of it online, making me wonder if I had somehow entered a parallel universe. The outside of this place looked frightening, dismal actually with only two other tables partially occupied and the frontage extending out massively, nearly engulfing the footpath. We actually thought this would turn out to be memorable completely for all the wrong reasons. What an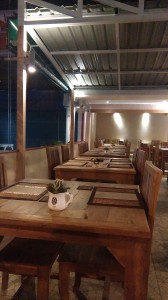 unbelievable surprise; the pineapple fried rice was delicious, and really beautifully served (as above). My beef with garlic/pepper and chicken with cashew nuts both also turned out to be serious dishes – the chicken/cashew nuts packed enough of a punch to keep you 'regular' for a week, while the beef was also absolutely delicious. This was literally surprise of the trip – the first place with serious dishes and properly seasoned and spiced food, burning hot and clearly made to order. We did mention before leaving our surprise and the actual good flavouring of the dishes – to which our waitress replied something about tourists, which I suppose are the primary cause of lacking flavour in all other establishments. What a major shock – for somewhere not even to be found on TripAdvisor.
[button url='#' style='teal']BONUS! Random Pizzeria – 3.5/5[/button]
This place, name actually unknown as I forgot to take it down and it was so brand new it can't be found on TripAdvisor or Google Streetview, was reasonably OK but just nothing majorly special. It's well up into the town, located in a new building more or less open on 3 of 4 sides, with the kitchen occupying the other side (which you can also see into). We got some free bruschetta to start with and then hung on tight for our pizza. It was nicely cooked in a traditional stone oven, but I don't know – in spite of that, it just wasn't 'wonderful' pizza. I mean, considering the stone oven and upmarket theatrics of the place, I felt the pizza at Walkers Inn, which I already slated somewhat earlier, was not far off being on par – which is something, considering how much cheaper that one was. Yikes! We had our pizzas, a drink each and were back at the hotel by 8pm…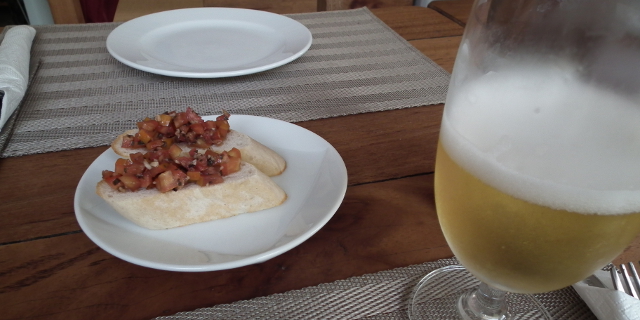 Have you been to Khao Lak? What are your outstanding holiday meal recommendations or worst holiday food nightmares?