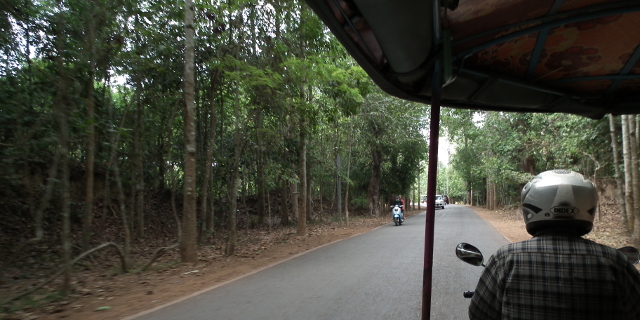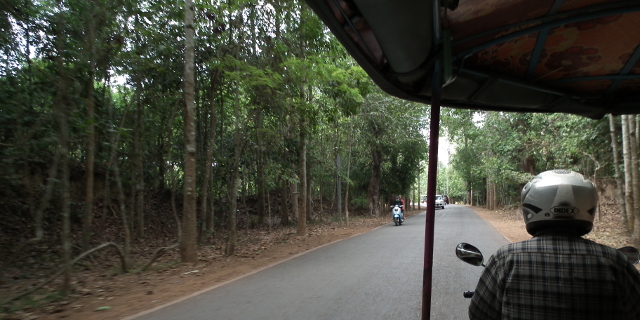 After a successful tour of the downtown, the Bar Street – that, honestly, could have probably been anywhere else in the world – and a stop in our newly-found awesome coffee shop, The Hive; it was finally time to move on, lazily, and take in the last of the sights of the main reason people (presumably) hit up Siem Reap; those spectacular Angkor's.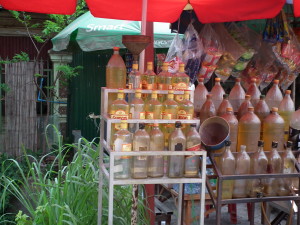 It seems in Siem Reap, tuk-tuk drivers have a preference for waiting around rather than trying to attract any more business to take up the time, and ours was no different; we found him exactly where we left him, catching forty winks in the back of the cab. Within moments we were shuffled into the back and were on our way out to Angkor Wat for one final glimpse. The road out to the temples is, even by itself, truly something else and you see so much more of 'daily life' just driving than you do either in the city or anywhere even remotely close to the temples. Like Bali, I'm always impressed to see the impromptu 'petrol stations' set up straddling the road – that mostly consist of RON95 of presumably varying quality filled up into used gin or whiskey bottles (some with the labels still more or less visible).
It's a funny thing because I often forget just how far forward KL is by comparison in that respect – I drive into a petrol station here, under a massive sun-sheltering canopy, pay at the pump with my card, fill up the right amount (it automatically stops), print a receipt from the pump and am on my way in no time again; compared with this method of stopping, emptying a bottle or two of gin into the car, I presume getting a hand-written receipt (at best) and shuffling on.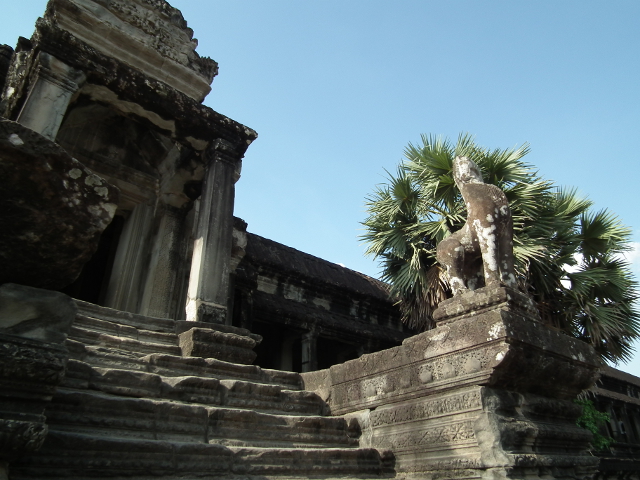 It doesn't matter how many times you see it; the opening of the road when you first catch a glimpse of Angkor Wat is incredible. By now, it was late afternoon and we fully saw now why going early in the morning was the better bet. To say it was busy would be an absolutely dramatic understatement; it was packed to capacity and the only way to get between the entrance and the main area was to walk among the grass and side pathways. Because of this, we wandered around Angkor Wat and instead found an equally-beautiful but far smaller (and completely deserted) temple a few hundred meters behind it. Honestly, I know this place clearly has nothing on Angkor Wat but to see a real temple in ruin, free of commercial distraction was something awesome.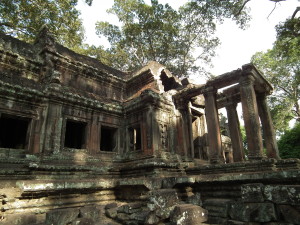 Back to Angkor Wat; as the day progressed, it just seemed to get busier and a troupe of traditional dress-clad dancers didn't help matters. It was like when I was a kid and Santa Claus came to Brown Thomas – impatient queues as far as the eye could see, only with added heat. Time to run!
The journey back, being honest, was once again one of my favourite aspects; miles upon miles of 'real life', more gin bottle petrol stations, kids playing alongside the streets and along some parts, some truly beautiful houses. The difference between a kilometre or two was at times, startling.
For our final night, we relaxed and sat by the pool before heading out for dinner. It was all over far too soon and it seemed like no time I was standing facing another passive-aggressive Cambodian immigration officer.
Siem Reap airport, while obviously in the midst of some improvement works, is a curious place – whether through nerves or fear of the unknown, most passengers seem to congregate and sit just outside and directly in front of the couple of duty free shops and the sad-looking airport lounge. I'm not sure why – there was actually heaps of seating closer to the gates. Anyway, it was soon time to head to the gate and board our AirAsia flight back to Kuala Lumpur after an unexpectedly wonderful stay in beautiful Siem Reap – and all I can say is (with some certainty), until next time Siem Reap!