As you know, I've been down to Melaka a whole heap of times now, and while it never gets old what with that beautiful river front, the wonderful shops full of trinkets (and art, depending on your taste) – two things get to me every time; the overbearing coastal heat and where to seek refuge in the cool other than just museums, of which I've now been to nearly all of them. Enter Melaka Alive.
This attraction centre already houses a wonderful show by evening, Bahtera Merdeka, in which Melaka's history is brought to life, but Saturday saw us take another trip down to Melaka (for a change!) to see the opening of their latest attraction, The Pirate Adventure. Billed as an interactive 5D experience, only for the bravest, I wasn't really sure if either of us would come out not shaking with terror and fear – but we had to give it a go anyway.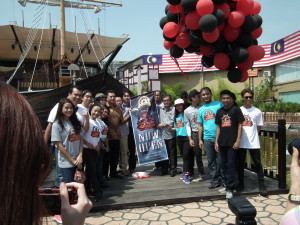 As always, Melaka was burning hot and as we listened to the formal opening speeches, it was tough to keep my attention on the ceremony at hand and not on the promise of cooling air conditioning indoors, no matter how scary it was. Soon, the attraction was declared open amidst the backdrop of their very clever ship/stage the attraction is set inside.
Honestly, with attractions such as this, it's so hard to know what to expect and being one of the first through the doors, I was a surprising bundle of nerves for what was to come next. Walking into the ship, the darkness was overwhelming compared to the blisteringly bright Malaysian sun and I stood there, blissfully unaware of my surroundings for a few seconds before realising there was a terrifying-looking pirate standing in front of me.
From there on, I don't want to ruin the surprise, but suffice to say it's a mixture of haunted house, live (and at times, very surprising and sudden) interactions, some richly-themed scenes and a cinematic experience. As I say though, be careful as you go around as you really, really never know who or what was going to jump out next.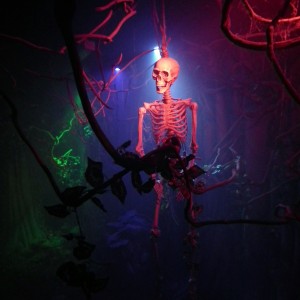 For complete disclosure; this was also the soft launch and after speaking with some of the team later, I believe there's a few more 'finishing touches' that I think will really add to the experience but that I can't tell you in this review as I didn't experience them myself.
Of course, as with all events here, the experience was rounded off with a massive feed-a-thon in the form of Open House, so we chilled out, dined and made new friends over the following couple of hours…and I probably impressed my table-mates by eating more of the spicy food than anyone could have imagined would be possible!
Afterwards, we took a walk once more through Melaka's picturesque streets for a few hours – wow, there sure was a lot of tourists though – with our new friends guiding us to a few more eating places. Actually I won't lie, pretty much all we did for the next couple of hours was just go from eatery to eatery.
To finish our day off, we returned once more to Melaka Alive to watch the Bahtera Merdeka show. It was a good show (watch for the very surprising and unexpected vibrating seats, and also be mindful of the first few rows, which will definitely get wet), full of history and well done. Again, I really don't want to ruin any part of the surprise other than to say go and see it for yourselves if you want a taste of Melaka's history brought to life in a colourful fashion.
By the time it finished though, I was more than ready to get back to KL and relax after a long day! All in all though, it's great to see new additions that everyone can enjoy in Melaka (their website is linked to earlier in this post, so feel free to have a look and buy tickets online).
Editorial Footnote; I was fortunate to be invited by Melaka Alive for this launch of The Pirate Adventure, however opinions/feelings expressed are my own! Andy