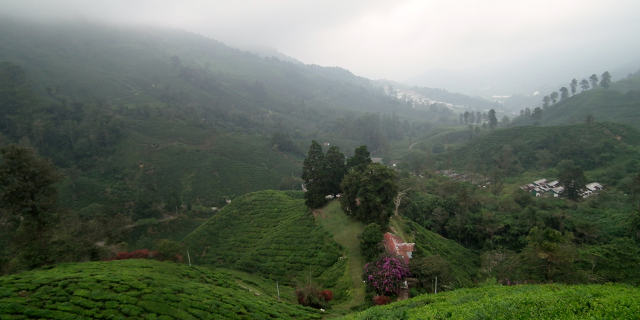 In between our stay and associated continuous grazing at The Smokehouse in the Cameron Highlands, we also thought how best to take advantage of all this cool air up in the mountains, get some fresh air and make the most of this bizarre colonial throwback experience (especially after driving so far up sloping, turning roads to get there).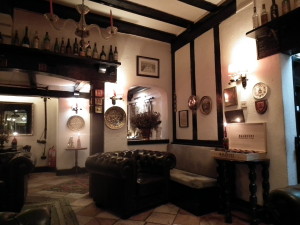 The original plan was to head for the Boh Tea Plantation right up at the very end of the hill in a place called Sungai Palas, which would have been only about 13km up the road. Honestly, I guess it was the weekend that was in it but the traffic was mega-hardcore – pulling out from our side-road, the road just looked like a broken down car conveyor; nothing happening. We went back into reception wondering what to do next and informed them of what "must be a crash" further up – the receptionist reckoned it was probably just the weekend traffic and in hindsight, I think she was probably right as it got no better during the rest of the day – and pleaded for some alternative options that wouldn't involve burning a 747-like amount of fuel to get somewhere.
As it turns out, the Highlands are also home to a second, slightly older Boh Tea Plantation, in a small town called 'Habu'. Say it with me – Habu. In contrast, it was back down the hill, the opposite direction to the traffic, so I didn't need to be told twice!
The road down to Habu was fine but the last stretch through Boh's private property was pretty hairy and scary. The road is definitely designed to accommodate no more than one car in width and the turns and twists in addition make the drive something bordering on suicidal. On top of that, in spite of beeping horns going around corners and whatnot, we still ended up meeting cars coming in the opposite direction and having to employ that infamous traffic rule; He with the most cars behind him, Wins. So I lost most of the time, and on one occasion that event meant reversing back down a twisting blind corner hill.
On to the tea plantation; if, like myself, you've gone largely ignorant of where tea comes from and how it comes about, the tea plantation was a worthwhile visit. I won't lie to you; this particular visitor centre has definitely seen better days, but the trail up to the top of the hill afforded spectacular views out across the plantation and as far as the eye could see (which wasn't that far being honest, as it pretty foggy up there). It's incredible to see all these neatly arranged rows of vegetation and leaves, and to know that you can be down there drinking a hot cup of it moments later.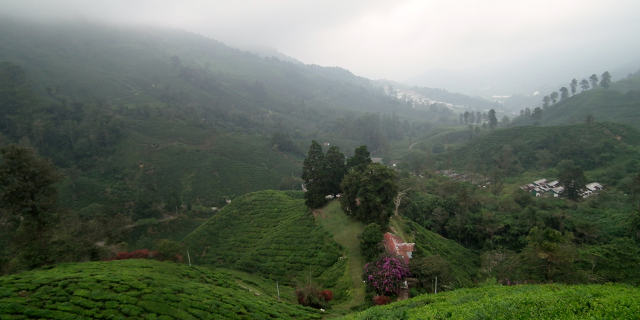 The 'tour' itself was a bit odd; we stood around until a completely disinterested member of staff hurled us inside the factory and ran through the steps of making a tea (about 6 steps) and from room to room in less than 2 minutes. When the tour had apparently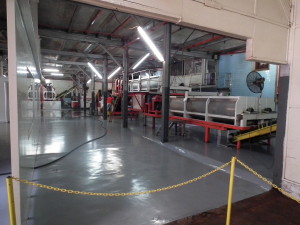 concluded, she – without any further notice – showed herself out and left us just standing there in the factory. Having said that, again, I've never been next nor near a tea factory so I was able to stand there for far longer than most everyone else probably does and just take in the whole thing.
Back on the road meanwhile, it was still lunacy and took us an hour and a half to get back up the hill again. We'd heard it was something not to be missed, so enjoyed the afternoon high tea at the Cameron Highlands Resort. Honestly, it's quite expensive for what it is, but we enjoyed it nonetheless – sitting there like lord and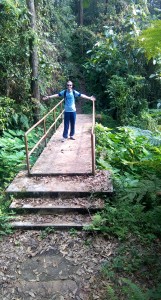 lady of the manor, at least for the 40 odd minutes it took.
Probably the most notable thing in the Cameron Highlands is the hiking scene if that's what you're into. After high tea and in order to burn of a few of the likely thousand calories just digested, we headed off from The Smokehouse and down to the Forestry Department, where a number of reasonably well signposted trails kick off. I'm not sure what trail we picked in the end; we kind of just followed our noses, but it was great to get out a bit into the wilderness and away from the ridiculously busy roads and hotels. This part of the experience is definitely do-able again if I was there and it's such an unbelievable luxury when in Malaysia to be able to hike and wander through forests without being coated in a fine sheen-like sweat!
Sadly, it was all over far too fast and in no time at all we were bound for KL again. After the stay in The Smokehouse, which I already covered, and having seen what seems to be the brunt of activities in the Cameron Highlands, would I recommend and go back? I'd recommend it I think, while also letting people know what they're getting themselves into; a bizarre English-themed expensive stay but with some good hiking and a pleasant climate. Would I go back? Oddly, I was talking with friends over the weekend who've gone there just to enjoy the climate and rent a bungalow and on that token, yes I probably would!