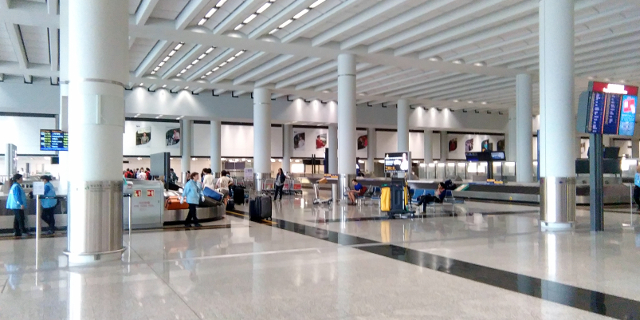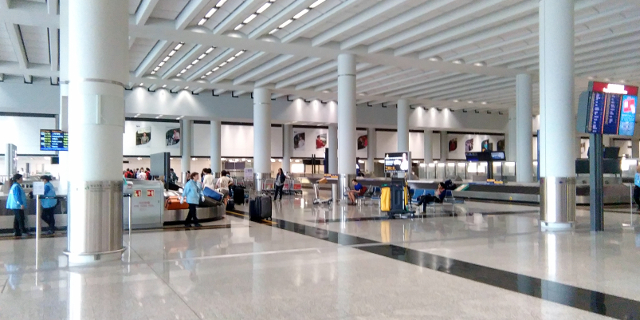 As I mentioned in my last post, we were finally bound for Hong Kong – a place I last saw in 2007, when I visited over an extended weekend from Dublin (and what another ridiculously crazy journey that was) just to see a few friends' who had gone to do a semester abroad. We basically spent the entire weekend partying and I think from my side, I had pretty much no sleep whatsoever (those were the days…now I'm practically diving in there by 9:30 some weeknights…no idea what happened!). Anyway, so all told I was very keen to see 'actual' Hong Kong and take a bit of time to see the main sights and be able to just walk the streets and take it all in, without also trying to manage a beating hangover like on the previous occasion.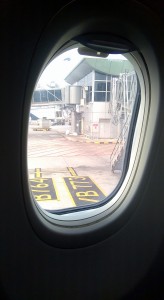 As I say, Malaysia Airlines is currently in an awkward situation I suppose; they've started trying to save money and "streamline" I guess is the business term, so this means there's two queues for Baggage Drop, into which we all poured and to be honest, right now, the whole thing doesn't work very well; our queue took 40 minutes to get through and most needed at the very least a reprint of their boarding cards due to connecting flight, lost boarding pass, or whatever. In the end, although we arrived very much in time, our flight ended up being one of the "late check-in" flights by the time we finally got to 'drop' our bags.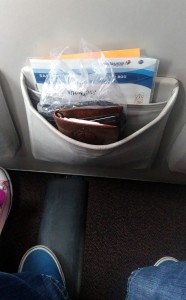 The flight itself was really unfortunately average – we scored row 5, which is the place to sit on a Malaysia Airlines short-haul flight if possible. It's right in behind business class where the baby bassinets can be placed and though the partition is closer than you might like (i.e. I couldn't fully stretch out my legs), it's still nice not to be looking at the back of someone else's seat or head. The trouble with MAS is not the staff, who largely on our flight couldn't have been friendlier and more pleasant all the way through – it's more, with everything else.
The plane looked like it hadn't seen a deep clean in many a long year, the partition in front of me being well scuffed with shoe marks and the leather pocket hanging together completely out of shape. I mean, the plane was new enough obviously that it was probably only a few years old – but it looked like it had literally been working flat-out since the day it joined the fleet without too much attention or care. The woman across from us, in 5F, pulled out her table to find it still covered in dried-in food and stains; so badly, that the crew had to actually clean it themselves before they could even put down the drink for her.
Likewise, the catering was very "just about" and nothing to get too excited about for future. We had Nasi Lemak, which was the most average airplane food I've had in a long time and the tiramisu (I think that's what it was) was extremely bizarre, tasting mostly of coffee and then toothpaste/mouthwash; no joke, the mouthwash flavor was so overwhelming, I think I only managed a few bites before giving up, safe in the knowledge that I shouldn't be getting any oral cavities for a while.
I've no recollection of my previous time in Hong Kong International Airport, but this time we got a beautiful view as we approached in over the sea, spotting what looks like a tunnel/bridge dual construction and then a long patch of fantastic ocean views all the way down onto the runway. Hong Kong airport seems to be an oddity, like Tokyo's Narita, where queues at immigration cannot be tolerated – there was what you could only describe as a platoon of uniformed old dears waving everyone along to the emptiest immigration line. Again, with the exception of Tokyo Narita, I've really never seen anything like it!
For the final stretch on to our hotel, we got a lift with LuxCars. So the backstory to this is; I wanted to definitely reserve a lift from the airport and not get into a potentially protracted discussion with our bags in the heat, with the local taxi drivers about where our hotel was or how much it was going to cost. The other option that leaped out at me, Blacklane, required a credit card number first – which wouldn't have been a problem except it wouldn't take mine, as it expired at the end of the month and somehow their website was incapable of understanding the expiry date was the end of the month and not the start (note to Blacklane, credit cards usually "Expire end" not just some time randomly in the month!).
So back to LuxCars; it looked and seemed to be a new company but the winner for me was the ability book online and pay in cash. Everything, in my mind after that, was just a bonus. Thankfully, we further massively lucked out completely with the car (an awesome Merc of some description that was everything the plane ride wasn't) and our driver who deserves major props, Cliff, for the amusing banter and chat we all shared on the journey; though, he did offer us free WiFi and silence if desired – we more or less completely passed up on that and talked the whole way into town! What a way to start a trip to a new city (new-ish, anyway…)!
Next time around, I'll cover our hotel, the wonderful Cordis Hong Kong and more of our short break in HK!