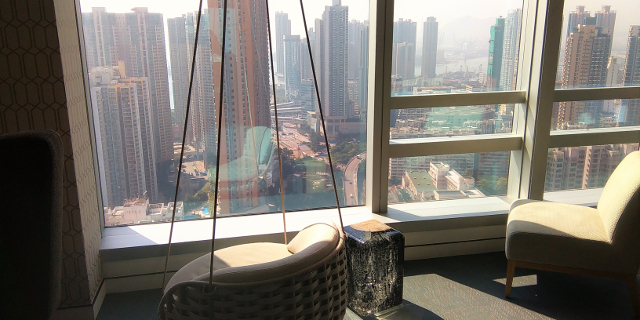 Hong Kong – It's a Wrap!
After just two nights' of unadulterated luxury in our beautiful hotel, the Cordis Hong Kong, and two and a bit hectic days packed full of activities, it was nearly for time to move on to our next 'mystery' destination. For the final night, I arranged a dinner up at Victoria Peak, at a well-known (and highly-reviewed) restaurant, Café Deco.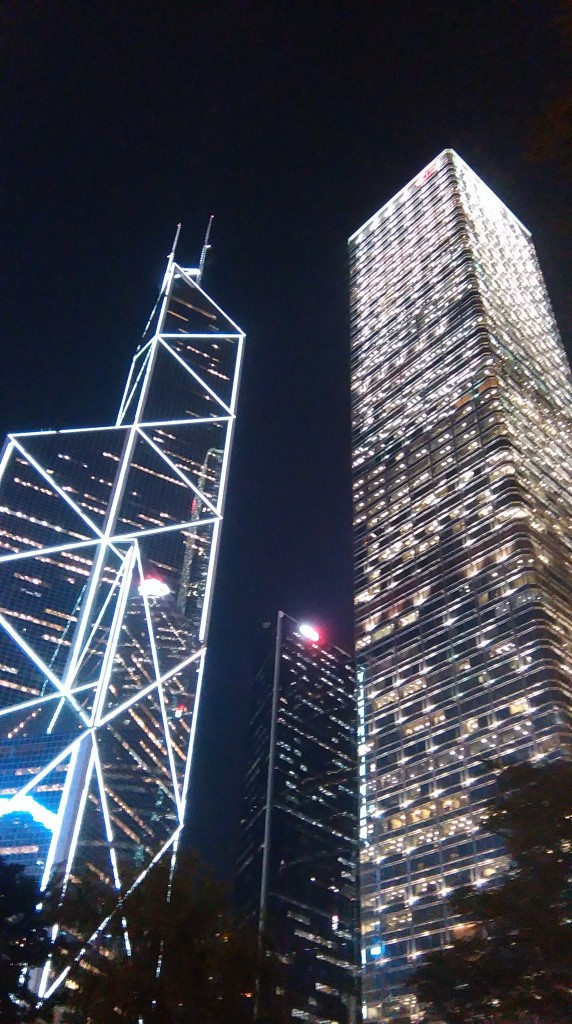 We took the train across to Central, surfacing right into Chater Garden. This mini-park is so small and yet so incredibly beautiful, literally surrounded on all corners by towering, brightly-lit skyscrapers. You almost don't know where to look when you stand there, completely alone, in the middle of the park. Walking onwards to the Peak Tram station, it really made me think how much smaller KL is in comparison, despite the fact that I also consider KL to be a 'big' metropolitan city – I've no idea how people who get seconded or moved to Hong Kong initially orientate themselves!
Word of warning; the Peak Tram is perhaps not the transport method you want to use to reach The Peak in the evening as the station was literally crammed. We were using our Octopus cards, but still had to queue with everyone else – while 'priority' tickets were on sale, but to be honest, from what I saw, there was still a bit of a wait there too.
Finally, after some pushing and shoving and clever queue 'movement' on my part, we were both on a tram headed upwards.
This isn't a food or lifestyle blog per se, but I will say that Café Deco worked very nicely for us. While not cheap by any means (though not frightfully expensive either), the staff welcomed us in (they somehow recognized me from my dinner reservation – perhaps I was the only one who made one) and showed us to our window seats, and I wouldn't be doing them any justice if I said the food was anything less than delicious. The Crème Brulee was perhaps a touch on the "leglessly drunk afterwards" side but hey, value for money…!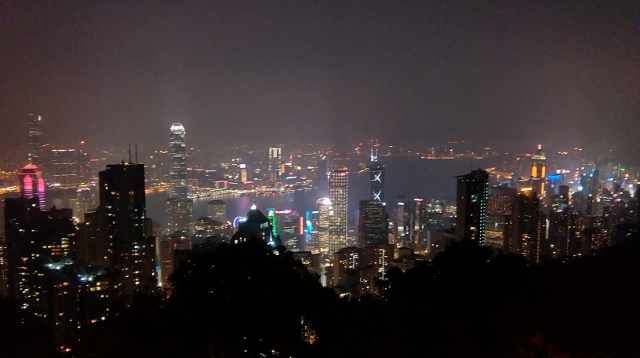 This was a great and pleasant surprise; I tend to steer clear of restaurants with a 'novelty' like a view, or revolving, or whatever else as it tends to be that the food is crap as a result. Café Deco though had it spot on; the views (if you can pinch a table away from the facing building like we managed) were immaculate and the food was also fantastic. What a way to wrap up this incredible time in Hong Kong; as I mentioned at the start of this mini-series, a far cry from my previous time in Hong Kong which mostly consisted of student-days loutish behavior left, right and centre. Oh, those times…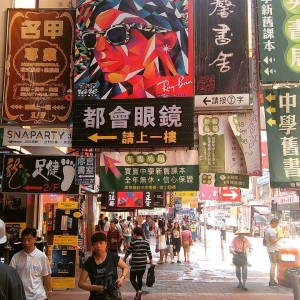 Next morning, decided instead to wander around the local neighbourhood. As I had mentioned in a previous post, one thing I can't ordinarily stand about luxury hotels is their placement one after the next in major cities, so the only other things to see in your immediate vicinity are other top brand hotels. Our hotel instead was in Mong Kok, which is what I suppose you'd reasonably call a 'mid-way urban regeneration project' area. However, it shouldn't be confused with urban regeneration in major European cities, where new buildings are effectively replacing ugly former slums or poorly-constructed council projects. In Hong Kong, the urban regeneration is replacing a lot of what we in the west I suppose consider 'traditional' Hong Kong, for better or worse. Either way, it's fascinating to just walk around and take it all in.
So, as it stands, with the exception of our hotel at Langham Place, which I suppose is probably the hallmark of the regeneration, the existing surrounding streets, eateries and buildings all are still a throwback to our long-held stereotypical view of Hong Kong, as crowded, with signs and advertising hanging off every possible anchor. Overall it's quite strange in its own way; you can walk peacefully and in completely modernity through the never-ending walkways of the subterranean MTR system, or you can walk through the chaotically-busy, visually intense footpaths outdoor.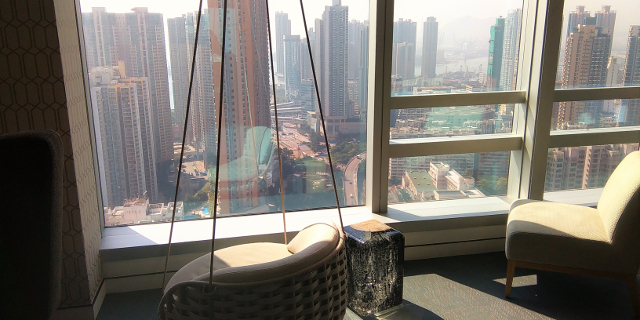 We wrapped up our trip, as is proper order, with one final visit to my new favourite hotel lounge, to spend a final hour or two sipping on fresh orange juice (decided very uncharacteristically to lay off the HK local beer…or any alcohol…in the lead-up to the next flight) and eating Cordis-orange cupcakes before being picked up by our new friend once more from Lux Cars to return to the airport, sadly leaving Hong Kong city behind us for this trip.
Back at the airport, with Anna completely unaware of our next destination, I made sure to circle all the check-in desks quickly before heading to our next airline; Etihad, for Dusseldorf, via Abu Dhabi. Review coming next time!