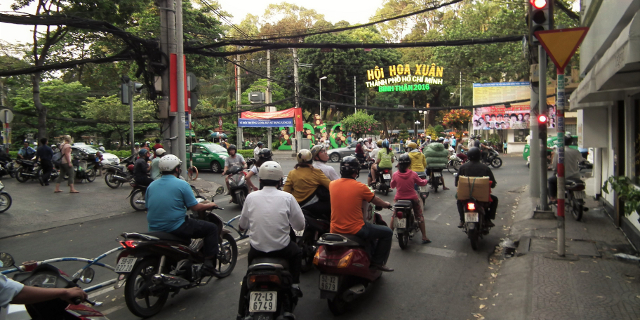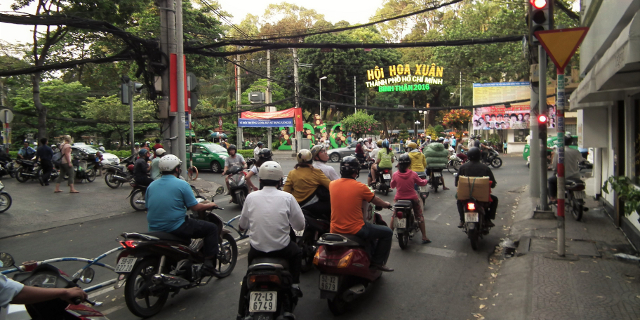 It's incredible the difference a few years makes – OK, so last time I was in Saigon perhaps was also a completely different 'type' of holiday, but nevertheless just the drive from the airport to the hotel, it was incredible to see how much construction and new buildings there is now everywhere you turn in Saigon!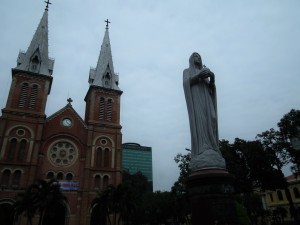 Our hotel, the Harmony Hotel Saigon, which I reviewed earlier, was pretty centrally located such that we could walk to most places we wanted to. There was a lovely open park just down the road – though in an unfortunate turn of events, the Vietnamese equivalent of Chinese New Year, Tet, was underway and with it came a barrage of songs and noise at all hours from this park. The park was also curiously charging to enter; though it did have some kind of stage set up and oddly, a series of fish tanks.
One of the biggest sights in Saigon (or Ho Chi Minh City, take your pick of course) is no doubt the Notre-Dame Cathedral Basilica of Saigon and I'm firmly of the opinion that it's nearly impossible to have a visit to Saigon without seeing it at least once – last time for example, that was by accident in my case. This time thankfully we found it of our own choice, before meandering across the road into Central Post Office.
While we have an incredible and very historic 'central' post office in Dublin, it continues to serve its original purpose – but having been sort of 'overhauled' in the more functional areas. In Saigon meanwhile in a turn of massively clashing contrasts, despite the presence of a brand-new McDonald's right outside the old post office, the inside remains a hotchpotch of old-era post office counters (still very much being used mind you) and décor, and then breakaway corridors thronging with souvenir sellers and stalls – and to that end, barely moveable inside.
While I'm not often a fan of overpriced centrally-located souvenir stalls, even I couldn't resist picking up an old pre-crinkled propaganda cartoon; a half-tradition (half, because I frequently forgot) whenever I'm in a country that has or does actively use propaganda for whatever purpose. In fact, one of the few items I acquired from China before running for the hills years ago was a similar caricature of Chairman Mao himself waving to the adoring crowd.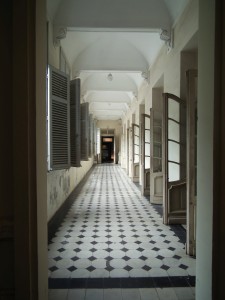 The downtown city area itself has just gotten more and more modern beyond recognition; I remember well being in Hanoi a few years back and facing the choice, when it came to Western fast food, of either KFC or Coffee Bean & Tea Leaf; that was literally it. Now, to the detriment of the natural character of as cultured and historical a city as Saigon, we have much the same retailers as I can find on any high street from here back to Dublin. It's sometimes depressing to see in somewhere that should truly have its own hard-won identity like Vietnam.
Next on the stopping tour was a trip to the Ho Chi Minh City Museum at Gia Long Palace. Again, this was a place of intense interest and barring being partially-scammed by some guy feeding us free coconuts (to be clear, I didn't nor had I any interest in engaging him in conversation) on the way, was well worth a visit. Aside from the obvious historical elements and of course the chance to hunker down inside the bunker deep within the building, what really added to it was to be able to then head out onto one of the balconies on the higher floor and take in a spectacular view across the city. Was it all wonderful? Well of course not, no. As we realised appears to be common in Saigon (at least), we were literally booted out promptly on the dot of about 20 minutes before closing time. No chance to finish looking or walk out slowly – we were practically marched out (and it doesn't close late, that's for sure). I thought it was a terrible visitor impression – but sadly, came to later realise that it seems to be a bit the norm.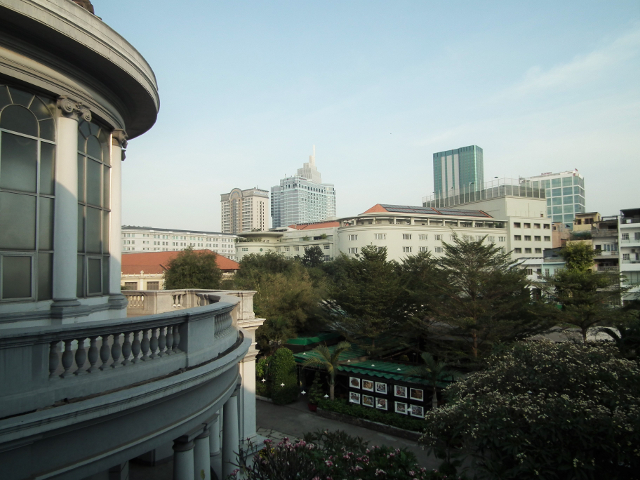 Lastly, what about the food? Well, we alternated – one night we went to a place very highly recommended and while it was expensive, it was delicious. The next night, we tried the family-run place right beside the hotel. The next, a disastrous place right next door to night number one that served the most measly portions I've ever seen in my life (Barbecue Garden, I Googled it just to make sure I could name it here – I've never finished a 'meal' so hungry nor fought so hard to pay a bill – it took 45 minutes). Lastly, it was back to the place next door. But, with the exception of the absolutely terrible Barbecue Garden, the food was something I realised I really missed out on the previous time – wow, Vietnamese food is a definite winner!
Have you been to Saigon? What did you think of it? Share in the comments or on Twitter!