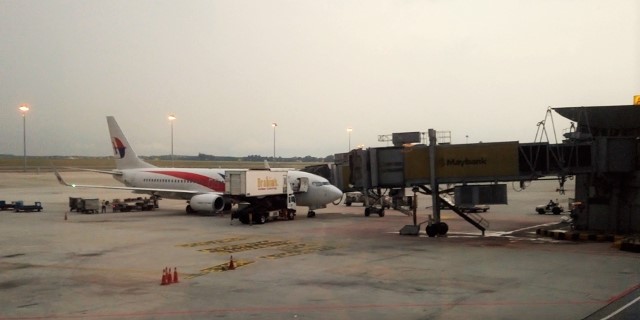 For my long weekend, it was time for the highly-anticipated trip to Kota Kinabalu – the first trip of mine ever to East Malaysia – and having got some great flight deals with Malaysia Airlines, my infamously troubled home carrier, I decided to play pot-luck with their MHupgrade system. This system, like all the others on airlines worldwide, allows you to sort of 'bid' on an upgrade to business class and its associated perks; lounge access, priority baggage, business class cabin, etc.
To be honest, I tried unsuccessfully last year to do this on a flight to Hong Kong; but unfortunately it got downgraded from a 777 to a single-aisle 737 and with it, out went my chances of being upgraded. This time though, I studied the form much more; using the ExpertFlyer seat map to gauge my chances, reading likely successful bids online and finally, at the last moment, sticking in a bid about 10 – 15MYR (So, €4 or so/per person/per way) over the minimum allowable bid, which was about 200MYR (slightly less than €50). This time, the luck was in my favour and we were upgraded on all segments, KL to Kota Kinabalu and back!
So, since I wrote about MH Business a few years back, how was it this time? Well, I'll review the lounges and experience in greater detail perhaps in another post but – well, pleasant but decidedly inconsistent as business class experiences go. I suppose flying domestic was at least a huge part of the problem. The domestic lounge in KLIA was perfectly fine if completely sparse of choice (water, some juice dispensers, a coffee machine that was very nice – but no soft drinks clearly on display, or sparkling water…or anything else). Likewise, the food selection was OK but you certainly wouldn't make it a point to visit the lounge for the food.
But the biggest surprise to be honest was the plane itself. On the way over, it was what could only be classed as an antique; beige-coloured overhead bins that looked like they'd carried more roll-aboards than I've had pints of beer (and I'm not sure that can even be counted), square windows the likes of which I haven't seen since package holiday flights to Malaga in my youth and ridiculously giant purple sofas (with zero entertainment) for the business class seating.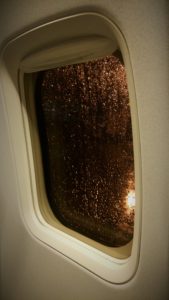 There was no welcome whatsoever as the one guy standing in the doorway was awkwardly playing on his phone (to put into context how surreal this is, he was by far, far the older of the two business class cabin staff). The safety video didn't really play and frequently missed whole sections and without another word, we were airborne in an extremely hurried fashion. Throughout the whole flight, it seemed like we had a KK-based aircraft and staff, who were in some kind of major rush to just get home and be done with the day. Likewise, as we all know, Malaysia Airlines has done away with alcohol in-flight (if they ever had it in domestic to begin with), but again, the beverage selection was miniscule at best.
Coming back though, was an entirely different world and that's where I'm stuck after all as to how I felt about the whole thing.
OK, so the Kota Kinabalu MAS Golden Lounge had some very interesting and shall we say less-than-internationally-appealing choice of TV programming for the 2 Europeans (ourselves) and Chinese family sitting within; broadcasting of the International al-Quran Recital. Not that I've a major issue with it, but you do have to wonder – considering the rest of the entire airline world is able to broadcast something plain and simple like CNN, or BBC in their lounges, is this entirely necessary in the airport lounge of a supposedly international airline?
But the flight – wow, what a different world. The plane was far newer looking, with nice plush individual seats and seatback screens. The two staff practically fell over themselves to come around and offer us all drinks and hot towels before take-off, were back out again within nanoseconds of take-off with headphones and even plugging them in for us, more drinks, lots of food, more drinks – it actually felt like if anything, we might never be left alone to just sleep or rest. Even the one time I went to the toilet, they were both immediately offering drinks again (having given us each a bottle of water not long before), addressed by name and on and on it went. It was like entering a parallel universe after the previous flight.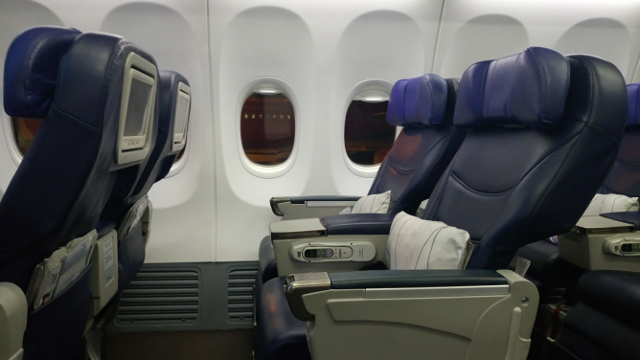 However, and it's a big one, there were only 3 (bearing in mind both of us were from MHupgrade program and not full-fare business) of us in the business class cabin of 16 seats – yikes! I really had to wonder, given business is usually the profit centre for an airline (while economy pays the costs), how is this working? That's really a lot of empty premium seats to be flying around the place. You have to wonder.
Would I do MHupgrade again though? Yes, I would, if I knew the experience would be like the second flight – the first…not so much.
Have you tried upgrading on a flight before? What did you think? Would you pay to upgrade if it was reasonable?