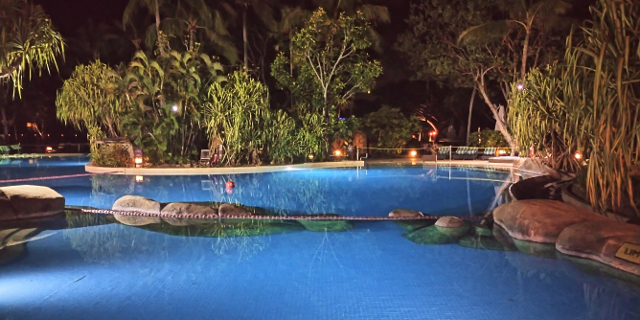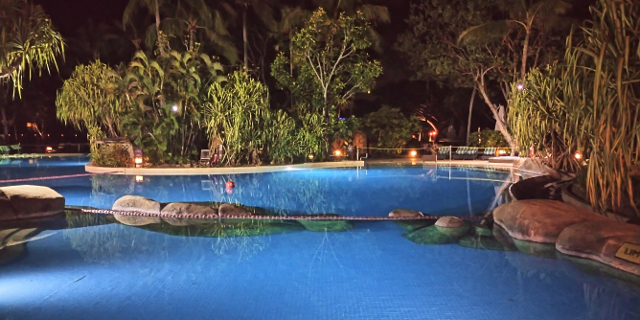 As I wrote last time, our hotel in KK, the Shangri-La Rasa Ria was so delicious that it really felt almost criminal to leave the property. For me, this represented a radical departure from normality because I normally can't stand the feeling of being imprisoned in a luxury prison for a few days – but aside from everything I mentioned last time, another thing the Rasa Ria does very well, is set out more than enough activities so that there's really no chance of you getting bored; even if lying around in the sun all day isn't your thing!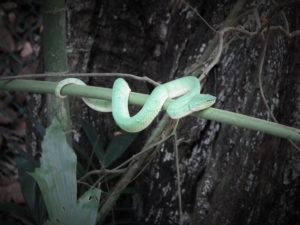 The Rasa Ria previously housed an orangutan sanctuary and even though we were a little bit heartbroken it had only just closed a weeks prior to our visit, we nevertheless booked to go on a hike through the forest reserve adjoining the property. Like everything else, this has clearly been well thought out by the resort, and we all got little packs to bring with us with a bottle of water (turned out to be extremely necessary). The walk up was very short and it wasn't long before we encountered a very well disguised snake languishing on a branch – here's a question I often ponder and am happy to share; what do snakes actually think about all day? This one was hanging onto a branch doing nothing special when we started up the hill, and was still there in nearly the same position when we came back down. What gives?
About halfway up, there's a lovely suspension bridge, which aside from causing a few moments' panic amongst the assembled motley crew of wannabe-hikers, gave us a beautiful view out across the bay and back down towards the hotel. Further up what felt like an eternity of steps, the whole view opened out magnificently across both sides of the peninsula. Were we hot? Yes, everyone in the group was sweating disgustingly but what a beautiful view.
In terms of hotel-organised activities, this one had been a winner, partially helped in their case by the rich tropical rainforest adjoining the property. So, for my next trick we decided to give the para-sailing a go.
For some reason, even though I don't mind flying whatsoever, I have a borderline phobia of low-rise suspended height (it's a hard one to describe, but basically big wheels, cable cars, etc.) so I wasn't sure this would be for me. Several toilet trips later, I finally ran down and booked us in before I changed my mind, or my bowels changed their mind.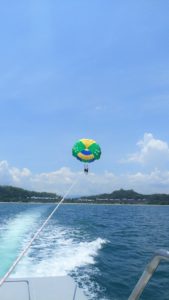 Like everything at the Shangri-La, simplicity is not an option and so you don't just simply launch yourself from off a beach or awkwardly on some clapped-out old speedboat. Instead, they drive you in the speedboat some distance from the shore (presumably to heighten the experience as you ascend, while also not noise polluting the other hotel guests), before attaching you to a by-now terrifying looking launching mechanism – and up we went! Compared to my impression of how this would go, it was actually wonderful; spectacular views, reasonably gentle flight and an all-around great experience.
They very kindly slowed down enough for us to fall into the water a few times – but always speeding off again just before we had a chance to completely collapse into the water. It was a wonderful experience.
Last, but by no means least, we tried the banana boat. OK, this one was the slightly bigger let-down if any for me; it was fun, exciting, but at the end of the day – exactly how it looks from the shore.
For our final activity – OK I lie, I'd indulged myself in some other 'activities' which was in particular availing of the Tiger bucket special during the afternoons – we took off one evening for the firefly watching. For a once and only, we actually had to leave the hotel property for this (talk about stepping out of the comfort zone!). The boat, which rattled on at great speed in the complete pitch dark, was surprisingly frightening by virtue of not knowing if or when we were going to collide with another boat.
The fireflies were accessible only by a very narrow mangrove. Unfortunately, like all tourist sights, the mangrove, in spite of its narrow width, was so packed with other boats that you could walk from one side to the other just by stepping through various boats. The fireflies though were an incredible sight; now so terribly under siege from continued urban development and light pollution, it was fascinating to see one tiny corner of nature that still remains the 'ideal habitat' for them. Or at least it would be if the boat carrying a heap of Chinese tourists didn't continually drive 'into' the most beautifully lit trees (and by drive into, I mean that you could hear the hull of the boat cracking off the bark while many let's say lesser-educated visitors proceeded to take as many full-flash photo's in the darkness as they possibly could).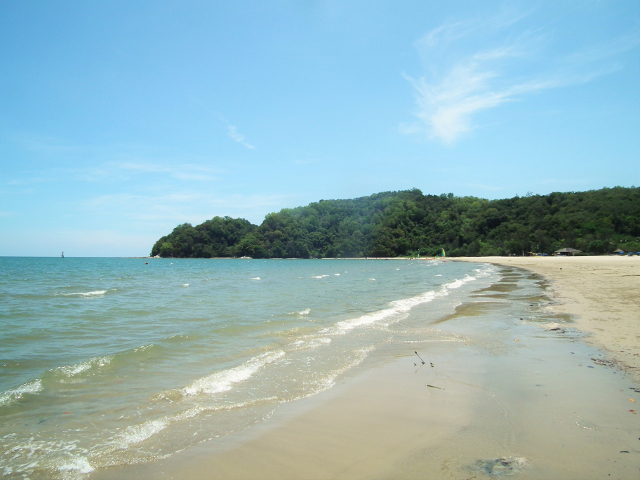 So there you go – my first time self-imposing a full luxury prison compound stay and you know what? It was awesome!