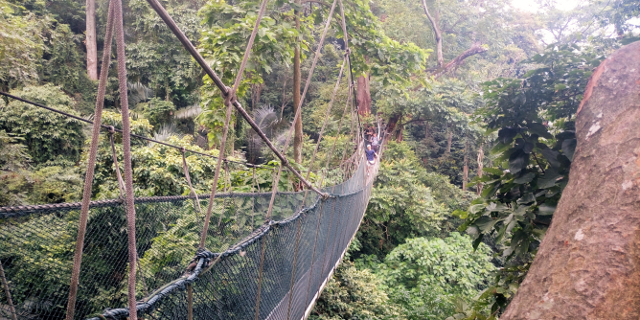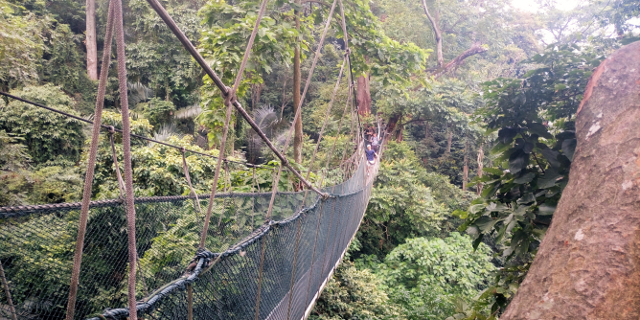 With my 'major' trip back to Ireland all wrapped up and going nowhere again until a cheeky weekend in Singapore (next weekend…have pity), attention has turned back to things to do in Malaysia. Thankfully, one of my more social and pro-active work colleagues organised a day trip to FRIM (Forest Research Institute of Malaysia) lately, somewhere I've been dying to visit for just about the 3 years I've been living in Malaysia.
For those not in the know, the pinnacle of any visit to FRIM is the canopy walkway – famed for being one of the longest and most daunting freely-suspended escapades through nature. However, it's daunting apparently for a reason; during some major storms earlier in the year or late last year, part of the bridge actually collapsed and it was closed for months afterwards. The outcome now is that entry is strictly limited to 60 people per day and you need to hire and bring along one of their park rangers.
We all stopped off for some brekkie first before arriving to FRIM. The entrance is a bit unclear; it seemed at first like the price of just 'entering' went up in multiples based purely on us being foreigners (there was a local colleague driving but the second they spotted us the price literally trebled). Then there was parking on top of that and before we knew it the price was escalating quite literally by the second. Inside, it's hard to describe; the whole place reminded me more of a sprawling rural campus than a wilderness. There was a bank branch, plenty of more or less unmarked buildings, and enough people on bikes to form a peloton.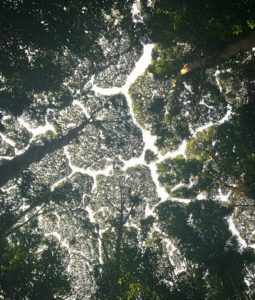 First feelings were that it was perhaps a bit 'oversold' and I'd be leaving disappointed. Our ranger turned up looking the part and after a brief introductory speech and a show and tell of what was quite possibly the largest fish I've ever seen in my entire life, we were on our way into the forest.
Into the forest though and I have to say, without blowing smoke, the ranger really knew his stuff. He knew so much in fact that it was more like leading the blind than going for a hike. I might never look at a forest the same way to be honest. The hike – due to our own time constraints – was just short enough to get the sweat levels up, but not enough that we weren't able to carry on up the very long hill towards the canopy walkway. I'm not joking, the hill just seemed to go on and on for an eternity.
When we finally reached what we all presumed was the canopy walkway – ha, it wan't – it was 500m short, which had to be done via very steep trail. This trail, which is how it should be to be fair, was the ultimate physical payment for the beauty of the canopy walkway ahead. It was ridiculously steep, the steps were all over the place, and every turn just revealed an even steeper ascent ahead. I'm pretty sure it was much, much longer than 500m.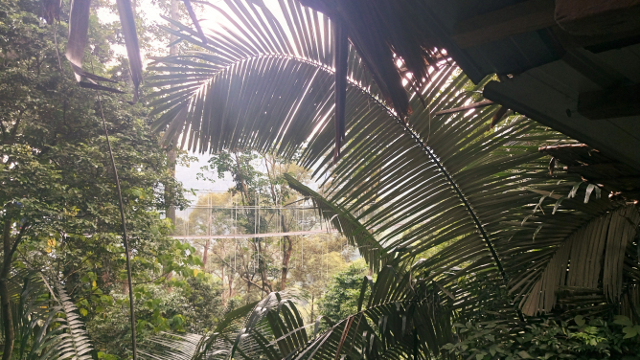 We finally made it up onto the canopy walkway via a tiny wooden shed that marks the beginning. I honestly didn't think a canopy walkway or suspended bridge would be so intimidating – but I won't lie to you, the first few seconds were mildly terrifying. My colleague insisted I turn fully around and face backwards for a picture. I'm not sure – though I'd like to put it down as such –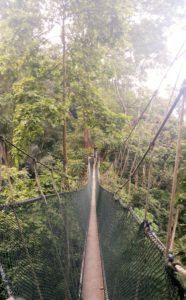 whether my inner ear was telling me this was the worst possible idea or what, but I've rarely been as shaky and slow turning around in my life. Everything about the bridge suggested imminent collapse; the sound of ropes stretching, the way it's clearly made of bits of wood laid on top of a bunch of ladders strewn together. But you know what? By the end of the second – OK, maybe third – bridge, I started to become slightly more comfortable. Until someone would jump up and down on it.
OK but joking aside – not that I was really joking above – the views back out as far as KL are amazing, the sheer height over the forest floor is intense and the back-of-the-mind question of how or if they've properly counted the 60 people out for the day and what number you represent make the whole experience extremely well worth it, exhilarating and as I say, mildly terrifying.
After that, we gently descended back through more wilderness, a look of sheer exhaustion painted across everyone's faces (only to later find out we'd only walked about 3KM), ready…for lunch!
Have you been across a suspended bridge before, or even been to FRIM? What did you think of it?